'Anushka Sharma, please and do not come to the field' 😭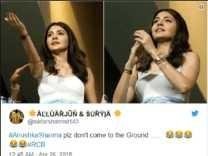 Look forward to the fate. Anushka Sharma, who was out on the field, played a wrong shot during the important match of the match and Virat Kohli returned to the outfield. Who has been roused by the country's cricket fans, has been in the gallery for his wife Anushka.
In the Indian Premier League (IPL) this year, the same scene has been repeated. Indian captain Anushka Sharma, who is now the captain of the Indian Premier League, has been under pressure from the fans due to the loss of Royal Challengers Bangalore, not for Kohli's failure.
Royal Challengers Bangalore and Chennai Super Kings were at the Chinnaswamy stadium. Virat Kohli's captain Mahendra Singh Dhoni's five-wicket haul of Kohli's team lost the Virat Kohli's record of 205 runs. Kohli, wife Anushka enjoyed the match in the gallery.
As soon as the match is over, Anushakka is going to digest a lot of supporters of social media. Some have said, 'Anushka Sharma, please and do not come to the field.' According to another, Anushka Kohli is apaara, so divorces should take this pair.
Kanatunga, a supporter of the team, wrote, "This match proved to be, Dhoni has not yet been brushed. At the same time it is also proved that Lucky is not for Anushka Kohli. So Kohli should give him a divorce. "Another supporter wrote," Anushka, whenever you go to Chinnaswamy, RCB matches rate. Please leave Kohli alone. '
Shayjab Shiva, a supporter, wrote, "Only Anushakai is responsible for the rate of this match." Another wrote, 'Madam, I agree that you are a big actress. But I request you, please do not come to the stadium in the RCB match. Whenever you come, the team is at a match rate.
Anushka has also been subjected to such experiences earlier. So before leaving the marriage, Kohli stopped playing in the field. At that time, Kohli wrote back on Twitter, saying, "Those who are trolling Anushka Sharma, they should have a shame. I always got only positive things from him. '