We rebuilt my friends rusted, moldy 70's EM Pinball Machine and we-wrote the logic in Python [Part 2/2]
Last week, I laid out some of the details about how my friends and I have been restoring/reimagining a 70's EM (electro-mechanical) pinball table. I left off that article with our beginning to populate the play-field with components... which Steve and Josiah binge-installed over the course of a about a week. The next step was to start wiring those components to the FAST Pinball controllers.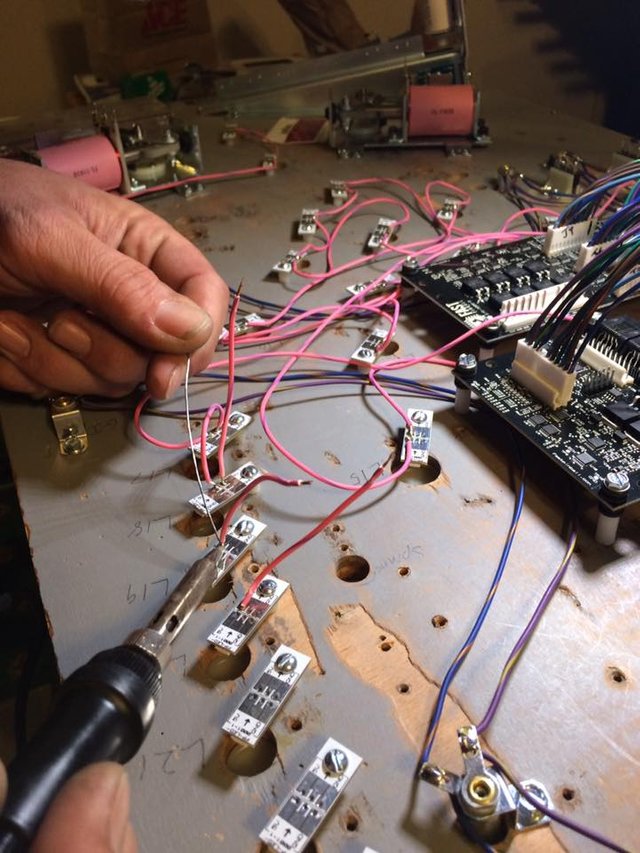 FAST + Mission Pinball
FAST Pinball is a small company in Gig Harbor, WA that designs custom pinball boards, allowing for interfacing to your pinball components over USB. We ended up using their Nano controller and 3 of the I/O expansion boards. We also picked up their DMD kit. These guys were hella-supportive in getting our project off the ground. I highly recommend using their boards for this part of a new build. Once we got the boards wired up, we finally had the pleasure to see our previously defined attract mode spring to life...
Of course, to make this happen we also had to setup a computer with the Mission Pinball Framework and have it load up our custom MPF configuration. I actually submitted a guide detailing all the steps for creating a near production-ready environment. With everything wired up and the computer mounted in the cabinet, it was time to get the play-field off the rotisserie and into its final resting place.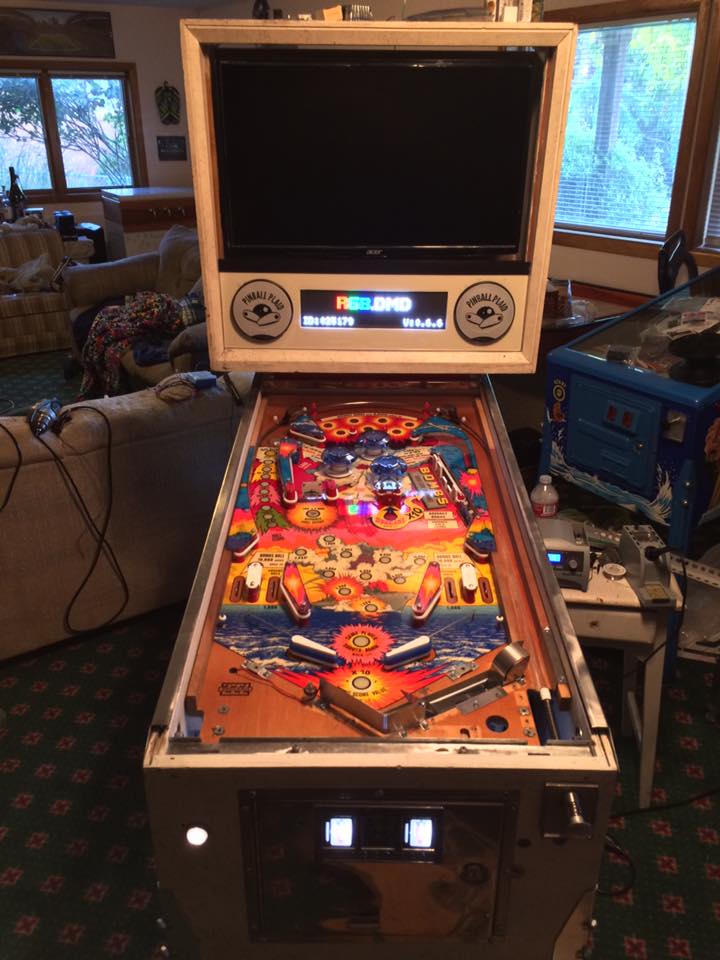 Stumbling out of the gate
The next few weeks following would be mostly config changes and gameplay testing, but it wasn't the smoothest sailing. It took us several days of troubleshooting to get the DMD talking to our config. The unit we received did not come flashed with any firmware. Once we figured that out, we ended up flashing the wrong firmware onto it. And once we figured this out, it was determined that the flavor of linux our computer was running required some permission modifications to connect over serial connection. But eventually we got it working and it was time to go prime time!
The Northwest Pinball and Arcade Show
Our ambitious goal of having a flipping pinball table at NWPAS was suddenly looking more than plausible. After a flustered week of last minute tweaks and config changes, we were up at 5AM on a Friday morning driving to Tacoma, WA. The FAST Pinball guys allowed us to setup our game on their booth which was super rad of them. From the banging around in transport, we had a minor switch issue we had to address before the show, but by 10am the table was ready to roll. Over the 3-day event, the game logged around 250 total games and other than some sound-synchronization things, was pretty darn stable.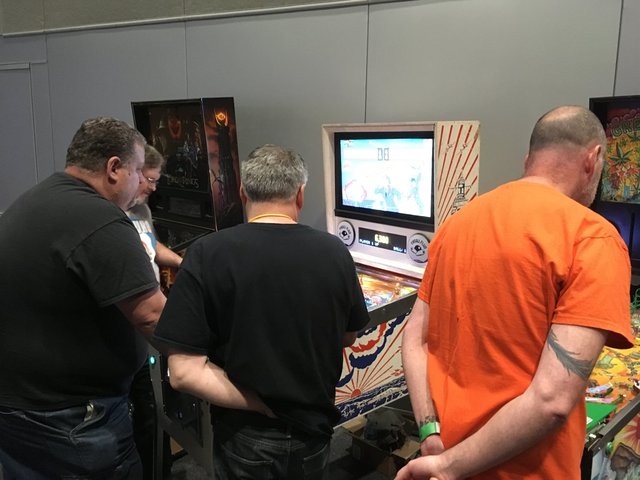 I call it mission accomplished for the short-term, but we have much to do before we lock down our build of the game. We expect to do this by mid-Fall, however. Steve has already begun constructing a new cabinet for a potential "Hike and Throw" game sure to frustrate us all Winter.
I'll try to keep you guys up to date on the final pieces of Combat dev as those things happen here over the next couple months. In the meantime, feel free to checkout the Pinball Plaid Podcast if you'd like to learn about all the nitty-gritty details. I leave you with a video interview that Steve and Josiah were in attendance for during the show. Thanks for reading!