Dark mode addiction.
Somewhere in his mind there was a void filled with everything. Vincent just huffed and puffed. Vincent wasn't crashing down mentally, but he was growing numb. He was calm and happy. There was a smile on his face and the light of an angel in his eyes. Vincent was at peace, yet, so distraught.
Imagine sitting right beneath a bee hive on a summer afternoon. Now imagine that afternoon had no end of beginning, it just kept going. That was Vincent's mind. It never stopped.
Vincent was smart and charming. He knew his strengths well. He was well trained by his trainer, himself. They trained hard and long, everyday. They earned from experience - own and from other's. Vincent was smart and knew their limits. They trained to be better, mentally. The world was just a chessboard, and life was the chess piece you decided to play with.
Vincent was a great chess player. He had a hundred voices of reasons to advice his every move. Each voice was deft and skillful, stronger than the next, strengthened through trial and error. They made a good team. Vincent was an absolute unit, an unbeatable team.
Vincent was calculated, they had to be. After all, he knew the meaning of life. Everybody knew the meaning of life, very few want to acknowledge it. You can't let it show, that you possess the knowledge, or that there were more of you within yourself. That's not acceptable. Everybody is like that. But it's only acceptable when you don't show it.
"Functional psychopath", said one of the voices as he lay down on the cold floor tile, "That's what you are. That's what we are, Vince." The mattress was comfortable, but the tiles were colder and helped numb the pain and quite the voices. The buzzing never stopped, neither did the calculations.
One after the other. Theories and solutions. Epiphany and realisations. Pathways and dead-ends. It kept going and going. A train with no brakes going down a never ending slope. Deep inside there was another voice...muffled, quite, but audible. "You are trying to escape from something, that's why there's so many of us talking and thinking." Sound of reason, indeed. Better shut up.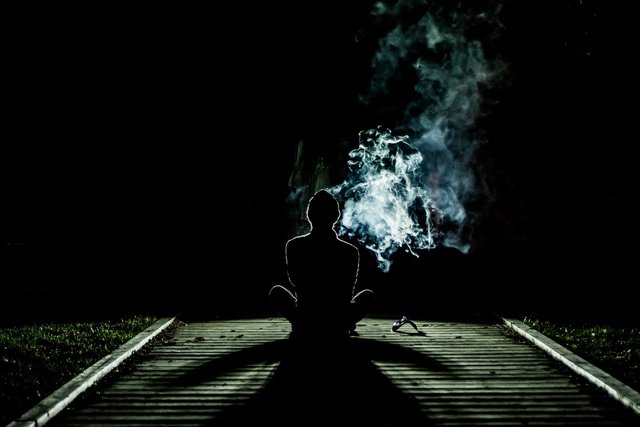 Vincent knew what he was. He was normal.
---

---

Shoutouts
Thanks @bdcommunity, @steemitbd and @drisers for their unrivaled support. Show them love!
Thanks to @welcomewagon, @heyhaveyamet and #steemterminal for taking the time to help newbies. Stop by and say hello!
Who is awesome? @cranium is awesome
---


---

Affiliate links
Join @steemmonsters with my affiliate link
Sign up and download actifit and earn while getting fit, today!
Like gangs, drugs and wars? Play drugwars and earn now! Download here
Earn Partiko points and redeem them for massive upvotes. Join now