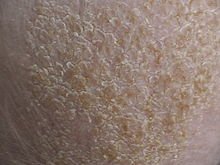 What is Cradle Cap


Cradle cap, in my own words, is a collection of flakes that stick to the babies scalp in clusters. To paraphrase researchers, cradle cap is commonplace among babies to their scalp, possibly their ears, and forehead. The color can be dark, like my son's or even white or yellowish as pictured. This condition of the skin is due to inflammation.


My Personal Experience with Cradle Cap


All three of my children had a case of cradle cap. It can have a sour odor to it and make you want to scrape it off as it is unappealing. I strongly suggest against this! Though a few times I did gently nudge a few flakes away that were already coming off. I regard cradle cap as baby dandruff. I can imagine many of you do as well.


As darker-skinned toned individuals, cradle cap somewhat blended in with my children's hair color. Many women and teenagers noticed it and often inquired what it was. I explained it was cradle cap and that I was treating it. That was the end of it, plain and simple.


Inexpensive Ways to Rid Your Baby of Cradle Cap


If you're like me, you received gobs of shampoo sets and baby oil bottles at your baby shower!


Way #1 to Rid Cradle Cap


Per my pediatrician, apply baby oil at night. In the morning, take a baby comb and gently comb the cradle cap flakes out of the baby's hair. She said the flakes will soften over night. She cautioned me about the possibility of removing the baby's hair along with the cradle cap.


Way #2 to Rid Cradle Cap,


Shampoo your child's hair daily and watch it dissipate! (low maintenance and takes time) You will probably see flakes in your babies crib along with sheds of your baby's hair. This is a sign the washing method is taking effect.


Final Thoughts
Though both ways are similar, I chose option #2. I find that my children's hair undergoes changes and falls out anyway. I did not want to cause more to come out through combing out the cradle cap. Simply washing my son's hair daily or every other day has worked and five months later the cradle cap is all gone (was throughout the top middle to front of his scalp)!