Where should you go after you've hit the ground at Auckland International Airport? Did you discover the sights of Auckland and its islands yet? And don't forget to pay a visit to the Far North. You can read more about it in my first Backpacking in New Zealand blog.
https://steemit.com/newzealand/@studiopico/backpacking-in-new-zealand-northern-island
But after that. Don't rush to Rotorua and its geothermal wonders just yet. You will miss one of NZ's hidden gems: The Coromandel (or Coro for short)
Why should I visit The Coromandel
This amazing peninsula is renowned for its natural beauty, green pastures, misty rainforests and pristine golden beaches, The Coromandel is blessed with hundreds of natural hideaways, making it an ideal place to escape not just for the Kiwi's but also for the backpacker who needs a break from the hustle and bustle. Must do's are:
Coromandel Coastal Walkway
Cathedral Cove
Hot Water Beach
New Chums Beach
Mountain Train Coromandel Town
Karangahake Gorge
Coromandel Coastal Walkway
Truly good for the soul this stunning walk from Fletcher Bay Campsite to Stony Bay Campsite. The walk takes you in the remote northern part of the Coromandel Peninsula. Before you can start this 10 km hike (one way) you have to drive a 30 km gravel road that hugs the coast through Fantail Bay and Port Jackson. The scenery is amazing, but be careful the road is narrow and winding. If you prefer not to drive the remote unsealed road, you can book a guided tour voor transportation and collection from either access point of the walk. The route takes you through native forest, farmland and rocky shoreline. The views are amazing and you should definitely bring your camera. The majority of the walk is easy going with some gentle gradient. But there is a steep valley to Poley Bay. For more information and maps please check out this website.
https://www.thecoromandel.com/activities/must-do/coastal-walkway/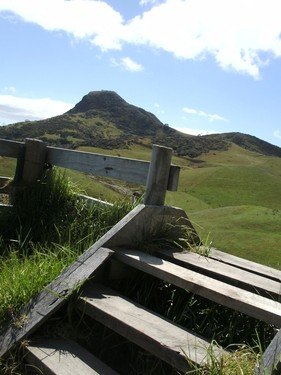 Cathedral Cove
This must see site on The Coromandel is only accessible by boat, kayak or foot. There are several tracks that lead you to Cathedral Cove. A picturesque spot with an naturally formed archway on the beach. This cathedral-like arch deserves to be photographed. You can combine your visit to Cathedral Cove with Hot Water Beach only 10 minutes drive.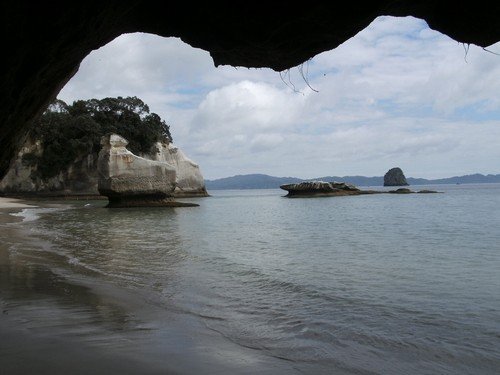 Hot Water Beach
Within a couple of hours either side of low tide you can find hot bubbling water on this golden beach in The Coromandel. You can literally dig your own personal spa. Bring your shovel or rent one and enjoy a warm bath with great views on the ocean and the beach. An underground river of hot water flows from the interior of the earth to the surface at this famous beach. So dig, sit back and relax.
New Chums Beach
This lovely beach is hidden from the masses an rarely explored even by Kiwi's. It is even chosen as one of the world's top 10 beaches! I had to visit it, as I was told by my hostess during my stay at The Coromandel. The stunning stretch of golden sand is really deserted most of the year. I think I counted 4 people during my afternoon at New Chums. This protected beach has no buildings, no roads and no campsite, so it is really quiet. You can reach Chums Beach by a rocky track of 1.5 km. Enjoy it!
Mountain Train Coromandel Town
Driving Creek Railway in Coromandel Town is the only narrow-gauge mountain railway in New Zealand. It travels through native forest with pottery sculptures alongside the track. It is a one hour return trip with 2 spirals, 3 short tunnels, 5 reversing points and several large viaducts. The train slowly climbs up to the Eyefull Tower. At the top there are amazing panoramic views over the peninsula and the Hauraki Gulf. The driver will give you some information about the railway and why it was build. You will find the train just 3 km north of the lovely town of Coromandel.
Karangahake Gorge
The Karangahake Gorge was voted one of the 101 Must Do's for Kiwis. But every backpacker will enjoy it as well. There are plenty of walkways inside this breathtaking gorge. You can access it from Thames, Paeroa and Waihi. The george has everything for everyone regardless of whether you are a hiker or a sight-seer. Be sure to be there on time, before the steady stream of visitors. A great way to get a taste from this historical, natural and scenic highlight of the area is the Windows Walk. It is an hours walk over wood and steel from the ancient railway and swing bridges that bring you across the gorge and the Waitawheta River.
Spend a week at The Coromandel
You can easily spend a week at this lovely peninsula only a couple of hours drive from Auckland. I spend 2.5 weeks here. Consider at least driving up from Thames to Coromandel town. Only this road is already amazing. Pay attention, it is winding and narrow at some points. From there you can take the high road to the other side of the peninsula and discover Cathedral Cove and Hot Water Beach. You can find a lot of information about The Coromandel on this website.
https://www.thecoromandel.com/
Have a good one! And read my other blogs about backpacking in New Zealand.