@cookwithus Pot Luck Dinner to Benefit @adollaraday Charity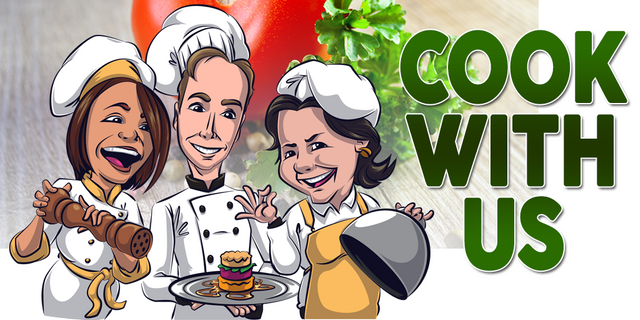 ---
Next week, starting on Tuesday, November 20th and going until Monday, November 26th, the Cook with Us community is going to make a meal together to raise money for the @adollaraday charity. All of our normal weekly prizes (18 Steem and 5 SBD) will be donated to the charity and we hope that our community and fans of @cookwithus will also contribute to make this an even bigger success. @adollaraday was founded by @pennsif and the charitable project is helping a lot of people and causes around the world. In October 2018 they donated over 700 SBD. Check out the @adollaraday post here, where they detail the different projects that received SBD.
The way our pot luck dinner will work is that everyone will pick a dish to make and then you will post your dish. Just like every week you will also post a link in the comments section of the Cook with Us, Pot Luck Dinner Post, that will be published on November 20th. If you are unable to make a dish next week you can still join the fun by making a donation to support @adollaraday. For our weekly winner's post we will post a collage of photos and videos of everyone's dishes along with the grand total of the donations received.
For the pot luck dinner you can choose to make a cocktail, appetizer, soup, main course, side dish or dessert. It would be great if you could leave a comment below about what category of dish you will make so that we can get a complete meal in the end. In the Charity pot luck post on November 20th we will publish the dishes that people have already signed up for, just to remind everyone what dishes are already being made. Of course we can have more than one person make any part of the meal, we are just trying to get a complete meal.
So, please consider making a dish and/or a donation for the CwU pot luck dinner to benefit @adollaraday. We also ask that you resteem this post to get the word out! Thanks for your support!
---