Greetings to all my dear steemit readers!!
Today all be making a Chinese dim sum dish that is loved by many Chinese. As always I would take this classic dish and add my very own twist to modernised it alittle. Dim sum is usually eaten as brunch, it consist of small bit size food. Part of the dim sum menu consist of wrapped item. There are some that are fried and some that are steam. As that being said, I am really glade I have a small advantage for this week theme"something wrap".
Modernised Siew Mai
Mix meat wrapped in squid ink skin topped with carrot purée, shiitake broth caviar served along with sweet potato net crisp, smoked turnip purée and dashi braised shiitake.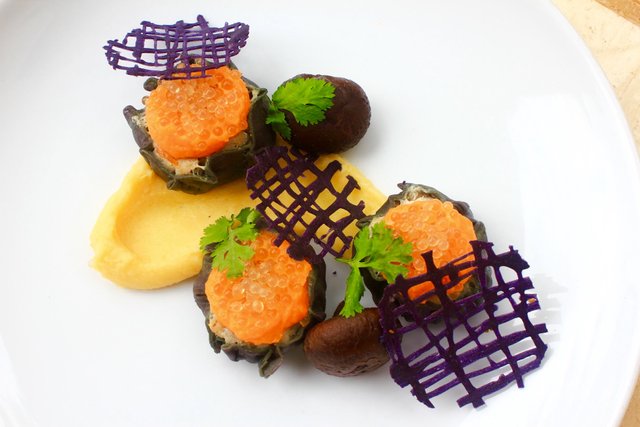 Like I said above, in dim sum we have many types for dish that is wrap. There is the deep fried dumpling, pan fried dumpling and the steam dumpling. I believe these dishes are much more common to westerner. That is why I decided to create something rare to westerners, the SIEW MAI aka opened face dumplings.
what's in it
---
the fillings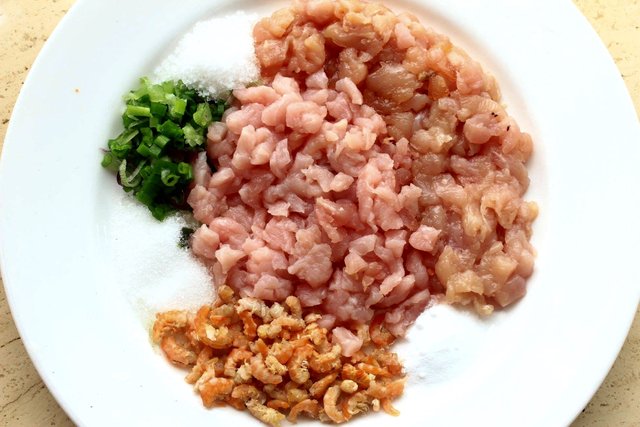 Traditionally, the filling consist of pork and prawn but for my version I wanted to add a little more stronger seafood taste and more umami taste to the dumpling. Thus, I add dried shrimps instead of the fresh once. Dried shrimp is a very common ingredient used in Chinese cuisine. What's amazing about it is that it's dried therefore it has a intensified flavour. I also include two type of meat, chicken fillet and pork lion just for a much more complex flavour. I diced the meat instead of blending it so I get the mouthfeel of the meat fiber.
The seasoning I used are salt, sugar, Spring onions, gelatine and sodium bicarbonate. Addition of gelatine is mainly to absorb the juices that is released by the meat during the steaming process, this would ensure the meat is smooth and moist. As for the sodium bicarbonate, it to give the meat a satisfying bouncy texture.
squid ink wrapper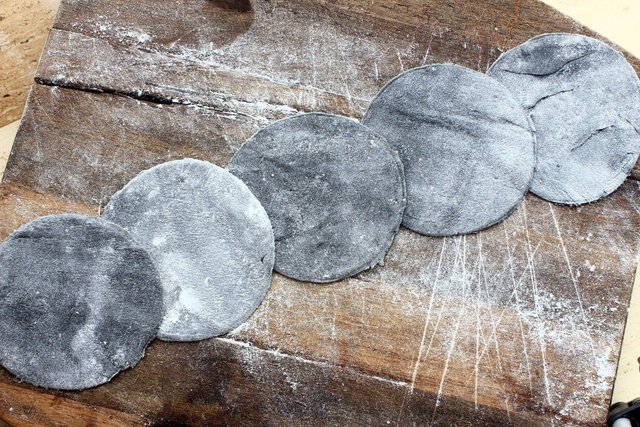 Traditionally the wrapper is made from flour, egg and salt. In western world squid ink is commonly used in pasta for its flavour and colour. I am gotten inspiration from that and decided to use squid ink for my wrapper. Not only its enhances the flavour but it's gives a very nice black pigment which compliments the whiteness of the meat filling.
The wrapper is roll toll paper thin, it's important that the wrapper is extremely thin as steaming will swell the starch molecules in the wrapper bulking up it. If the wrapper is too thick, you'll end up with a crazy chewy skin.
this what the naked opened face dumpling looks like when steamed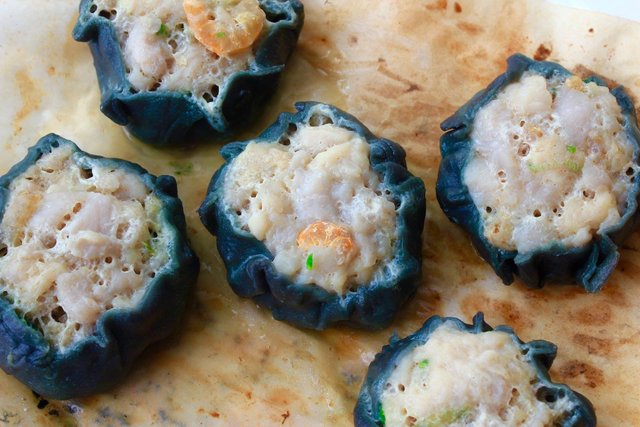 I have pan fried it on the flat bottom before add water to steam it to cook It though. The reason for the pan frying step is to created a slightly crispy bottom and giving a nice nutty flavour. Traditionally it's only cooked by steaming.
Carrot purée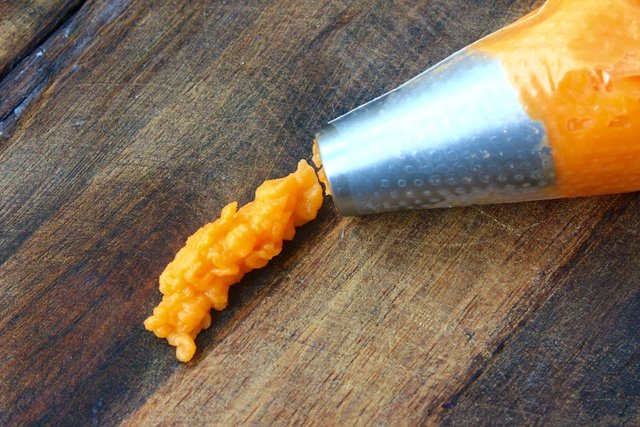 Since carrot is a very common vegetable used in Chinese cuisine and it has wonderful summer flavour as well as sweet flavour I have decided to make it into a purée to compliment the savoury opened face dumpling. Besides being flavourful and sweet, it also contributes a pleasent vibrant orange colour to the dish. This will be piped on top of the opened face dumpling.
smoked parsnip purée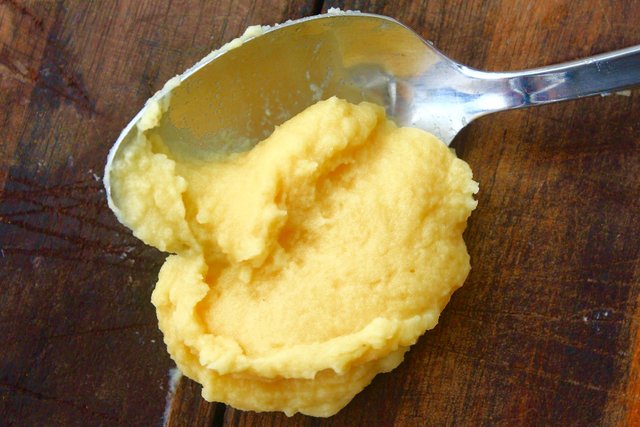 In my opinion, smoked stuff always gives a dish complexity and parsnip goes well with carrot. With that in mind i decided to smoked the parsnip and turn it into a purée which will be place in the plate when plating. The parsnip purée consist of heavy cream and parsnip.
shiitake broth caviar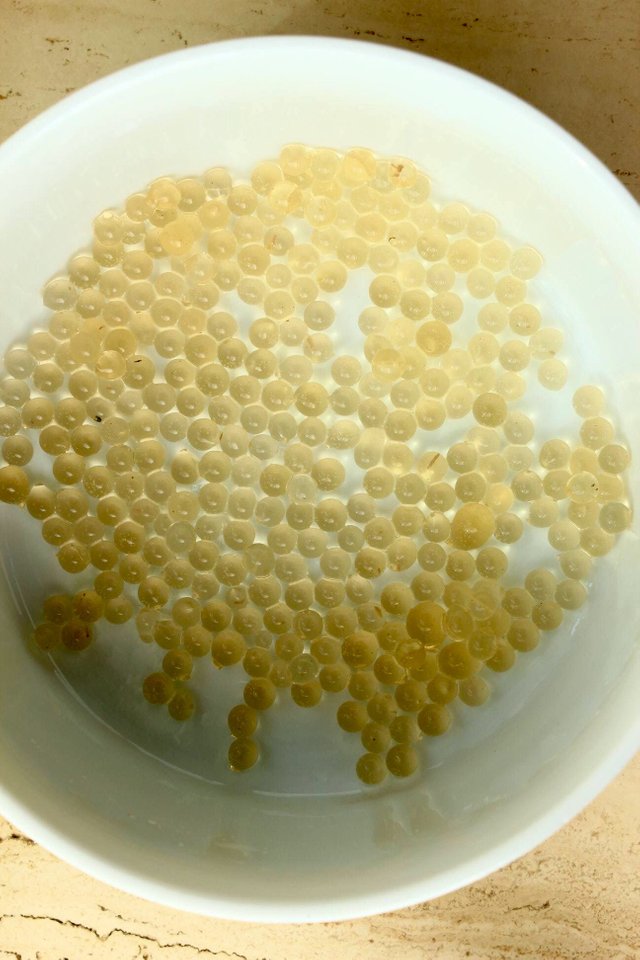 In dim sum there are some dumplings that is served in a flavourful stock. As for my version I wanted to make things alittle more interesting, therefore I desided to go with mushroom caviar instead of the traditional liquid broth. The mushroom broth caviar should give a very interesting mouthfeel as biting into it the mushroom broth would burst its savoury taste and mushroomy flavour.
I used a water bath made from 10% calcium chloride and the caviar made from dried shiitake mushroom, kombu, soy sauce, bonito flakes, sake , mirin and 1% sodium alginate.
braised shiitake in dashi stock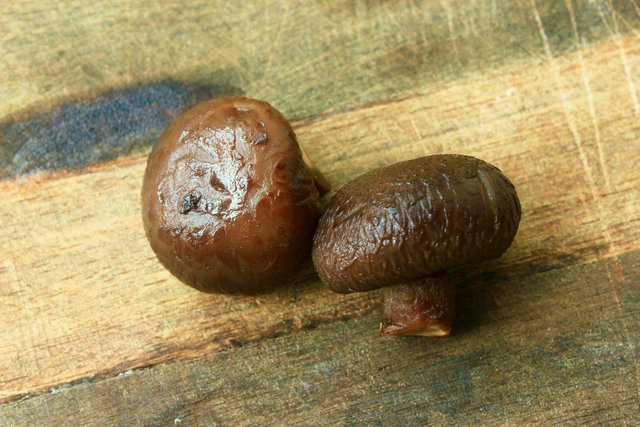 Since I never like to waste food, and there was mushroom left from the shiitake broth caviar, I have picked out the mushrooms before adding the sodium alginate. Of course the mushroom has its role. The mushroom is braised in the flavourful dashi stock and it have absorb the intense seafood flavour and the umami taste. This would be a great flavour booster to the dish as well as giving a bouncy texture.
sweet potato net crisps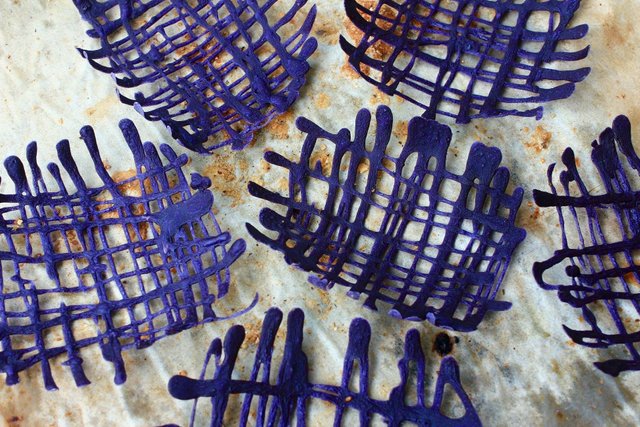 Once again in my opinion summer vegetable will always go well together, in this case this would go well with the carrot purée and parsnip purée. Since all the element in this dish is rather smooth and soft, I have decided to make a crispy element from sweet potato plus I think the colour really makes the dish stand out. Just to make this look more interesting, I have made a net crisps instead of the common slice crisp. The crisp is made from flour, rice milk, purple sweet potato purée, salt, sugar.
time for some food porn