Potato Casserole with Mushrooms: Recipe
Potato Casserole with Mushrooms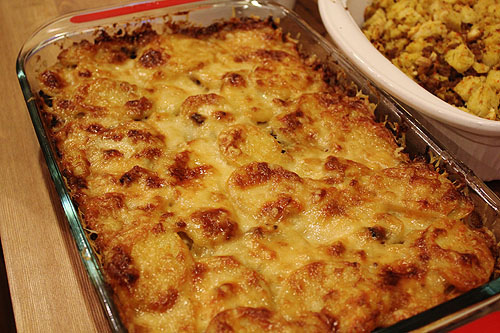 Image source
Ingredients
2 onions;
a few tablespoons of vegetable oil;
300 g of champignons;
5–6 potatoes;
salt - to taste;
ground black pepper - to taste;
150 ml low-fat cream;
50 ml of milk;
1 tablespoon flour;
2-3 teaspoons of condiment for potatoes;
100 g of hard cheese.


Cooking


Cut the onion in small slices and lightly fry in a pan with hot oil. Chop the mushrooms into thin slices or in large pieces. Add them to the onions, mix and cook until the liquid has evaporated.
Meanwhile, cut the peeled potatoes into cubes. Heat the oil in another pan and fry the potatoes almost to readiness.
Season mushrooms with salt and pepper, pour in cream and milk, add flour and mix thoroughly. Bring to a boil and cook, stirring, a few more minutes.
Put the fried potatoes in a baking dish and sprinkle with seasoning. Top with mushrooms and dressing sauce. Sprinkle with grated cheese and bake at 180 ° C for 15–20 minutes.
---
Thanks for following. Hope you like the article.