20th October, 22th October and 30th October are the birthdays of mine, my dad's and my little brother's. Hence, last Thursday, I made a decision to bake some chewy chocolate chip cookies to celebrate our birthdays. I have nearly zero experience in baking, except for one time I tried baking chocolate cookies (which turns out to be a failure and the reasons will become clear in the successive paragraph).
As we Vietnamese do not eat sugar-packed dessert like Westerners, I have to cut down the amount of sugar in a recipe and this is a real challenge for me.
My last time baking cookies was a failure. I followed Tasty's recipe, cutting the sugar by 1/2 because Tasty was infamous for putting too much sugar in their dessert. The result was some underbaked cookies with a dull flavor.
This time, to make sure that everything is under control, I pondered over 3 recipes and came across something really useful: HOW TO REDUCE SUGAR IN COOKIES AND BARS: TURNING TO SCIENCE FOR SUCCESS. According to this article, the lower the amount of sugar, the less the cookies spread, the crumblier they are, and the flatter their flavor. Not until I read that article did I realize what an idiot I had been to cut too much sugar in the last time I baked. I learned it the hard way to only reduce the sugar in the recipe by 1/4 or as much as 1/3.
I also came across Sally's Chewy Chocolate Chunk Cookie recipe. Sally explained the scientific fundamentals behind the recipe and detailed steps to make the dough successfully. She even has 1461 comments on this post and almost all of them are really positive. Fully convinced, I followed her recipe.
1~ Sally's recipe:
2 and 1/4 cups (280g) all-purpose flour (spoon & leveled).
3/4 cup (1.5 sticks or 170g) unsalted butter, melted.
3/4 cup (150g) packed light brown sugar.
1/2 cup (100g) granulated sugar.
1 large egg + 1 egg yolk, at room temperature.
1 teaspoon baking soda.
1 and 1/2 teaspoons cornstarch.
1/2 teaspoon salt.
2 teaspoons pure vanilla extract.
1 cup (180g) semi-sweet chocolate chips.
According to Sally, the melted butter increases the chewy factor in the baked cookie. The brown sugar, which is considered less sweet than the granulated sugar, also increases the moist-factor, softness, and chewiness. An extra egg yolk adds richness, soft tenderness, and binds the dough; which makes the cookie chewier.
So, apart from the dry ingredients, butter, brown sugar and egg yolk are all chewy-factors.
2~ Reduce the sugar and increase the chewiness:
The amount of sugar is 250g and the amount of butter is 170g => The gap between them is 80g whereas two other recipes' gap between the sugar and butter is only from 5g to 20g.
I made a little twist to the recipe.
I cut 1/4 of brown sugar to 112g; 1/3 of granulated sugar to 67g and replace 10g of granulated sugar with 10g brown sugar. As discussed earlier, more brown sugar makes the cookies chewier and less sweet. So the amount of brown sugar and granulated sugar are 122g and 57g respectively.
=> The total sugar consumption, therefore, is approximately 180g.

More butter: 190g melted butter rather than 170g one, would love to have my cookies chewier and buttery.

More chocolate: 200g Hershey's Special Dark Chocolate Mildly Sweet, cut by knife.
Because the posts seems fairly long, I will tell you more about my baking experience in another post.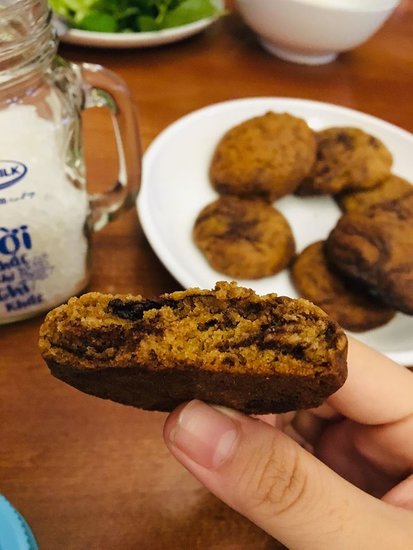 Thanks for your patience reading my post :).