ugChain Giveaway #1 | WIN STEEM HERE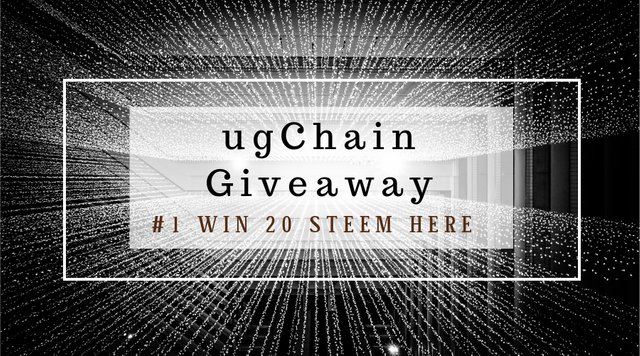 Hello Steemians!
Thanks for all your support! We would like to create a high-quality community to discuss the blockchain industry including technology, cryptocurrency, trending...
So it's our first simple but innovative contest! All you have to do to enter is to share your ideas about public blockchain and post it in the comment section.
The winners will be selected from people that comment on this post by admin of ugChain.
AWARDS:
First Place: 5 STEEM
Second Place: 3 STEEM
Third Place: 3 STEEM
Fourth Place: 2 STEEM
Fifth Place: 2 STEEM
Sixth Place: 1 STEEM
Seventh Place: 1 STEEM
Eighth Place: 1 STEEM
Ninth Place: 1 STEEM
Tenth Place: 1 STEEM
RULES:
Only 1 entry per account

Upvote and re-steem this post

Follow @ugChain

Leave a comment!
TOPIC: Tell us about your favorite public blockchain project (such as Ethereum,EOS, or any other public blockchain project that you adore), you can also introduce it briefly to us or why you think it is promising : ) If you had written something about your favorite public blockchain project, just post a link as a comment to this one.

Join us:https://t.me/ugChainchat (Optional, but share your insights in ugChain Telegram group would be great!)
End Time: Jun.13rd.2018 18:00 GMT+0
About ugChain
ugChain is a blockchain based virtual assets management platform. ugChain has obtained the first cornerstone investment from "Blockchain Industry Alliance and Blockchain Industry Fund" jointly established by the listed companies KeDa (600986.SH), Forgame (00484.HK), HC(02280.HK), People's Venture Capital and Canana. UGC has been listed on OKEx, Allcoin, and OTCBTC.
More info
Official Website
Telegram
Twitter
Facebook
Medium
Reddit
Whitepaper
Coinmarketcap
Thanks for reading and sharing! Wishes everyone a lot of luck!
Please remember to upvote and re-steem this post to let more Steemians know and participate!
Good luck to all the participants!