Join #mysweetescape CONTEST | SteemPH.Manila's First Ever Contest, exclusive for Mega Manila Authors.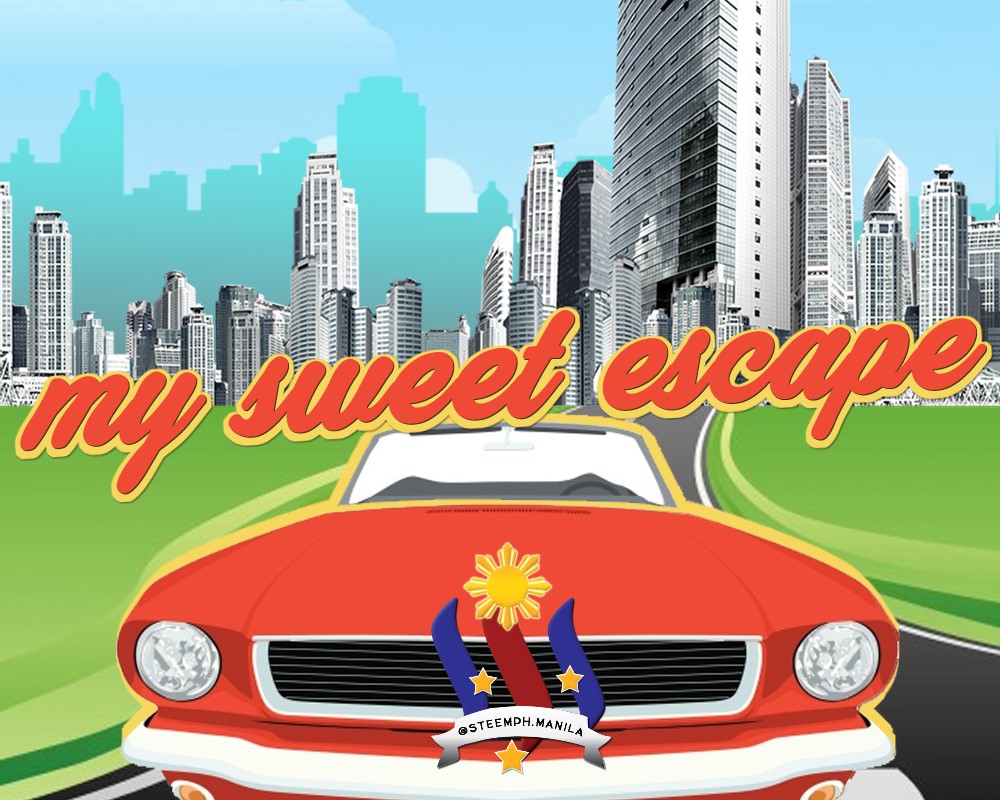 Summer break is coming slowly, do you feel the heat? The itch at the back of your feet.
Thirst for fresh coconut juice while sitting on the beach.
Summer is really here, it's the best time in the Philippines to plan a vacation and celebrate after graduation.
But the truth is before your feet land and experiences the paradise you are imagining right now, it's very stressful choosing and planning which place to visit and who to go with. Especially if you receive travel invitations from several people close to your heart. When co-workers are planning team building, while your friends longing for an epic barkada trip, and then at the same time some from your family will celebrate a birthday, inviting you to come over in their province. All of that at the same time! Summer is the season where almost everyone around you wants do is to escape the city. There will always be that someone who's clueless where to go…
And there you are, just like me.
Where is your Sweet Escape?
From there, I thought maybe it's not just you & I who feel stuck. There are people like us, who do not have plans this year to enjoy summer in a faraway place. Who wants to relax and stop rushing to find the kind of joy we can experience without traveling that far. We have our own sweet escape, whichever city you came from. I know… there's a place in these busy cities where we find peace, own pace, & clarity. Help me show to others that we can enjoy the city itself. I want you to help me showcase the beauty in the corners of our own towns.
Somewhere exciting, somewhere seem familiar that remained unknown to many.
Let us learn something from your entry.
Take us there!
Join My Sweet Escape Contest
Somewhere to meet new cultures and hear new stories but the place has to be within Mega Manila. Because the mission of this contest is to encourage content creators from Mega Manila to promote what our own hometown could offer... What beauty resides in the center of these concrete jungles we lived through? We want to hear the hidden story behind the monument in that Rotunda we look past in our daily commute.
Create a post, you can express it in your own creative way.
P R I Z E S
5 First Prize
3 Second Prize
2 Third Price
R U L E S
1.) Showcase your Sweet Escape using your OWN photos or videos. This could be an old favourite or a newly discovered delight in Mega Manila.
For example:
Old churches, museums, eco parks, food parks, monuments, bakery, restaurants, local coffee shops, local markets & any places from Mega Manila that you find it deserves to be known.
2.) You need to be a Steemian from Mega Manila, this means you came from cities inside Metro Manila and from nearby provinces like…
Cavite, Tagaytay, Batangas, Bulacan, Pampanga
3.) Use the Title… My Sweet Escape: (insert the name of your own sweet escape)
4.) Use #mysweetescape as your primary tag, and please do not forget to include #steemph to your following tags.
5.) Put at least 3 photos, write not less than 300 words. Be creative, Tagalog, English, Taglish language are alright. You can create a vlog entry and post it on DTube too.
DEADLINE
We will accept submissions until the payout date of this post, this will happen on April 3, 2017. We are asking for Pinoy authors to resteem this post so everyone could get a chance to reach the participants for this contest.
Follow @bayanihan to view the work of exceptional talents from the Philippines!
If you would like to support initiatives on community building and enrichment, kindly check out @steemph, @steemnest, @steemph.curator, @steemph.cebu, @steemph.iligan, @steemph.davao, @steemph.laguna, @steemph.uae and @steemph.manila
Consider casting your witness votes for @precise, @steemgigs, @cloh76.witness and @ausbitbank who have been adding an invaluable contribution to the community.
To cast your votes, just go to
https://steemit.com/~witnesses
Type in the box the witness account, example below for @precise