10 SBD Giveway Contest : Celebrating 1000 Follower
Dear Steemians......Sunday always been a Funday for most of the people, today it is very special for me as it bring 2 surprises for me, On one hand,while one of my post featured of daily whistle list of @thesteemengine, on the other hand, While reading one of the post, I peep into my follower and surprised to note that I too crossed the 1000 follower in my account.... Yes that's true 1000 follower , even I did not believe it once and it made my sunday happy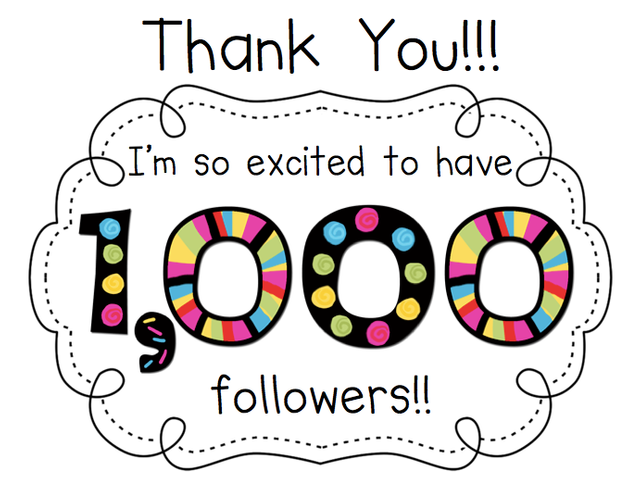 Source
---
So, first of all I like to convey my Thanks to all the beautiful Steemians followers who keep supported and encouraged me to survive and sustain on Steemit, some of them I know very well personally or through regular interaction on Discord.
It has been a fascinating journey so far, started 6 month ago, when @face2face introduced me to the platform, and later I came across so many beautiful people @firepower, @geetharao , @sanmi , @inuke, @bobinson, @zen-art, @ethandsmith @c0ff33a are few of the names who always encourages and showed the correct path to succeed. Special thanks to @good-karma and @esteemapp team for creating esteem mobile app that keep me active 24*7 on Steemit.
On achieving 1000 follower , I wanted to celebrate, through a giveaway contest worth 10 SBD.

Source
---
As we have on Steemit, all the beautiful Steemians, who inspires us to do well, similarly, we all do have many good learning learnt from our Parents . Lets give some respect to our parents, my contest is on the learning learned from the parents.
"Write a post on the best Learning or the Life Lesson you have learned from your Parents, and how and when you have implemented it on your life."
And yes, do not forget to make the post beautiful by adding a picture of your parents " ....
well a selfie will do wonder...... :)... though not necessary
Isn't it is very simple contest??? Well yes, It is one of the simplest, showing love and respect to your parents.
Contest rules
Well every contest have certain rules, so does mine contest as well.
One user one post
choose any hashtag of your choice, no restriction on it
You must be my Follower to take part in the contest.
Resteem the post to reach maximum audience (it is must), an upvote will show me your love, but it is not mandatory.
Be Original, that's what Steemit encourages most. Make the original post, no copy paste content.
Do give some place of this contest post into your own post (mention the post link)
Share the link of your post in the comment section of this contest post.
In case of similar content, the best write up will be chosen
Winners will thoroughly be decided upon my choice. the better you draft the better are the chances of win.
In case there are many contribution, I would choose a judge to decide on the content. The name would be revealed later.
Rewards and Results.
Finally the most important part, the rewards...that what make the contest more meaningful :)
First Prize 4 SBD
Second Prize 3 SBD
Third & Fourth Prize 1.5 SBD Each
Each of the entry to the contest will receive my additional net upvote @ 25 %
Winners to the contest will be declared on 23-Apr-2018, after the contest post payout.
Donation and support are most welcome, in case there is certain contribution received the Contest prize money will increased further, and shared pro-rata to all the winners.
A great opportunity to Show some respect to your PARENTS, and share the Knowledge and Learning with the steemian family.
So what are you waiting for...just draft the post and share the link.....I am waiting to learn more life lessons and to implement into my life.
Thank you once again to all my follower....Love you all....and its time to show love to your parents. Keep showing me love and care....
---
Have you shown some love to Witness?? Make sure to vote
@firepower
for all efforts putting in for Indian Community. Also, worth voting for are
@enginewitty
,
@sircork
@surpassinggoogle
who keep helping minnows and do many things for community development.
---
.

##Keep Steeming...Steem on
Namaste