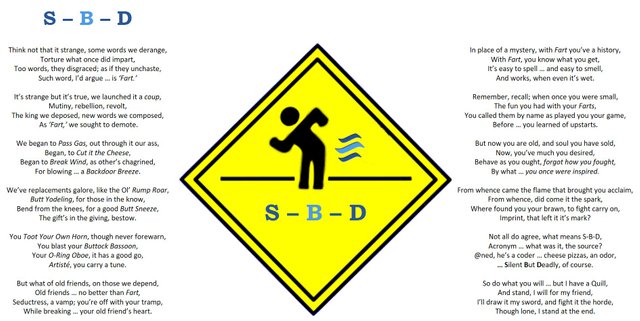 And so, the Great S-B-D Poetry Recitation Contest has come to an end. For those unaware, Contestants were asked to create a video recitation of my poem, "S-B-D" (text below).

Sponsors
Before continuing, I would like to thank the following Sponsors who generously added to the pot to make the Prize one worth winning ... 26 SBD + 1 STEEM:
@girlbeforemirror. Marg, a poetry mentee, is the one who blackmailed this Contest into existence (the story's in the original post). She is also one of the most naturally gifted writer/poets I've ever encountered. She possesses a brilliantly sublime sense of humor and a facility of composition that most writers strive for decades to achieve ... and don't. She is ridiculously creative and a really nice gal. Go say Hi ... and say something nice about Freud (her hero). Thanks Marg.
@fionasfavourites. Fiona is a fellow @steemitblogger (which is in the process of re-branding as The Power House Creatives), which is, inarguably, the finest collection of Quality Content Creators on the blockchain. Besides being a gifted writer, Fiona is a Cordon Blue chef whose culinary posts leave one drooling and on the verge of tears. Out of sheer envy, I have developed a hatred for her husband. I am told she is perfecting a new delicacy called "Whale Tail Stew"... it sounds delicious. Thanks Fiona.
@hlezama. Henrry (yes, with two r's) is the most brilliant literary critic on Steemit ... bar none. His ability to grasp and articulate the subtleties of meaning in a piece of literature, whether poetry or prose, is unrivaled. There is no one on the blockchain that will make your comment section sound more intelligent than will H. (and great comments make a post more valuable). What is perhaps most astonishing is that English is his second language, and yet, his flawless diction and exacting articulations put most native anglophones to shame. Thanks mate.

The Poem (image, then text only)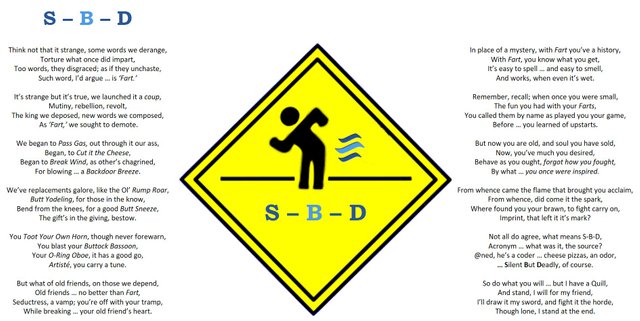 S-B-D
Think not that it strange, some words we derange,
Torture what once did impart,
Too words, they disgraced; as if they unchaste,
Such word, I'd argue … is 'Fart.' 
It's strange but it's true, we launched it a coup
Mutiny, rebellion, revolt,
The king we deposed, new words we composed,
As 'Fart,' we sought to demote. 
We began to Pass Gas, out through it our ass,
Began, to Cut it the Cheese,
Began to Break Wind, as other's chagrined,
For blowing ... a Backdoor Breeze. 
We've replacements galore, like the Ol' Rump Roar,
Butt Yodeling, for those in the know,
Bend from the knees, for a good Butt Sneeze,
The gift's in the giving, bestow. 
You Toot Your Own Horn, though never forewarn,
You blast your Buttock Bassoon,
Your O-Ring Oboe, it has a good go,
Artisté, you carry a tune. 
But what of old friends, on those we depend,
Old friends … no better than Fart,
Seductress, a vamp; you're off with your tramp,
While breaking … your old friend's heart. 
In place of a mystery, with Fart you've a history,
With Fart, you know what you get,
It's easy to spell … and easy to smell,
And works, when even it's wet. 
Remember, recall; when once you were small,
The fun you had with your Farts,
You called them by name as played you your game,
Before … you learned of upstarts. 
But now you are old, and soul you have sold,
Now, you've much you desired,
Behave as you ought, forgot how you fought,
By what … you once were inspired. 
From whence came the flame that brought you acclaim,
From whence, did come it the spark,
Where found you your brawn, to fight carry on,
Imprint, that left it it's mark? 
Not all do agree, what means S-B-D,
Acronym … what was it, the source?
@ned, he's a coder … cheese pizzas, an odor,
… Silent But Deadly, of course. 
So do what you will … but I have a Quill,
And stand, I will for my friend,
I'll draw it my sword, and fight it the horde,
Though lone, I stand at the end. 

The Entries
There were three great entries by @dollarsandsense, @hlezama and @calluna. Here they are (click to play):
@dollarsandsense: D&S used to be a military officer and that means that whenever there's work to be done, he orders someone else, the 'other ranks,' to do it. Old habits die hard ... check out who's the 'other ranks' in his video: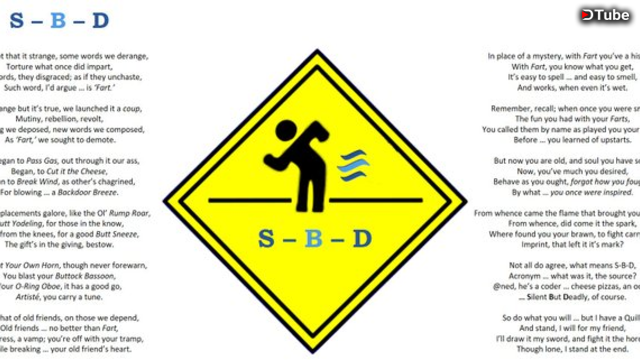 @hlezama is a serious literati ... he knows literary stuff that we ought to, but don't. And so, he plays it straight ... as if he were reciting Voltaire's, "Zaïre," in a 1700's Paris Salon with Benjamin Franklin looking on. Serious or not ... watch when he gets to 0:37 in the video and he starts talking about passing gas (apparently, they don't teach the prosody of Proctology in college):
@calluna. Cally's a Brit and the Brits still study oration in school. Growing up, her Mom made her practice Classical poetry recitation. All this excellence in elocution is so that they don't end up sounding like Americans. In her recitation, that wonderful English elocution is on full display, lilting and lamenting as if she were reminiscing about an absent Romeo instead of elucidating on the finer points of blowing chunks. Bless her heart.
The Winner
After tumult and torment, trials and tribulations, tossings and turnings ... and in contemplation of the fact that I'm about to destroy two people's lives ... I am awarding First Prize, by a whisker, to @hlezama. Congratulations Henrry ... the prize money's on the way.

You guys know the drill. Be verbose ... but articulate.
And remember ...
Go Love A Starving Poet 
For God's sake ... they're starving!