Contest - Help Me to Make Mandarin Jam and win SBI!
I had a plan - to post pictures and step-by-step instructions on how I came up with my very own, first time ever, MANDARIN JAM recipe.
But as most of us know, plans can change at the drop of a hat (so to speak).
MY JAM FAILED
Yes, this was disappointing, but…. You know the saying, "when life gives you lemons, make lemonade"?... what's the equivalent for, "when life gives you mandarins……"?
So I am taking this opportunity to host
My First Contest Ever!
Yes, the jam was a failure, but it is also an opportunity to learn. And you can apply this logic to any area of life, how do you know if something is right unless you have experienced it wrong as well (and vice versa)? So let's share some knowledge here and who knows what any of us could learn from this?
The contest involves:
Leave a comment below this post with some advice/knowledge/tips&tricks etc about what I could do to succeed when I try my second attempt at making the Mandarin Jam (I think in the US you refer to it as Jelly?).
Note – this is not supposed to be a marmalade with the citrus rind in it, I was to turn mandarins into jam, like you would with plums, strawberries, apricots etc.
I would like to offer the following rewards:
Every participant will receive something for their contributions
I will upvote every relevant comment
I will select the top 3 comments (based on the quality of advice given) and award them 1 SBI share each
From the top 3 comments, I will then select 1 to follow the advice of and re attempt making the jam. If the jam is a success I will award a bonus of 2 steem to that person
Please note that this is entirely based on the level of participation in this contest, as it is my first time doing this I am slightly nervous about how it will go, but at the very least I can guarantee that everyone who participates will receive something for their efforts.
You will have until 24 hours prior to this post payout to submit your comments. I will then make my selection for top 3, then select the top 1 to follow advice, I will try again to make the jam and results will be posted shortly after.
Resteeming and/or upvoting this post is not a requirement of this contest, but as most of you may already know, if you choose to do so it will help to let more people know so they can join in, and if the standard of comments is so high that it would be hard to select only a top 3, and this post generates significant value, I am open to increasing the prizes on offer to match the worth of involvement.
So here's the story of my first attempt at making Mandarin Jam….
(All images shown here were taken using my Samsung Galaxy S9.)
Last month for one of my #colorchallenge entries I chose the mandarin tree in the back yard as my subject. I was amazed at how some of the branches were bent over almost double under the weight of the fruit (click here to see original post).
I was wondering how best to use the massive quantities of fruit so as to waste as little as possible (I just can't stand to let good quality, fresh, homegrown food go to waste). I have been making jam with some of the other fruit we grow and I wondered if I could make a jam with the mandarins, not a marmalade, never been a fan of that...so posed my question to Google and read some of the recipe ideas in the search results. Then I closed my browser and started making the jam according to my existing knowledge of jam making.
Not such a good idea...
It started well, had a big bucket of mandarins...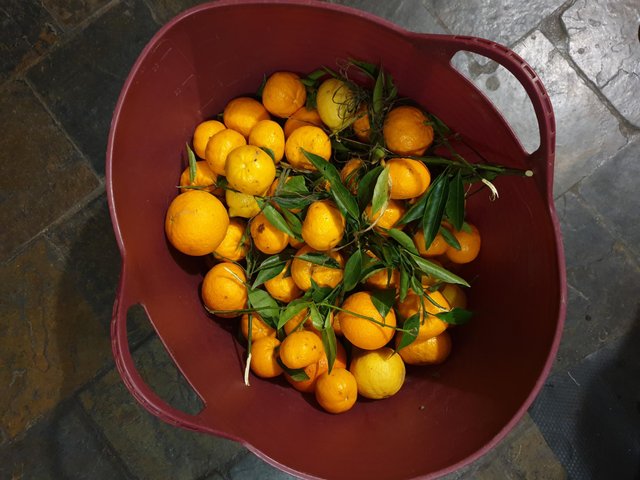 I peeled them, then cut in half crossways to expose the flesh and release juice, weighed them and started cooking them.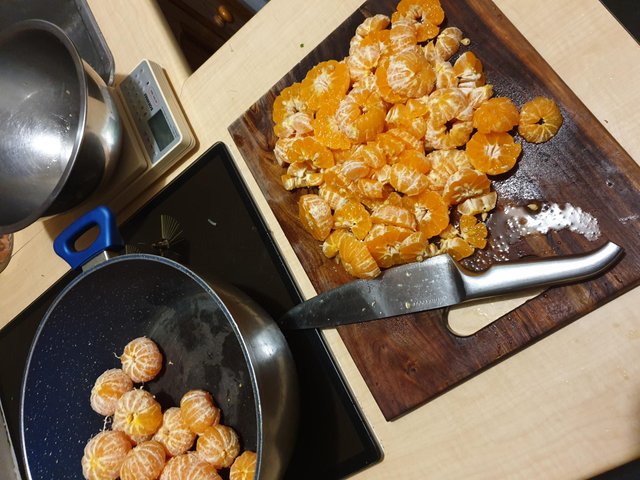 The general rule of thumb when making jam is to add equal quantities (weight, not volume) of sugar and fruit. I always prefer my jam to be less sweet as I think you can taste the actual fruit a lot better (plus, really, who needs to eat that much sugar?) so I will add about a quarter or two thirds less sugar than the weight of the fruit, as well as some Jam Setta.
I once peeled, I had 1400g of fruit so I thought 1kg of sugar should be fine. After it had been cooking for about an hour I tasted it and was nearly knocked off my feet at how ridiculously sweet it was.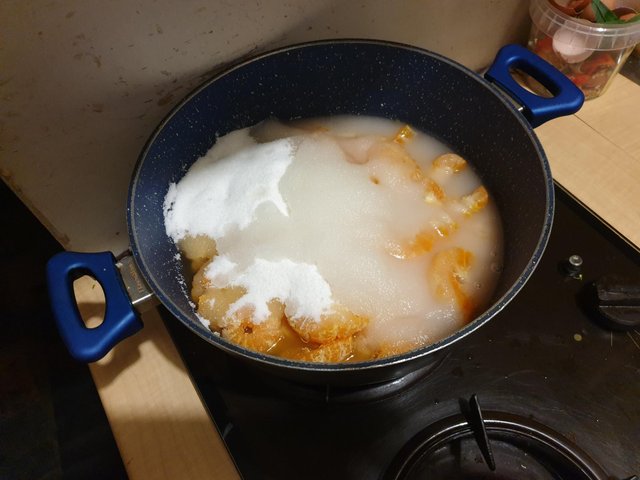 I thought a lemon or two cold even out the taste, so I rummaged through my bucket of citrus and picked out a lemon and lime, cut them into thick slices and threw them in to cook out a bit.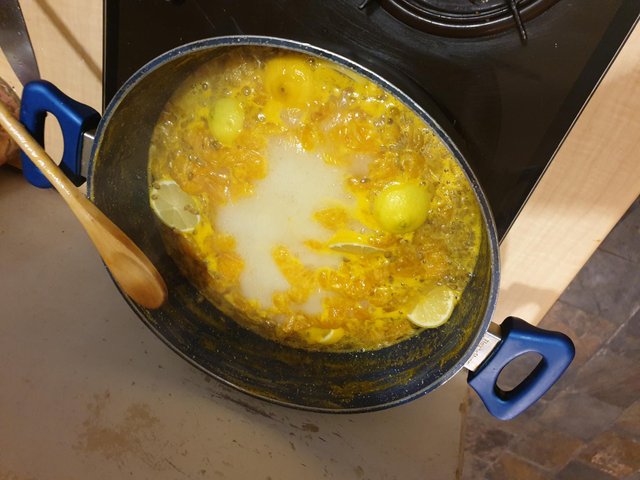 (Sorry for the upside down pic, couldn't seem to get it the right way)
I was also sure that by adding more fruit it would reduce the fruit/sugar ratio and make it a reasonable tasting jam. I peeled and halved another 1600g of mandarins bringing our total weight of fruit to 3kg with only 1kg of sugar added.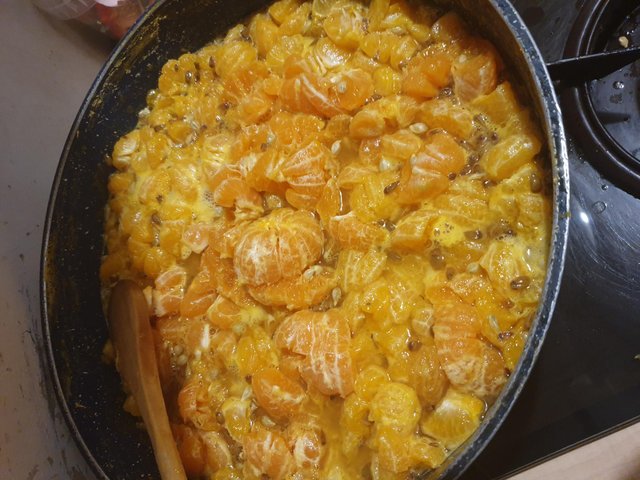 No change whatsoever, it seemed just as sweet as before. At the second tasting, I regret to say that my jam had a bitter undertone to it. I didn't want my work so far to be all for nothing so I removed the lemon and lime pieces and also started to skim out as many seeds as I could in case either of those were responsible for the taste.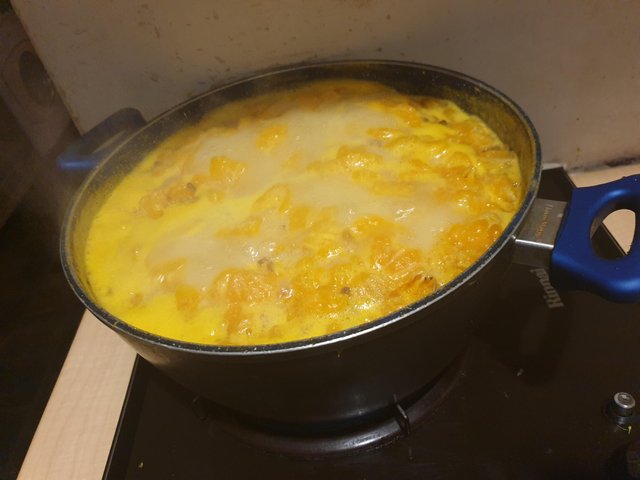 Once I had done this I let the jam simmer and reduce slowly before I came back for third and final taste test....still no good. The bitter taste had developed with the cooking and now it really wasn't an enjoyable flavour.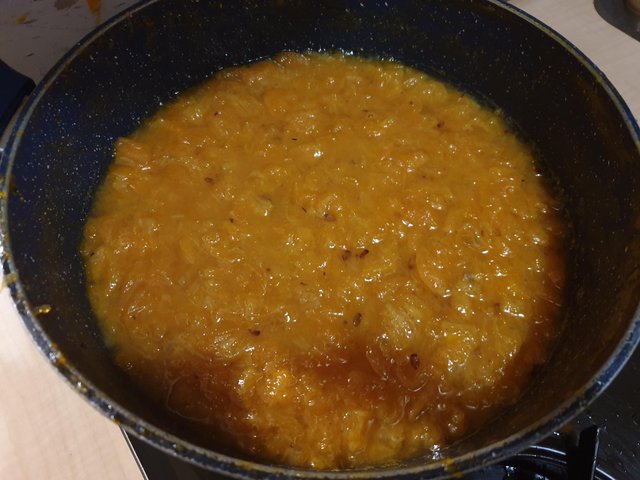 I'm a bit disappointed it didn't work out, but it was my first attempt to make mandarin jam, and I did so without a recipe to refer to, so I like to call times like this a "learning opportunity".
I will try again but this time I think I might mash the uncooked fruit into a pulp which I will then strain and use only juice to cook my jam from. First I will have to go and pick more from the tree, have finally used up all that I had picked so far - but still, plenty to go so am prepared to try it a few times if I have to get it right.
Thank you in advance to all who choose to participate, good luck to you all, spread the word and I look forward to reading you wonderful comments!
• This is an Invitation to join #ccc for Guaranteed 👍 Daily Income 💵 and Payout 💸 for Newbies (2.0) 🐟 🐜 🐛 in #ccc 👣 and Follow 👣 the Honor Code 🏅 - the Creed (Conditions and Limits Inside)
AND
the latest update <<< please click to read.