Upvote Your Post for FREE! Contest Announcement
Hello Steemians,
We are still early days since the launch of @minnowfairy but we are thankful and encouraged by the outstanding support we have received so far.
To give you a background, we set out to create @minnowfairy with two primary objectives: First, to help Steemians promote good quality content posts. We believe this is essential in order for Steem to thrive both as a community and as a cryptocurrency. Second, to introduce complimentary programs that give back to the community. We believe it is appropriate to give support to others just as others have done the same for us.
With these two objectives in mind, we have an exciting proposition today to announce a program especially geared to minnows who need a boost to their post.
Announcing the UPVOTE MY POST Raffle Draw contest!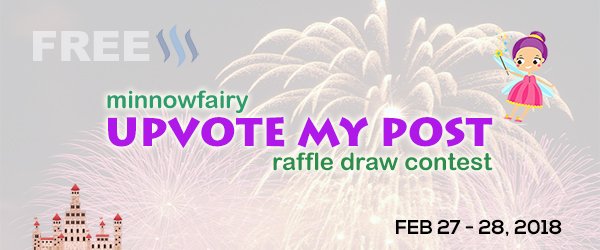 SUMMARY
The mechanics is simple. Nominate any of your recent posts to us. We will then randomly choose 3 winning posts and dedicate one full bidding round for @minnowfairy to upvote the posts!
FULL MECHANICS
The post must be written after Feb 27, 2018.
Submission deadline will be Feb 28, 2018 11:59PM. This will give us enough time to select, evaluate and upvote.
Post content must be original and of good quality. Strictly no plagiarism.
Post can be any topic, but no NSFW (Not Safe For Work) posts please.
Only English language posts will be considered.
Each person can nominate a maximum of 3 posts.
[Updated] Post must not have been upvoted by @minnowfairy before.
HOW TO JOIN
To be eligible, complete these three simple steps:
Follow @minnowfairy (if you haven't already)
Re-steem this post
Leave the URL of your nominated post in the comment section below
CONTEST RESULT
Three (3) winning posts will be randomly chosen on Feb 28, 2018. If all the requirements and criteria mentioned above are met, @minnowfairy will dedicate one bidding round to upvote the posts at 33.33% Voting Power each.
All the best!

If you believe information on this post will help the Steem community, please pass it on by resteeming this post or referencing it on one of your own posts. Let us all help to grow the Steem community. Thank you.
---
About Minnowfairy
@minnowfairy is a voting bid bot to support your posts by upvoting it. For an introduction and other information on bid bot rules, policies and how to join, please visit: https://steemit.com/bidbot/@minnowfairy/introducing-minnowfairy-bid-bot