Contest Result: Post Upvote Contest (April 5 - 6, 2018)
Hello Steemians,
Our latest UPVOTE MY POST raffle draw contest has ended. A big thank you to everyone who participated.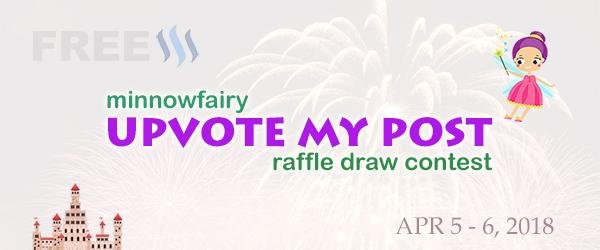 During these 2 days, we've received a total of 9 entries. We're pleased to announce the two (2) winners of the contest:
Congratulations! Your posts will be given an upvote by @minnowfairy shortly on one of the bidding rounds.
To everyone, winners and non-winners alike, keep writing great content that targets a specific and consistent audience. We can't force others to read and appreciate our work but with the right attitude and dedication, our chance of success will be better. And one more thing, always enjoy what you're doing!
In the meantime, @minnowfairy is always ready to lend upvote support to promote your post. For an introduction and other information on our rules, policies and how to join, please visit: https://steemit.com/bidbot/@minnowfairy/minnowfairy-update-rules-and-policy-guidelines