Chatting with someone in the comments on my recent post, I realized that sometimes we live with contradictions that actually make sense. And it's fun to recognize this and enjoy it with others.
Let's laugh at ourselves a little, and in the process take some of the severity away from the fact that we humans are really just trying to figure out this life thing as best we can as we go.
We change our minds.
We hide things from ourselves.
We get little peeks here and there at deeper truths.
And in the meantime we live with contradictions, because we simply know both things are true, even though we don't fully know HOW they can both be true.
You with me so far?
If you are, and think you could have fun writing a post on two ideas/beliefs/feelings you hold that on the surface couldn't possibly go together, yet do for you, then this is the contest for you!
Contest Rules
To enter, simply write a post of 300-1,000 words (you can go longer, but I won't read beyond the first 1,000 words) and:
Resteem this post by Tuesday March 20 at 6pm PDT (upvotes greatly appreciated, but not required)
For your entry post itself: Add "ccc" to the end of your title so it is obviously an entry, include the tags "ccc" and "contest" as two of your 5 tags, link back to this post somewhere within the post, and leave a comment below that links directly to your entry post. All of this will ensure I find your entry to consider it!
Present two seemingly contradictory ideas/beliefs/feelings you hold
Explore how/why you think you may be living with such a contradiction
Explore the positive and negative implications of the contradiction, but emphasize the positive
Deadline to enter is 6 days from today, March 22 at 6pm PDT/ 9pm EDT/ sometime in the middle of the night UTC
(extra: If you want to enter but don't need the SBD, then just let me know another Steemit blogger who you want your winnings to be donated to)
.
Winners will be selected subjectively according to how much I find your thinking eye-opening, inspiring, delightful and/or intriguing. You don't have to "get it right." Who knows what the truth really is anyway? But show me how you explore these ideas about yourself without condemning yourself.
Contest Rewards
1st place - 5 SBD
2nd place - 3 SBD
3rd place - 1 SBD
Next 10 top entries split 1 SBD (min. 0.1 SBD each, with more per entry if there aren't 10 I consider "top")
Example contradiction (don't use this one)
I realized in conversing on my last post that I can be happy and yet dissatisfied at the same time. I am mostly happy each day and live a very sweet life, yet I sometimes notice that I'm yearning for something different. I just don't know what, so I carry on in the pleasantness of each day. I can't move forward until I can see what I'm wanting to move towards. This is a contradiction I live with repeatedly in life. Always something eventually shifts and I see what I want, then miraculous things happen to help me make it come about.
.
I could explore this more, but I think you get the idea.
Let's have some fun playing with the way our minds/emotions work.
If you have questions, ask below. And don't forget to resteem this post now to start your entry.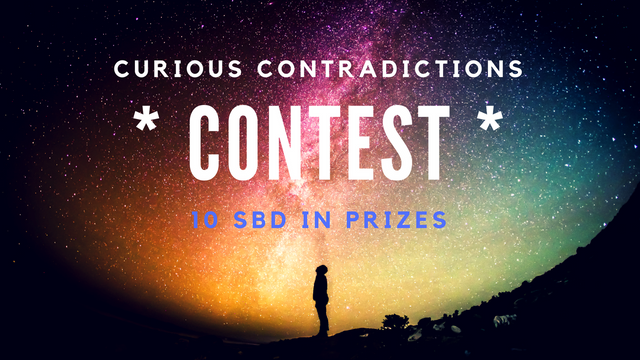 (created with Canva)