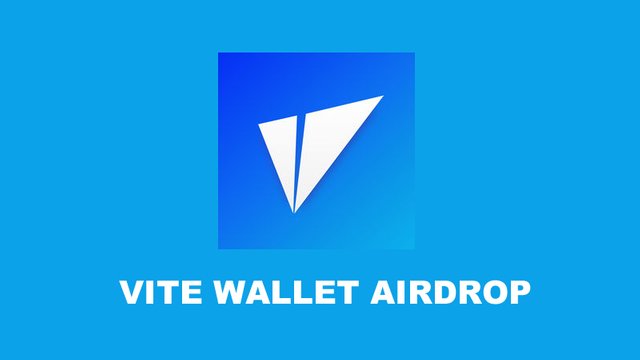 VITE wallet is a digital asset management wallet where you can store and trade your cryptocurrencies. You can use this app to store and trade coins such as ERC-20, ETH, the native VITE coin and others. VITE is not just a wallet, it is part of an entire blockchain project.
Vite is a general-purpose platform for decentralized applications. It is designed to support industrial-strength applications by offering high throughput, low latency, and scalability while also providing security.
To create awareness for the VITE wallet and encourage crypto traders to install the wallet, the team have been doing this airdrop which anyone can participate in it. The airdrop is very simple and really worth it. Follow the simple steps.
How to participate in the wallet airdrop
Step 1: Download and install the VITE wallet from from App Store or Google Play
Step 2: Create a username and password (Confirm password and remember to back it up)
Step 3: Click on profile image. (check the illustration below)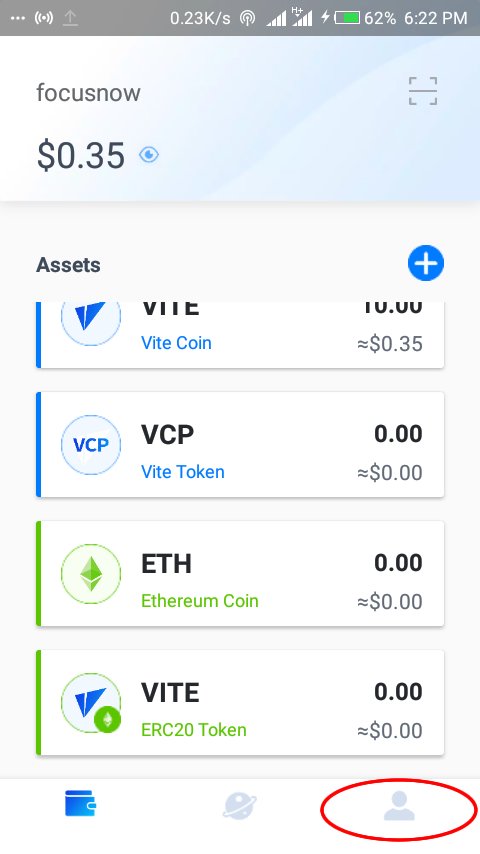 Step 4: On the new page click ""Invite friends and win VITE" link. Now a page like below will be displayed,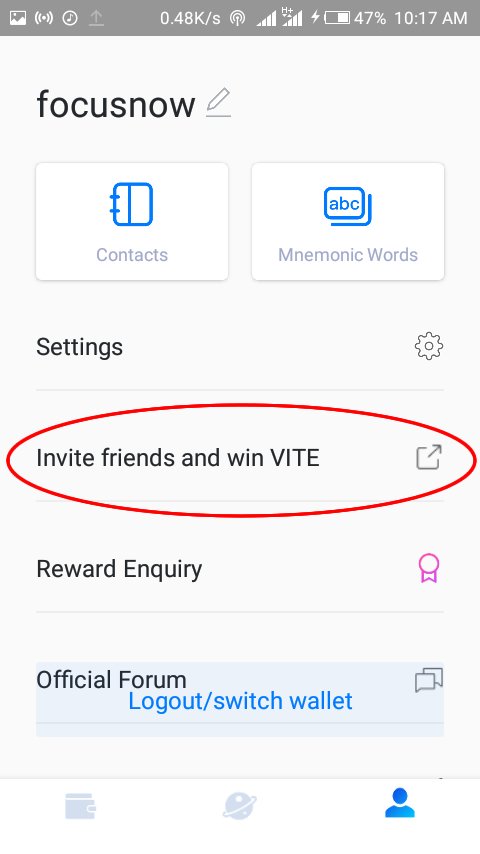 Step 5: You need to input your inviter's referral code in the text-box marked in red circle. I am the refer here, so put this code: 1T6a8vY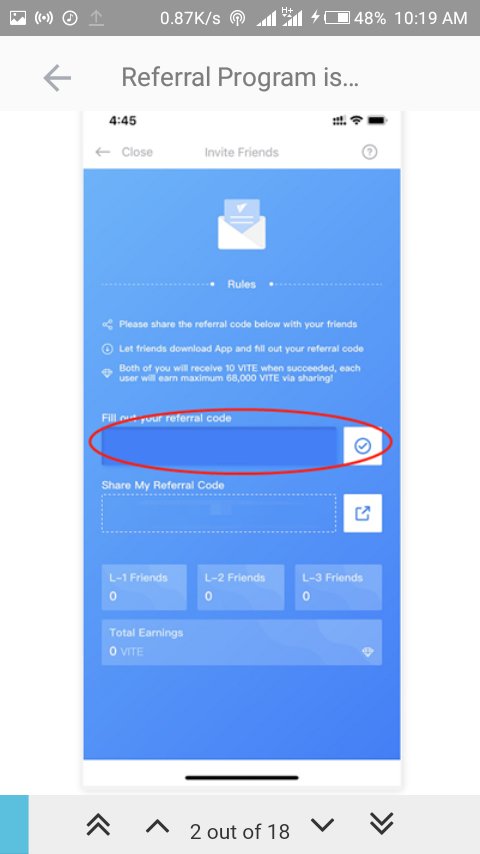 Step 6: Instantly, you will receive your 10 VITE coin. Refer others to start earning more.

How to earn VITE coin from the referal program
Tell your friends to download the Vite Wallet and fill out your exclusive referral code on the sharing page.
Tier 1: When you share your code with your friends, you will each receive 10 VITE after the referral code is used. Your friends will receive 10 VITE on their accounts immediately and you will receive 5 VITE upfront and the other 5 VITE after your friends claim VITE on the app's Airdrop 3 times.
Tier 2: When your referred friends share their referral code(s) with their friends, you will receive 20% of the reward (2 VITE) for each of their referrals.
Tier 3: When your friend's friends share their referral code(s), you will receive 5% of the reward (0.5 VITE) for each referral.
Each referral code can be used at most 50 times (a.k.a. a single user can only refer up to a maximum of 50 friends).
IMPORTANT
Referral code must be filled out correctly in app in order to be eligible for the program. See below section for how to fill in the code.
An additional incentive:
The top 50 addresses with the most referrals will receive even more prizes on top of their VITE rewards!
Depending on your rank, you will receive between 10,000–500,000 VCP. The top 10 addresses will receive a Vite T-shirt as well!
It doesn't stop there...
You can still keep referring friends even after this campaign ends! After May 31st, the Vite wallet app will send airdrops of a random amount of VITE, VCP, VX, GRIN, ETH to the top 50 addresses the month after the announcement of an important wallet update. For example, if Update X is announced in June, the airdrop will happen by the end of July.
Act fast! This is not like any other airdrop.
VITE is not a future project like some of the other airdrops you have done. The coin is live and already traded in 5 major exchanges so you can trade your VITE coin for Bitcoin or Ethereum.
Click this Coingecko article to see the exchanges where you can trade VITE for other cryptocurrencies....
...... and remember to use my refferal code:1T6a8vY. You get 10 VITE, I get 10 VITE, everybody wins!
DO IT NOW!!!!