Dynamic Boot Camp: Markdown

Thank you,
@heyimsnuffles
and
@efongym
for participating in our Steemd tutorial contest last week! Your entries were amazing and much appreciated. I awarded each one of you 15 sbi shares each! These posts will serve as educational materials in our discord server, in the 'steemd' text channel that is in the 'Analyze ur Steem account' category that also includes posts on
@steemworld
and
@ginabot
.
---
Winning Posts featured from last contest:

This next Bi-Weekly contest will be on Markdown. After you sign up on to the Minnowbootcamp discord server (
https://discord.gg/5gFdAPF
) and complete all the steps of their registration process required, then you must start off on your 'orange classroom work'. The first real assignment is on Markdown.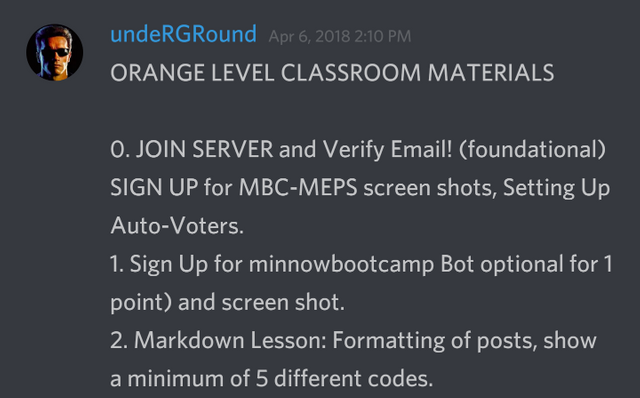 ---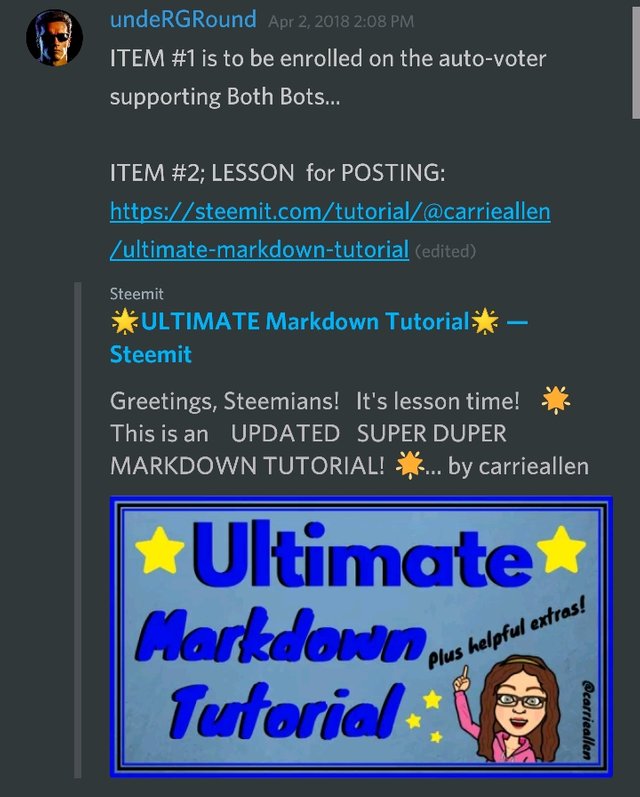 ORANGE LEVEL CLASSROOM MATERIALS:

2. Markdown Lesson: Formatting of posts, show a minimum of 5 different codes.

use the post by @carrieallen, as a reference to create a Steemit post that is about 'how to use Markdown' for this assignment that is very easy to understand and learn from!
@carrieallen's post is featured below.👇

https://steemit.com/tutorial/@carrieallen/ultimate-markdown-tutorial

leave a comment but dont upvote. But if you can just say thank you for the great tutorial!
Try your best and take your time. The more markdown examples used the better! Extra credit(10 sbi shares to be exact) if you can talk about using css language in combination with markdown/html on your Steemit posts!
The Rewards for Participating.
10- sbi shares to the top post.
7-sbi shares to the second place winner
3-sbi shares to the third place winner.
This is a two week contest. I will pay more to more people if more participation occurs and the content is good!



Discord for Dynamic Steemians


Delegate to our project via SteemConnect:
10 SP | 20 SP | 50 SP | 100 SP | 200 SP | 500 SP | 1000 SP | 5000 SP