Write your best predictions for a chance to win SBD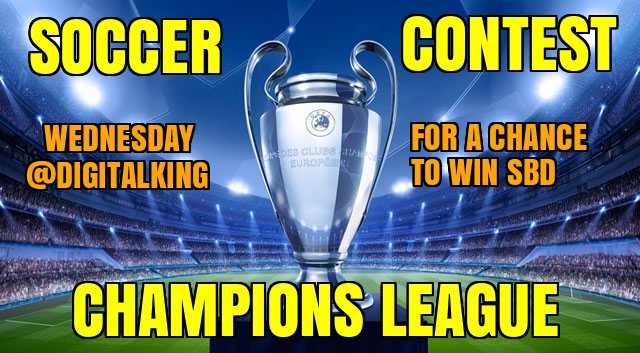 base image source: feelgrafix.com 
UEFA CHAMPIONS LEAGUE
Wednesday November 1st, 2017

Contest - Best Predictions
*** ATTENTION ***

PREDICT OF BOTH REQUIRED - TOTAL GOALS AND THE MATCH RESULT
For each one of the 8  Champions League  games in the list below, write your best prediction for the match result AND the total goals over/under 2.5.
The winner will be the one with the most correct predictions.
Besiktas JK - AS Monaco
Liverpool FC - NK Maribor
Sevilla FC - Spartak Moscow
Shakhtar Donetsk - Feyenoord
SSC Napoli - Manchester City
FC Porto - RB Leipzig
Borussia Dortmund - APOEL FC
Tottenham - Real Madrid
* Games of Wednesday November 1st,  2017 - Deadline for the contest Wednesday November 1st, 15:30 GMT 
50% of the SBD's earned from this post will be shared equaly to the winners 
Rules to qualify to the contest 
UPVOTE this post. 
Write your best predictions, match Result and Goals over/under 2.5 for each one of the 8 games in the comments section below. 
Predictions MUST be for BOTH the MATCH RESULT AND the TOTAL GOALS over/under 2.5.
(i.e TeamA - TeamB -> TeamA/under
TeamA - TeamB -> TeamB/over
TeamA - TeamB -> DRAW/under
TeamA - TeamB ->TeamA/over
e.t.c)  
You can leave only one comment with your predictions
You can leave a comment until 15:30 GMT Wednesday November 1st.
Any comment edited after the DEADLINE will be disqualified from the contest
* I will save all the predictions in a file at the DEADLINE. Whatever posted or changed afterwards will be ignored.
RESTEEM THIS POST
* Resteem of this post is not required but is highly recommended because it will help to increase the value of  the total SBD earnings that will be shared to the winners. Please consider to resteem the post if you want to help the contest. Thank you.
Thanks to everyone that supports my Contests by resteeming and/or upvoting them.

* Find all my running contests here.

* Get Help - Free Soccer Tips and Statistics Sites


Good Luck 
Digital King

The Winner is @lolicorn
Great shot from @lolicorn with 13/16 correct predictions
Gongratulations !!!

After the finalization of the author rewards, 50%  of the SBD's will be sent to the winner.

* Find all my running contests here.

* Get Help - Free Soccer Tips and Statistics Sites


Thank you for your participation to the contest