The Thank You Economy - Week 27 with 5 SBI Shares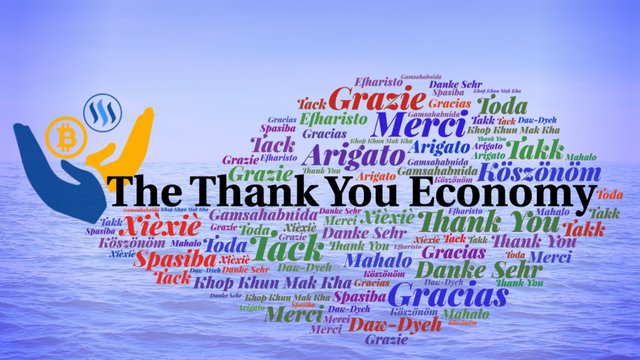 It's That Time Again!  
Time For Your Weekly Dose Of Heart Felt Thankfulness
Welcome to the  Thank You Economy, a fun and engaging project where we try to promote a sense of thankfulness.  I really enjoy hosting the contest as I meet new people and awesome communities every week.  
In last weeks contest we gave away 5 shares of SBI and we had over 23 comments, a total of 12 Participants! and 19 Engagement Bonus Entries.
I just want to Thank Everyone again who has been participating, and resteeming the posts.

What is The Thank You Economy contest all about?(simplified version)
An Attitude of Gratitude - The Thank You Economy is simply a way to say thank you to someone who has helped you, influenced you or blessed you in some way in the Steem community.  It can be tough getting started on Steemit, and the people who have been here for a while realize that.  I could see community members helping out everywhere but what can new people do to show appreciation back?  Not much....
That's where the idea for the Thank You Economy contest arose, I wanted to do more to say thank you.  
Maybe I can do more.  I thought there might be others who wanted to do the same, not to mention it's fun.  
Just saying thank you to someone opens up all kinds of opportunities to interact with each other.  YOU CAN THANK ANYONE YOU WOULD LIKE....
LET'S HAVE SOME FUN

On to the Contest Rules 
The Base Contest - We'll keep this simple.  
Leave a comment on this post.
In the comment tag someone who has helped you or influenced you on Steemit use the @coinsandchains format.
Then briefly tell us why you chose them.
That's all you have to do.  (upvotes, restreems and follows are appreciated though)
One thing, please do not tag bots or alt accounts.

The Prizes and Winner Selection: This Changes almost every week
2 ENTRIES WILL WIN THIS WEEK!!!!  
I will pull winners on day 6 or 7 of the post.... 
1 commenters will be randomly selected by the amazing prize wheel I found. The account making the comment and the account tagged in the comment will receive one SBI share each (2 total shares). 
Most awesome or heartfelt entry - 1 commenter and their nominee will receive one SBI share each (2 total shares), this will be selected either by a guest judge or myself.
I will also give an upvote to each valid entry, but that does not amount to much.  Upvote your own comment if you would like, or if you have a @dustsweeper account it might help.  

THE ENGAGEMENT BONUS ROUND  
So we are going to have One Bonus Round this week!!!! 
Bonus Round: Community Participation 1 winner!
If you know of other communities feel free to let me know in the comments. These are just the ones that I have engaged with.
Anyone who is participating in ANY of these Engaging Community Groups is eligible for an additional random drawing.  
Communities:  
All you need to do is Add a Tag to your comment entry, if you are participating in multiple communities each community counts as an entry!  Please use the Tags above if possible....

Just In case You Don't Know What SBI Is.
In the interest of saving space you can learn more by visiting @steembasicincome.   It is a pretty cool project with several people working on it. The brains behind the operation and main sponsor is @josephsavage #steembasicincome  

REMEMBER TO SAY  "THANK YOU" TO SOMEONE
Good Luck To the Steemit Community If you enjoyed this please Follow Upvote and Restream
Something you might want to check out, the Information Finding Championship has just kicked off season two
You can also catch me on 
LinkedIn  Yes I'm a super-nerd computer geek who likes nature and gardening.
Twitter   Mainly use this for airdrops and other things I enjoy scoping out.