Introduction
After the collapse of the global economy in 2008, blockchain technology replaced traditional bank system as a better store-of-value system due to its high level of security and privacy. However, this potent tool is ridiculously poor at transfering value as its speed of transaction is too low when compared with other value exchange platform such as paypal, visa e.t.c.
This is the primary reason why exchanges were initiated in the first place; that is, to drive an economy of value transfer easily. So far so good, through the activities of this exchanges, many interested party has gained entry into the cryptocurrency space without much fuss. However, the cryptocurrency space still has more room for growth since it has barely even hit the $1 trillion dollar mark and the reason for this is not a farcry from the distaste of many businesses and investors about the technology.
Some of their concern rest with the security risk associated with many centralised exchanges which has gave hackers a field day at gaining access to their wallet and stealing away customer's funds kept in their custody. But the landscape is about to change for all the bad actors within the system with the introduction of a compliant-friendly exchange platform ONAM
Lets talk about Onam
ONAM is a compliant-friendly cryptocurrency exchange. Their aim is to have an exchange institution that address all the challenges the present exchanges are facing by using latest technology that is capable of handling the present and future market demands, hence mass adoption. And this is why they take security, scalability, compliance and customer support very seriously....let's take a look below at reasons why you must choose Onam!
To answer this simple question, lets take a look at the challenges that confront the exchange industry at present and see how Onam is finding a solution to each. Onam exchange will be based on machine learning technology, which will allow the exchange to learn and identify unusual trading patterns inorder to recognise any manipulations going on in the background. This ensures that traders activity are always kept under the radar and an attempt to abuse the system through pump and dump actions, wash trading will be easily detected and necessary action meted out by the exchange. This is possible since traders within the Onam platform are able to trade under a fully compliant culture. Onam also addresses the problem of liquidity by utilizing order books from multiple exchanges to create a truly rich and transparent order book; solving the high slippage and manipulation due to poor liquidity on most exchanges. Apart from all this, Onam is building a platform capable of enticing businesses and institutional investor into the blockchain by creating a compliance culture that ensures the exchange is capable of holding funds without questionable behaviour such as money laundering or dirty money being carted into the system. The exchange infrastructure is built with customer in mind and therefore for their present and future needs by providing an active and functional customer service support unit amidst their server framework which can support upto 10 million transactions per second with latencies as low as 40 nanoseconds making the platform infinitely fast and highly scalable for mass adoption. Finally their regulatory framework ensures they comply with SEC-defined rules for operating an exchange which are stated below
Register as a money transmitter in all 50 U.S states
Obtain a Broker/Dealer Licence
Register as an Alternative Trading System (ATS)
Become a member of a Self Regulatory Organisation (SRO)
Enforcing KYC/AML laws
Onam Exchange overview
Onam exchange has some excellent facility to make cryptocurrency trading convenient for its users and some are highlighted below
Enterprise-Grade Security
Inorder to ensure users can guarantee the safety of their funds within the Onam trading platform. Onam is employing some innovative technology to drive a highly secure trading and sharing platform by properly verifying correct users information before logging them into the platform. Lets take a look at some of this technology below
| | |
| --- | --- |
| Anti-money laundering system | Anti-market manipulation system(AMM) |
| Encrypted Database | Quarterly Audits |
| Ip whitelist | Anti-phising code |
| Hardware wallet integration | 2FA and U2F authentication |
| Custodian services and partnership with BitGO | Withdrawal confirmation |
Onam trading fee is relatively low when compared with other prominent exchanges. This is aptly summarised in the chart below

Vs other exchanges
Modular Trading Interface
| Night mode | White mode |
| --- | --- |
| | |
Available in day and night mode in order to give user the total experience on the platform. The night mode is also a security feature in this sense
These features act as a complementary function to help traders balance their trade conveniently on a daily basis.
Trade Assistant with Trade alerts and signals
This tool is powered by machine learning and it is designed to help traders minimize their risk trading on the platform by assessing their current position, account balance and user's personal tolerance
Others features are summarised in this table below
| | | |
| --- | --- | --- |
| Push Notifications | Advanced Charting | News and announcement feed |
| Multi-Language User interface | Multi-Language 24/7 live chart | OTC Trading |
| Advanced and Custom APIs | Fixed Server for Institutional Traders | Trading Expert Coaching |
| Margin Trading | Margin Lending | Composite Index Fund |
| Paper Trading | Auto-Trading | Market Scanning |
Full Benfits of Onam Exchange to Traders and Investors
Real time maket surveillance, supervision and compliance
Secure with machine learning algorithm to detect and flag unusual activity and manipulation within the system.
High liquidity by incentivizing large market makers, traders and miners to use the platform
Advanced threat prevention, intrusion detection
Matchless speed of Matching engine with capability of handling 10 Million transaction per second with latencies as low as 40 nanoseconds
A truly rich and transparent order book
Strong regulatory framework to support businesses and institutional investors.
Fast and reliable customer service response.
Onam's Partnership with BitGo
BitGo is reverred as the market leader in institutional-grade cryptocurrency investment services. Hence, they offer custodian services to large institutional investors which covers the institutional-grade policy control, 100% cold storage with multi-signature feature in bank grade vaults for more than 75 cryptocurrencies.
Therefore, Onam partnership with BitGo is a two-way street and holds many benefits for institutional investors alike since they will enjoy the dividends of using an exchange that is compliant friendly where they can easily exchange their asset at the market value while traders can get to enjoy tonnes of liquidity from this relationship as well.
Final Thoughts
Onam exchange recognise the obvious benefits of exposing blockchain technology to the businesses and institutional investors. This is why they are building one of the fiercest exchange till date; to handle the robust nature of cryptocurrency trading and transfer for businesses and investors alike in a regulated, transparent and secure environment.
Traders's Note: The following cryptocurrencies will be available for trading once the platform launches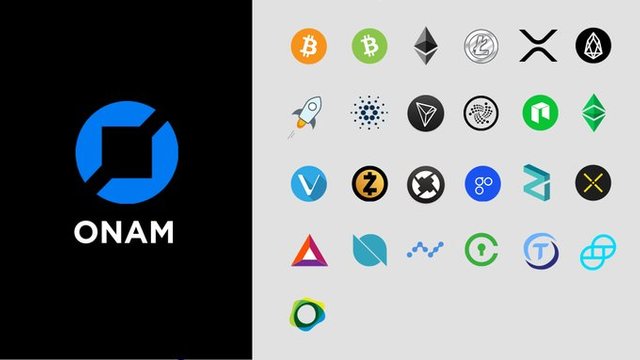 Use Case
Hmo is s retail outlet which has many branches scattered around lagos metropolitan city. They noticed lately that most of their customers prefer to patronise a nearby outlet which has incorporated the bitcoin cryptocurrency as a means of payment. They are determined to win the market back and they decided to implement the same technology which the other outlet uses to accept cryptocurrency payment. However, their first foray into the cryptocurrency world wasnt succesful atall as the trader incharge of managing their asset complained of difficulty in reconciling the account balances due to price unpredicability caused by high volatility of the market.
They opt out but was still not contented watching their close neighbour make huge sales from accepting cryptocurrency along with other payment method. On making more research, they discovered their neighbour have being using an exchange where they can easily reconcile their asset with its market value easily and also get to store their asset on a secure vault while channelling all transactions in real-time!. That exchange is ONAM!, with its high liquidity coupled with rich order books, it is able to find market for assets listed within the platform.
Token and ICO Information
Roadmap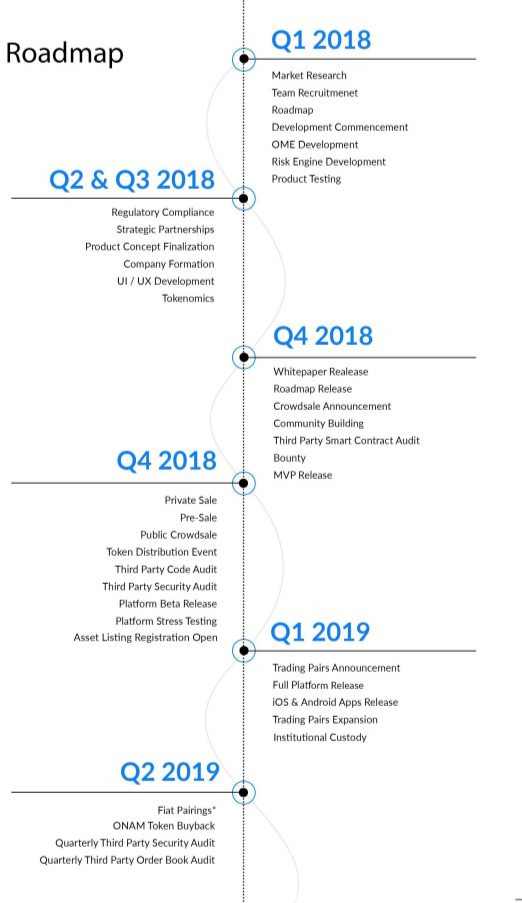 Meet the Team
Useful Links
This article is submitted for @originalworks contest sponsored by Onam. Feel free to join here



Onam2018