17 SBD Resteem Giveaway! Altcoin Fantasy + Steemit
And payouts have been sent.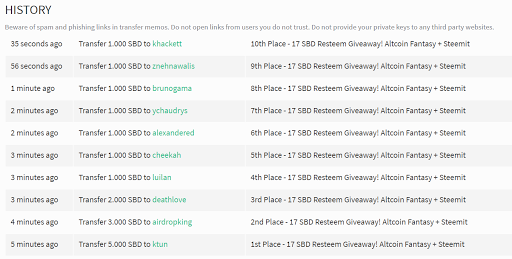 Thank you to everyone who entered the giveaway and see you on the next contest!
---
As part of our big launch here on Steemit, we will be giving away a total of 17 SBD to 10 random winners!
We have been giving away hundreds of dollars on our game platform Altcoin Fantasy every week so we wanted to extend our generosity here on Steemit as well.
Prizes are as follows:
1st: 5 SBD
2nd: 3 SBD
3rd: 2 SBD
4th - 10th: 1 SBD
Rules:
Follow, Upvote and Resteem
Sign up on Altcoin Fantasy and take note of your username.
Leave your ACF username on the comments.
Winners:
Winners will be chosen at random on May 19, 2018 at 6:00PM PST. Once we have the winners, we will update this post and announce it.
This giveaway is being sponsored by Altcoin Fantasy. A fantasy crypto trading simulator that helps you learn how to trade crypto without losing any money. Altcoin Fantasy is absolutely free to play and gives you a chance to win actual crypto or $$ just by choosing the best coins to trade with.
We are also hosting a private contest for Steemit users and the contest post can be found here. Altcoin Fantasy + Steemit Private Contest