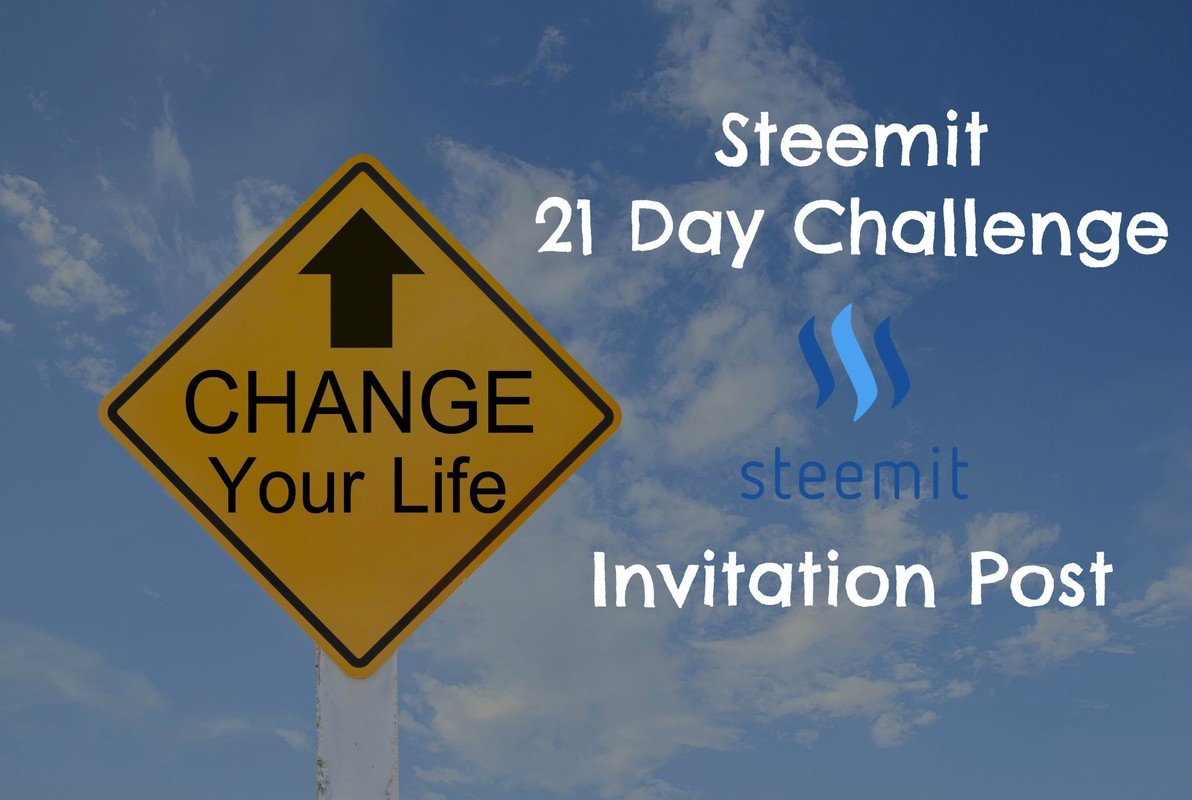 Hello & welcome to the Steemit 21 Day Challenge invitation post. This is my first social experiment on steemit and I'm excited to challenge those who are willing to accept - as a way to improve your life in whatever meaningful way that is important to you.
What is the Steemit 21 Day Challenge?
The 21 Day Challenge is a 3 week contest exclusive to steemit where users are encourage to focus on one meaningful way to change their life for the better.
This change can come in many different forms; whether it's starting a new habit, breaking an old habit, challenging yourself to try something new, giving back, finally doing that 1 thing you've always wanted to... The possibilities are endless. However big or small this change is for you, remember small changes, with time, can snowball into something much, much greater.
How does this contest work?
Step 1. Opt in.
To opt in simply comment ON THIS POST: I accept the 21 Day Challenge. You do not need to share anymore information at this point other than opting in. However you are more than welcome to share what you're planning to do. Those who participate will be added to a user list that I will personally follow over the next 3 weeks.
Step 2. Make a change.
Once you have opted in you have 3 weeks to make a difference - in whatever way is meaningful to you.
Step 3. Share your story.
Between TODAY and August 30th (21 days from now) YOU have to create a post and share your success story so I can collect the results. You MUST include "21 Day Challenge" somewhere in the post title so I can find and read your story.
Step 4. Top 5 Stories Will Be Shared.
I will create a Steemit 21 Day Challenge - Results Post on September 1st with what I find to be the top 5 stories shared. Stories will be chosen based on the impact shared by the user in their success story post.
Step 5. A Winner Will Be Chosen.
The steemit community will use the comment section of the Result Post to vote for their favorite story. 1 reply = 1 vote and there is 1 vote per user. Voting will last 48 hours from the start of the Result Post and based on the community voting, a winner will be selected.
The Grand Prize
Although I'd like to think for those who participate, the intrinsic value of making a change in your life should be worth the effort alone -- there will be a grand prize awarded to the winner. The winner of the Steemit 21 Day Challenge will be awarded all steem dollars generated from this post, the result page post & I will personally create a Steemit 21 Day Challenge - The Winning Story Post that will highlight the winner's story and will include all steem dollars generated from that post as well. I will be sharing my Winning Story Post at 1 Million Cups on September 14th too!
Last Thoughts Before We Start
I think it's important to note I will personally be choosing what I find to be the 5 most moving stories for the result page post. I am going to judge the success of your own post (where you share your story) not on the change itself but rather the meaningful way it impacted your life. Your change does not need to be some grand, out of this world event that can't be match by anyone else. It could be as simple as "I have a hard time making friends and over the last 3 weeks I got myself to talk to a stranger" or for example "I've always wanted to travel to South America and I finally started to save for this". What I will be looking for though is the impact it's had on your life and how you have changed for the better as a result.
As I mentioned at the beginning of this post - this is my first steemit social experiment. I hope my directions were clear and that users will be motivated to participate. My goal is to help instill change for the greater good of the community and in doing so - share some cool stories. If you have any questions - please post them below.
And remember; to opt in simply comment ON THIS POST: I accept the 21 Day Challenge.