To celebrate the launch of PAL witness @thecryptodrive and @reggaemuffin's new voting and delegation bot @Minnowbooster, I'll be giving away 3 x 4 week Steem Power delegations. Winners will be drawn from a hat at random.
Entry Rules

COMPETITION IS NOW CLOSED - OVERWHELMING DEMAND

Note: If you have already placed an invalid vote you still have until 11pm Sydney time to fix your entry!




Also it's not too late to help out by up voting this post and boosting the major prize for the lucky winner XD





Up vote this post
Up vote my nomination comment for the @Minnowbooster announcement
Comment below so I know you've entered!
Entries close 11PM Sydney, 4th of July (may change - enter now!)




IMPORTANT
People are skipping entry rule two - you need to upvote this comment for a valid entry: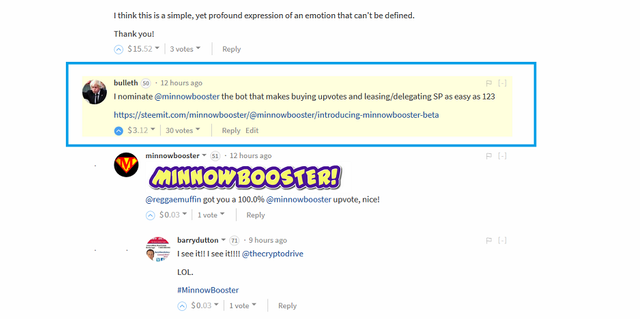 Minor Prizes - Drawn 10am Sydney, Wednesday 3rd of July
Minor Prize - 300 SP 4 week delegation (worth 12 Steem)
Runner up - 100 SP 4 week delegation (worth 4 Steem)
Major Prizes - Drawn 10am Sydney, Monday 10th of July
Major Prize - ??? SP 4 week delegation (worth ??? Steem)
[Gaurenteed minimum delegation of 300 SP]
The major prize will be the largest 4 week delegation I can buy with the SBD rewards from this post and the nomination comment. Guaranteed to be a minimum of 300 SP!
Bonus Entry
Resteem this post and let me know when you enter to get your name in the hat twice!
Note: Winning a minor prize draw does not disqualify you from the major prize draw (though you can choose to delegate some of your winnings to some else if you like).
---
Even though I'm giving away all the SBD from this post, will still be sending a split equal to 20% to @Centerlink, so get involved and support #TeamAustralia and our friends from #PAL