The TeamNZ Mid-Week Post Delivery Service (22.08.2018)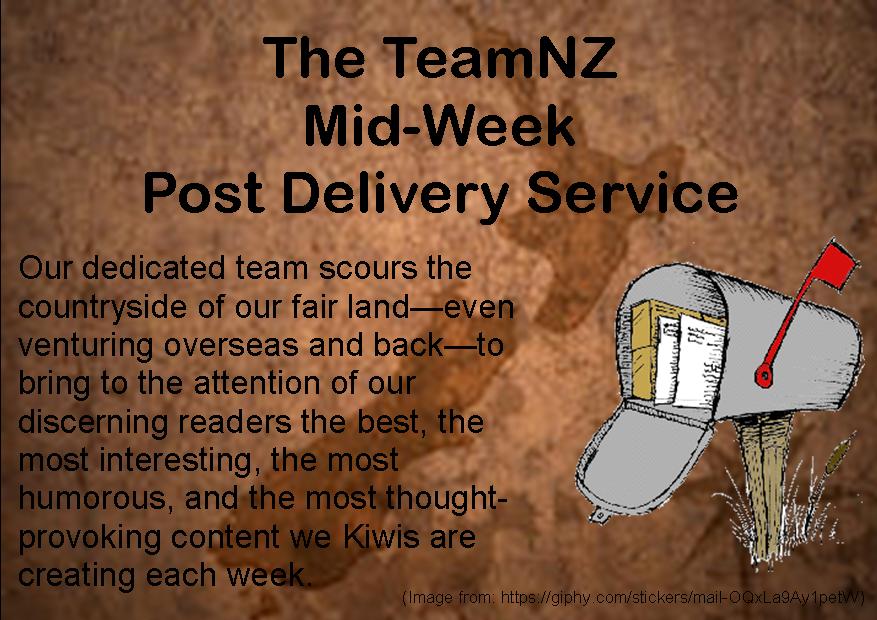 Delivered to you: 22 August 2018
TeamNZ Announcements
Nothing to report, really, except ... we'd love to see more kiwi content from everyone!
Also, remember to use the #teamnz tag so we can find your posts.
We have a small core group of regular posters who do a great job, but we have so much more to offer the wider world.
Would setting fun challenges help? Weekly themes?
Ideas have been put out in the past, but little feedback given.

This Week's Selection
If you are a budding entrepreneur or looking for start-up advice, you should find this series very useful and encouraging.
https://steemit.com/entrepreneur/@nalabra/90m0f78c

Showing off some of our hidden splendour that is godzone.
https://steemit.com/teamnz/@mg-nz/kuratau-is-one-of-the-most-scenic-places-in-new-zealand

Another essay, this time on local history.
https://steemit.com/history/@ravenruis/loss-of-tradition-the-impact-on-maori-society

Watch this video on his early attempts at screenprinting.
https://steemit.com/video/@mitchyb/first-time-screen-printing-wooden-buddha-sign

Announcing the next Auckland Steemit meet-up. Plenty of time to plan on attending. And let's face it, who wouldn't want to drink at a pub called the Dog's Bollix?
https://steemit.com/kiwi/@cryptonik/auckland-steemit-meetup-2-4th-september-2018

Remember, only registered Kiwis using the #teamnz tag will call our special voting bot to your posts, and please follow our @teamnz profile to keep up-to-date on all the news and plans we have for our community.
Be on the look out for the bot in one version or another: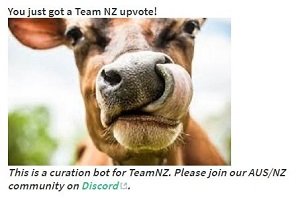 If any fellow kiwi wants to find us all, here is the invite: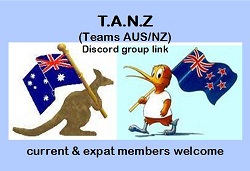 You need to come in to register for our upvote bot, and the in-server ANZUB bot.