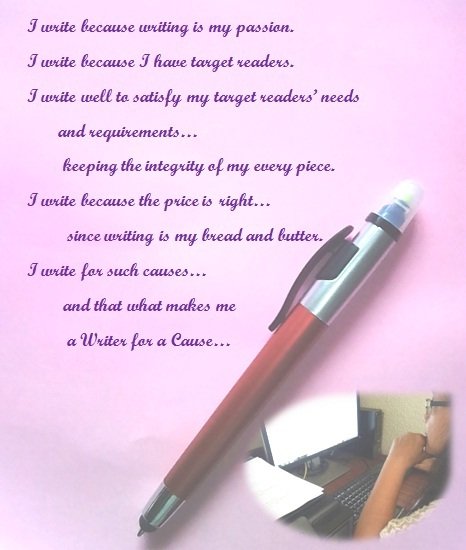 In a writing job, determining who the target audience or readers are is, also, determining their needs and requirements. Satisfying their needs and meeting their requirements hits the bulls-eye. It tags the writing piece with EXCELLENT QUALITY.
What is the determining factor then for QUALITY in a place like Steemit where WHO the specific target audience/readers are seem close to impossible to define? It is likely writing and posting a "to whom it may concern" writing piece.
I value so much my writing pieces as well as the time spent writing them. Hence, after posting several short writing pieces in Steemit; all fresh and original which ended up to several upvotes and a few pennies value, to think that I know nothing about cryptocurrency, I asked myself "what am I doing here?"
I almost gave up. But, something and someone inspired me to keep hanging on.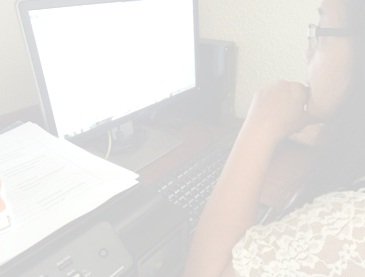 Early retirement from the post of Consulate Secretary many years back paved the way for my passion for teaching and writing. Since then I've been into online language tutoring and technical writing and gladly receive a handsome remuneration out of it. I regularly write on a contractual basis for several apps that provide "work from home jobs." But, as a gesture of respect to everyone here at Steemit, most especially the founder or creator and the pioneers, I opt not to mention any of them. As a graduate of Freelance Journalism, secondary to a Bachelors Degree in Communications, I observe a certain standard, rules, and ethics, formats, and styles in writing. However, if there's one thing I've never learned in the classroom but I am practicing, that is giving my heart in everything I do, including writing. As such, I value so much not only every piece I have written but the time I spent writing.
The three major things I consider in accepting and, or applying for writing projects are (1) The OBJECTIVE OF THE CONTENT (2) The SUBJECT OR TOPIC, (3) The TARGET AUDIENCE OR READERS.
THE SUBJECT OR TOPIC determines in which category my writing piece would fall, either CREATIVE or NON CREATIVE (TECHNICAL) and so, the necessary materials and references. In most cases, I prefer working on noncreative projects or technical ones rather than creative.
THE TARGET AUDIENCE OR READERS dictates the appropriate language level to use as well as the form of English (other than the two major forms; American and British English) and the terms to apply e.g. University or Business English, Medical or Legal terms, etc. in order to make things properly aligned. Bearing in mind that when I'm working on an online project, the piece should be written in the simplest form or Basic English to make it easily understood by readers, other than my target audience who are non-English native speakers. Lately, as I started writing church articles, I spotted another English variant which I classified as Scriptural English. "It came to pass…" is one of those phrases I often encounter in most scriptures and other religious materials (sometimes, in fairy tale books). Imagine seeing such phrase in a Job Report, Resume, a Business Proposal, Legal Affidavit or a Patient's Medical Record. How those documents would look like? And what impression about the writer those pieces would create in the eyes of the readers?
I decided to discuss the OBJECTIVE OF THE CONTENT at this point, although it comes first in my list of things that require careful considerations in a writing assignment. The "objective of the content" is where the HEART and SOUL of my writing pieces lies. It is the key to establishing a connection with the readers and it is what this instrument is almost all about.
The objective of the content could be (1) giving the readers information on something which falls under technical writing or (2) resonate with the target readers, as in promoting a product or a wake-up call which best fits for creative writing, other than entertaining the readers which I seldom do. But there must be something deeper than that. These two important queries must be satisfied… (1) Why this material has to be written? Or, why the client is hiring my services to write such material on his behalf and (2) why such information has to be transmitted to the target readers? If I am writing a piece, not for anybody else, but, for myself, then, "why am I writing this piece?" Just to have something to post in social media? Unfortunately, I am not a social media savvy who usually shares emotions on the internet and update thru posts people around the world I don't even know of what I am going through. I'd rather talk to my cats then sleep confidently at night that my secrets would be kept for life no matter how I treat them and without any fear of bashing from netizens in the morning … when I wake up.
"IS THE PRICE OF NO VALUE?" someone may ask. The answer is so simple and direct. It is of most value! I visit apps that provide "work from home jobs" and create accounts on them simply because I need a job. Hence, I have to be fairly compensated for my writing jobs. In fact, it is the price that I always see first and catch my attention. " Obviously, it is only a few numeric figures while the job description is composed of long alpha characters. And it always goes with the question "Is the price right? Thus, at the very start, I know how much my writing piece would be paid upon its completion. And the most possible answer anyone would give if questioned "why are you writing such piece?" is "the price is right!" However, after going through the long job description, fully apprehended every condition and stipulation that goes along with it, and satisfactorily managed the three major factors discussed earlier, then it is time to make a final decision whether to proceed with the writing task or not.
I write because writing is my passion. I write because I have a target audience or readers. I write well to satisfy my target readers' needs and requirements… keeping the integrity of my every piece. I write because the price is right… since writing is my bread and butter. I write for such causes and that what makes me a WRITER FOR A CAUSE. NEVER that I would write only because THE PRICE IS RIGHT, otherwise, I would be a WRITER FOR A COST; a title I never dream of winning.
WRITING FOR AND POSTING IN STEEMIT
After posting several fresh and original writing pieces in Steemit which resulted to a few upvotes and a little pennies value, to think that I know nothing about steem, bitcoins, or cryptocurrency, I started asking myself "what am I doing here?"
I don't have any idea who among the Steemians my target audience is. Perhaps, I should say, I don't have a specific target audience or readers. How could I satisfy unknown needs and requirements? And so, how could I come up with a quality writing piece? What standard I should adhere to? Which genre I would dive in? Should I go creative or technical? And the bigger question is… how could I keep on writing for a cause this way?
I almost gave up until I came across this post….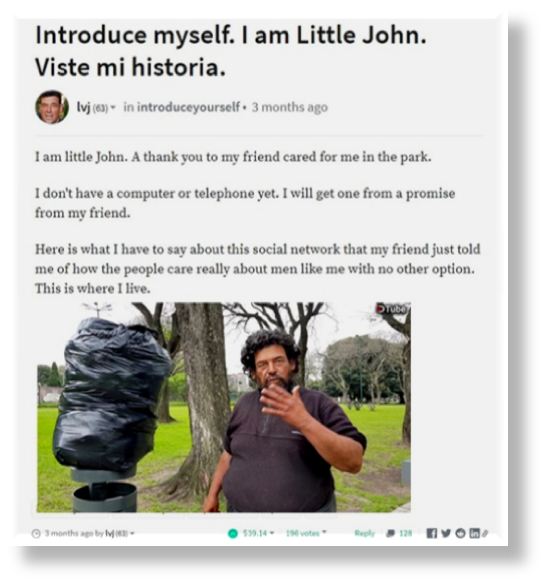 https://steemit.com/introduceyourself/@lvj/txdme2gg
I was among those who welcomed Little John to the platform.
Since then, I've been silently following @done; the friend Little John was referring in his post. Seeing his profile and a VERY FEW POSTS brought me the feeling that I am looking at my own head rolling across the grasses (I would leave that matter for you to discover why)…till he came up with this post…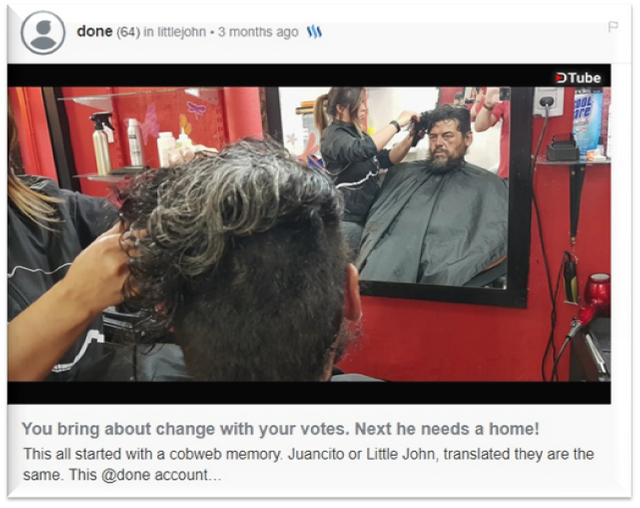 https://steemit.com/littlejohn/@done/you-bring-about-change-with-your-votes-next-he-needs-a-home
I might be so slow in comprehending how the Steemit platform works, particularly, matters concerning cryptocurrency but one thing is crystal clear for me; i.e. … there is LOVE overflowing in this place which makes human more humane and I would always want to be a part of it.
As I, once again, visited my previous posts, I noticed someone who tirelessly following and commenting on them since day 1. He is @abdoon and here are his inspiring comments.
His welcome message to me…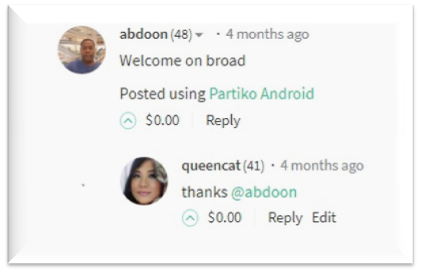 https://steemit.com/introduce/@queencat/greetings-from-the-queen-introducemyself
His Comment to my 3rd post…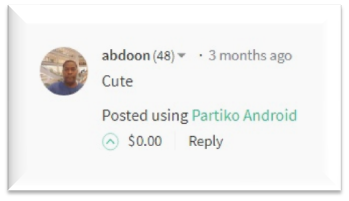 https://steemit.com/cats/@queencat/a-prank-conversation-between-mom-and-baby-cat
His reply to my 4th post…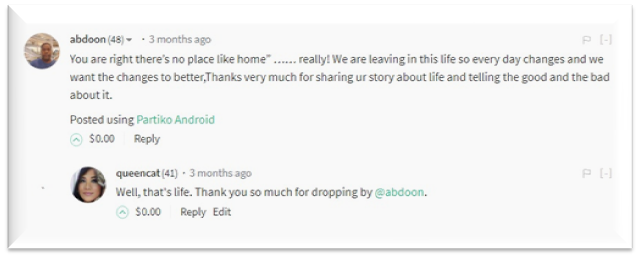 https://steemit.com/writing/@queencat/my-hometown-my-paradise
Our conversation on my 5th post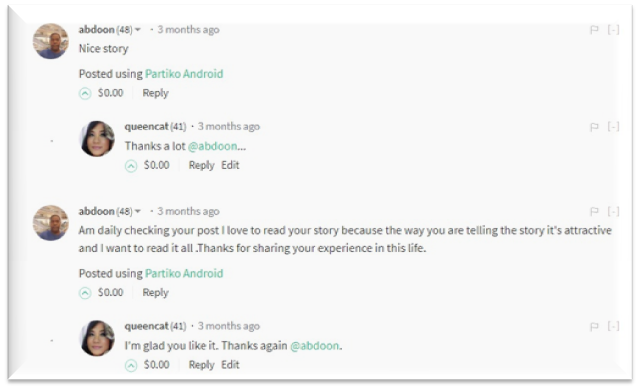 https://steemit.com/love/@queencat/what-love-can-do-my-zombie-cat
His comment which triggered a conversation on my 7th post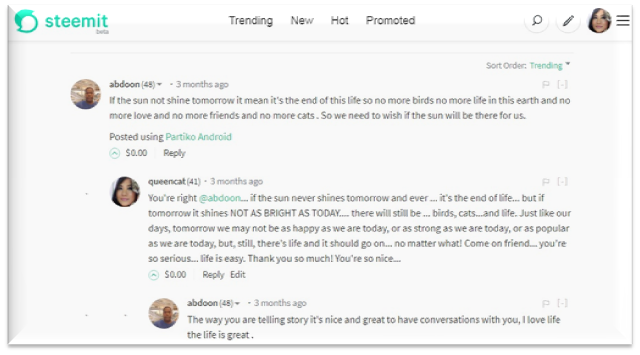 https://steemit.com/funny/@queencat/look-up
On my 8th post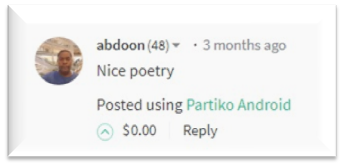 https://steemit.com/poetry/@queencat/the-power-of-white
This one is on my 9th post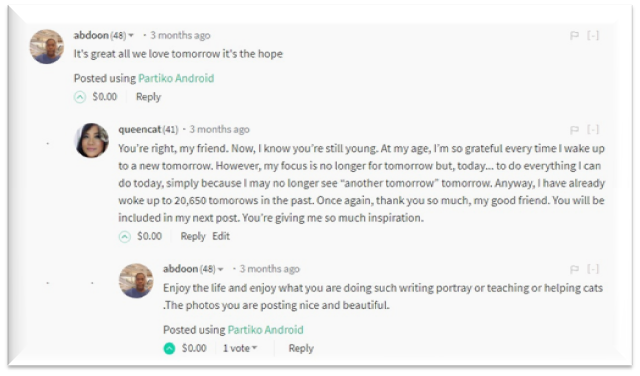 https://steemit.com/creativity/@queencat/my-tomorrow
Our conversation a few days before Christmas 2018... It's on my 9th post...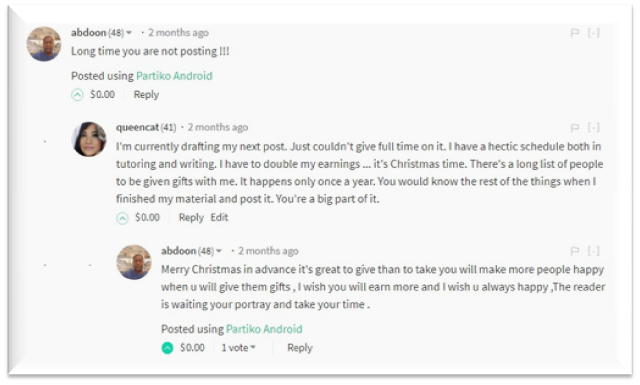 His most recent message to me… still, on my 9th post...

Now, I know who my target audience is!
As long as there is one @abdoon who avidly following my posts, tirelessly replying and posting his inspirational comments on them and excitedly keeping his shirt on for my next posts, and as long as there is one @done who genuinely cares for his fellows and generously shares the love from his heart to the Steemit community, I would remain A WRITER FOR A CAUSE. And that inspires me to keep on writing and posting in Steemit. I am proud to be a part of a community which makes human more humane.
Thank you so much, my dear friend, @abdoon for tirelessly following my posts and for your inspiring comments.
Thanks to you, @done for making Steemit a portal of the love that comes from your heart and sharing it with this community.
Thanks, everyone.