Others Are Jumping Onto The Gold Bandwagon Too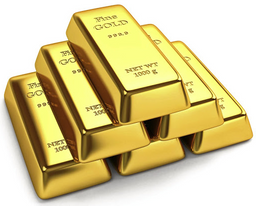 A little over a week ago, I talked about Gold through Newmont Mining,
Unusual Options Activity In Newmont Mining
Gold saw an increase of more than 2% last week and traded around its five-month high. Last week, U.S. nonfarm payrolls increased by 155,000 last month, but below the economists median forecast of 200,000 jobs. The jobless claims also fell less than expected last week. With the data announcement last week, one has to expect falling U.S. interest rates and a declining US dollar. A slowdown in global markets and uncertainty in the global markets is also favoring hard assets such as Gold.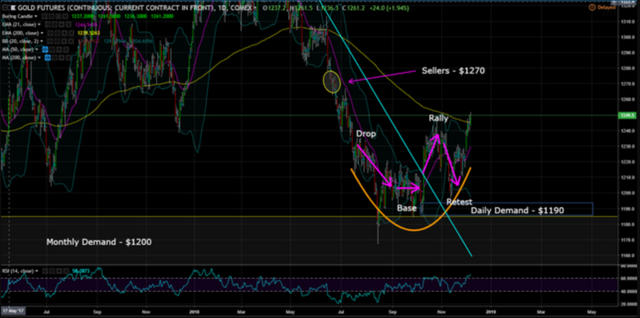 This past Thursday, CNBC's Jim Cramer said on his show, Mad Money that he was frustrated about the Federal Reserve's policy decisions and recommended that investors buy into the bull market in gold. Craig Johnson, chief market technician at Piper Jaffray thinks Jim is right.
"Cramer's spot on correct," Johnson said on CNBC's "Trading Nation" on Friday. "It looks like we're putting in a bottom here and it looks like we're going to see this maybe 9 to 10 percent higher to get back to the old highs."
On the GLD gold index, a 10 percent rally would take the exchange-traded fund (ETF) to new 52-week highs. It would also mark its highest level since August 2016.
"From our perspective I think we could see some weakness in the dollar in here given that the [Federal Reserve] might be less hawkish going forward, and that might be really the underlying driver higher as to why we'll see the gold prices go higher," said Johnson.
What we also have on the weekly chart is the 12 simple moving avg crossed over the 26 simple moving avg. signifying bullishness.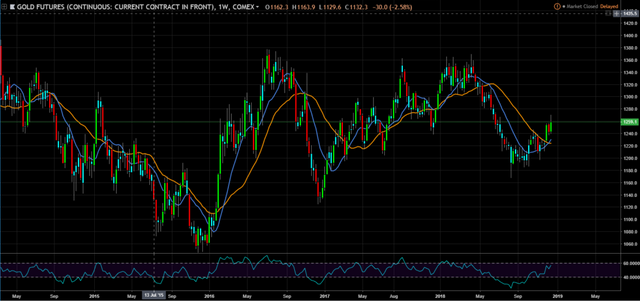 The chart suggests price is headed to at least the daily supply at $1330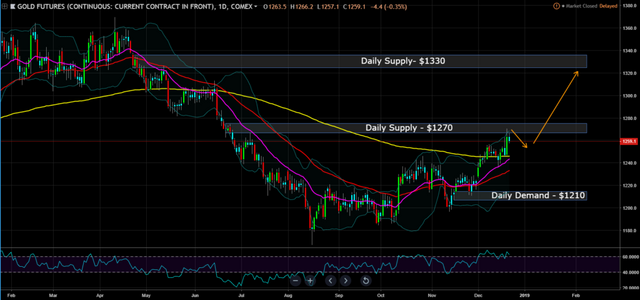 This post is my personal opinion. I'm not a financial advisor, this isn't financial advise. Do your own research before making investment decisions.

---
Published by Rolland Thomas
on

with SteemPress
https://mentormarket.io/rolland/others-are-jumping-onto-the-gold-bandwagon-too/
---