"Read a Damn Book – 161: The Land of Nod Treasury"
About I-don't-know-how-many years ago (maybe 7 or 8???) we moved out of a house that I'd had stuff in since 1987. I lived there in high school, then after I got a fam-damily of my own, we BOUGHT the place from my dad, and we lived there for a long time, my wife and two daughters and me. The place was STUFFED to the gills with junk---boxes and piles and more boxes of twenty-plus-years of family detritus…including something like ten comics boxes, which I left behind... When we moved out, we moved into a temporary place that was too small for most of our stuff. We put some of the twenty years worth of family stuff at the new place, put some into a storage unit, and left a lot at the old house, thinking we'd go back and get it as soon as we found a new PERMANENT residence---but that took a long time, and we ended up having to abandon a BUNCH of our stuff in the old house. (Sad to think about, all those books and comics and photo-albums and blah blah blah, just gone, BUT!!!!! It's just stuff. And we can live without stuff, as long as we still have our family. (That's the story, and it sometimes makes me a bit sad, but I'm MOSTLY over it now!) One of the things that I THOUGHT I might have left behind in the old house, but that I FOUND in a box when we recently organized the garage, was Jay Stephens' The Land of Nod Treasury. (Happy smile!)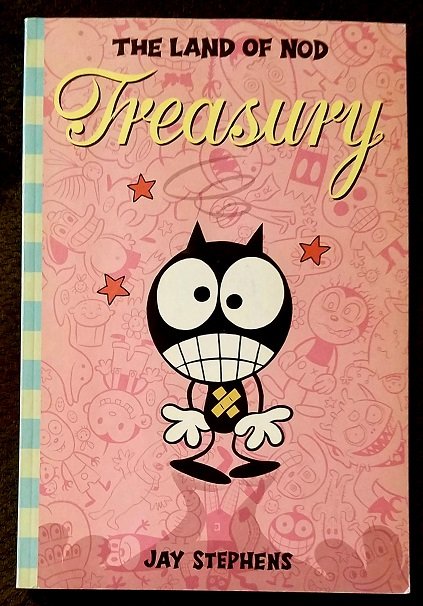 [This is a photograph that I took of the actual book that I read. The image is included for review purposes only!]
Jay Stephens – The Land of Nod Treasury (2001)
This brilliant, weird, goofy book is a collection of stories from a variety of comics with titles, like Sin Comics, Itchy Tales, Savage Love, and other bizarre books… What Stephens has created with this collection is a humorous dream-scape that is equal parts Otto Messmer's Felix the Cat, a dash of Bosko, maybe a bit of George Herriman's Krazy Kat, and a bunch of weird modern things, like Evan Dorkin's Milk and Cheese and Michael Kupperman's Snake 'n' Bacon. The art is funky, sometimes scratchy, cartoon figures---ducks and skeletons and bugs and whatever Nod is--- with exaggerated expressions and kooky dialog; odd, nonsensical story progression; and a bit of adult naughtiness---ALL stuffed into a blender, then fried in a wok, and then tossed in a microwave with a bunch of marshmallow Peeps.
Here's a single panel from the book taken out of context (the best way to present a Nod image):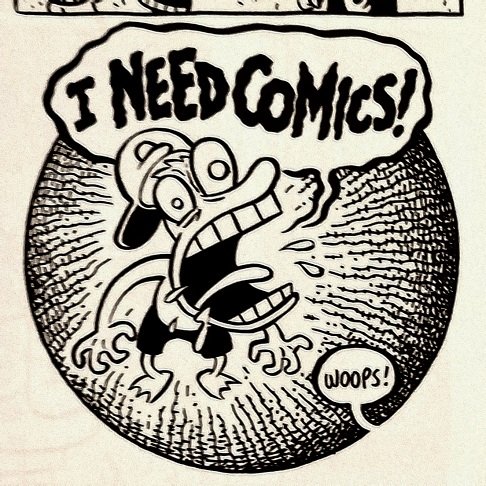 Despite the weirdness, there is a thread of a story that SOMEHOW holds the book together---even though the stories come from a bunch of different sources---in which the main character, Nod, who is sort of the "King of Dreamland," is challenged by a weird, reality-distorting figure, who calls himself the "Dream King," for the throne of Dreamland. The Dream King also says, as King, he should be the star of the comic book! However, after a quick succession of barely connected events, the Dream King is accidentally killed, and the characters of Dreamland go their separate ways and have a bunch of odd adventures, only to discover, in the third act of the book, that the Dream King's brother, Nox, a powerful, nearly-godlike creature, has vowed to destroy Dreamland and kill everyone in it! Only Nod has the power to save everyone, but he, mysteriously, has gone missing! The story is fun, dark, and weird---like everything else in the book!
I can't really say this enough---the whole book is very strange, very silly, and seems almost like an angry kid's story until, all of a sudden, characters start cussing and a weird, sexually explicit thing will occur, basically out of nowhere! It's a bit of a shock when this happens, truth be told! Although as dark as the humor is throughout the book, it really isn't EVER a kid-friendly story, even from the very beginning. The humor is dark, for certain, but the characters LOOK a lot like they should be in some old, black and white cartoon...and that contrast between the traditionally kidsy look and the dark, satirical content is what makes the book so interesting. It's weird and silly and, at times, JARRING, but I really dig it!
Along with the Dream King / Nox storyline, there are also a number of other odd characters who get their own recurring mini-stories, like Captain Rightful, (the completely ineffective superhero who always shows up just as everyone dies)---and Coxwell, the Badly Drawn Ghost, (a Casper the Friendly Ghost parody in which everyone who Coxwell tries to be friends with HATES him because of how badly drawn he is)---and Jumbo Head, (the elephant headed boy who, like Charlie Brown, is always being abused and picked on…) In a very real sense, this book is a satirical take on a bunch of classic comic and cartoon tropes. However, Stephens's supremely odd sense of humor and injections of surreal absurdity and weirdness keep the book from being JUST a parody. It's also a full-on RIOT!!!
I've read this book at least seven or eight times, and it's still incredibly funny. In fact, just before writing this review, I sat down and reread the book, cover to cover, in just a couple of hours. (I'm a really slow reader, so I'd imagine a normal person could read this whole thing in less than an hour.) Jay Stephens, later in his career, would go on to bigger and more popular things, like Tutenstein, which was made into an animated series, as was his JetCat, and he also did stuff like Oddville and Atomic City Tales, which were excellent. According to a couple of wiki pages that I looked at, he's even worked on mainstream stuff, like Teen Titans and Star Wars and Alien, but I've never actually seen those books, so I can't comment on them.
What I can say is that I love THIS book. It's silly and weird, but has a dark, almost nihilistic edge to it (not as dark as Milk and Cheese, but few things are.) The art style is cartoony, but it definitely appeals to me, reminding me of the classic, old, weird cartoons from the 1930s, but still feeling as modern as good stuff made by the likes of Richard Sala, Peter Bagge, Evan Dorkin, and Michael Kupperman---all favorites of mine. So, if you like satire, indie sensibilities, and classic cartoon weirdness, I definitely recommend checking out The Land of Nod Treasury, and just about anything that Stephens has created. SOME of his work is specifically intended for the kiddies (like the Tutenstein show, which was produced by the Discovery Channel), but THIS book is absolutely NOT for kids. Nope…
It's for child-like adults… You know who you are!
---Richard F. Yates
(Primitive Thoughtician and Holy Fool)
SUPPORT INDEPENDENT FOLKS WHO ARE JUST MAKING STUFF BECAUSE THEY LOVE IT!!!
https://steemit.com/@richardfyates
https://noncom.art.blog/reviews-books-movies-music/
https://makersplace.com/store/richardyates/