"Read a Damn Book – 129: Ranma ½ Volume 5"
It's been several months since I reviewed Volume 4 of Rumiko Takahashi's Ranma ½ books, but I felt like I wanted a laugh, so I grabbed Volume 5 off the shelf!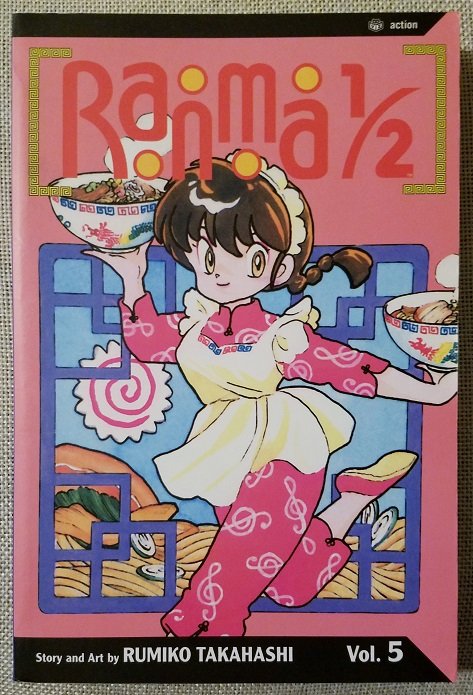 Rumiko Takahashi – Ranma ½ Volume 5 (2003)
For anyone who hasn't read any of Ranma's adventures (or seen any of the cartoons or played the video games or stumbled upon my previous reviews,) here's what the series is about. The Tendo family runs a martial arts school where they teach "Anything Goes Martial Arts," but because the master of the school, Soun Tendo, has no male heirs, he feels he has no one who can take over the school when he dies. To assure the continuation of the school, Soun comes to an agreement with his good friend, Genma Saotome, who pledges that his son, Ranma, will marry one of Soun's daughters, so that the school can be passed on and continue to exist within the family. The youngest daughter, Akane, (a tomboy and extremely talented martial artist, herself) is chosen to marry the young Saotome---but naturally, they hate each other from the get-go.
To further complicate the situation, while practicing their martial arts skills at an "accursed" training ground in China, Ranma fell into a cursed pool that is haunted by the spirit of drowned girl, and now whenever he is splashed with cold water, he transforms, physically (though not mentally,) into a girl! (Genma, the father, also fell into a pool, and now he becomes a panda whenever he encounters cold water.) In order to return to his normal form, Ranma must be splashed with hot water…but the transformations from boy to girl and back again seem to occur at exactly the wrong moment, and much Three's Company style absurdism invariably results. (There's also a healthy dash of Monty Python styled humor in the mix, but Takahashi's stories also draw heavily from Japanese cultural, as well! It's an interesting mix, which I personally find very funny!)
Takahashi's writing is hilarious, and her artwork is absolutely brilliant. Using just a few lines, she is able to create some of the most side-splitting facial expressions I've seen, and her use of melodramatic gestures and ridiculous dialogue further cement her place as a grand-master of the comic arts! I love the Ranma stories, (as well as every other Takahashi project I've encountered) and I've read and reread the Ranma books that I own several times each.
With that said, let's get to Volume 5. This book begins by quickly resolving the cliff-hanger that we were left with at the end of the previous volume. Unfortunately, if you haven't READ the previous volume, then nothing about this opening chapter is going to make any sense. I'm amused by it, but it involves a number of call backs to previous storylines, in addition to some very silly situations and circumstances that are based on character quirks which aren't well explained in this book. (Here's the opening scene: an ancient, witch-like grandmother is riding on the back of giant shark and attacking two young women in bathing suits, one of which appears to be drowning, while the other is carrying her under one arm and fleeing from the open-mouthed shark! …And this is the first panel of this comic! A new reader to this series will undoubtedly find a great many funny jokes and, possibly, enough amusement to keep reading, but they aren't really going to have the faintest idea what's happening throughout this first segment. However!!! If you like silliness---the book is very silly. I love it, but I've also read all the previous volumes (and this one…several times!) so I didn't have any trouble following the plot.
The second story, which centers around the return of Ryoga, one of Ranma's old enemies, is okay, but not that interesting. Compared to most of Takahashi's stories, it's a bit flat, which is kind of sad. It's not that it's BAD, it's just sort of straight-forward and lacks the weirdness that most of Takahashi's stories have. The third tale, however, is much better. It involves Ranma being kidnapped (in his girl form) and waking up in a bridal gown, then being asked to compete in a martial arts tea ceremony fight---against a monkey! This classic Ranma chapter is a return to solid form, and it includes all of the off-the-wall weirdness, melodramatic personal confessions, and martial arts action that anyone could want in a transvestite-battle-romance-comedy series!
The final tale in this book, which also involves the return of one of Ranma's older foes, Kuno, is about a martial arts fast-food take-out race. (Takahashi loves mixing "martial arts" with just about anything! And it's almost always hilarious!) This one is so strange and so frenetic that it might be the highlight of this volume. Again, much of what's going on probably won't make sense if you haven't read the earlier volumes, but it's also very, very funny---so maybe you won't mind that it doesn't make sense.
For those looking for DEPTH in their comics, Ranma ½ probably isn't going to be much use to you. It's silly, mad-cap, violent (not graphically or gory, but there is pervasive, slap-stick cartoony violence in just about every tale), and the whole series is always ridiculously over the top. However, if you're just looking for some solid laughs and brilliant, old-school manga artistry, then Rumiko Takahashi is one of the best in the business. I've probably driven it into the ground at this point, but I certainly wouldn't recommend STARTING with this volume of the series, as there are too many characters and call-backs to previous situations for a newcomer to get what's going on, but if you happen to find this book for cheap, or ANYTHING by Takahashi for that matter, it's going to be a safe purchase. If you think this series might be something you'd enjoy, I would highly recommend starting with book one!
Well, that's about it for this review, and I think, now that I've reviewed five volumes of Ranma, it's time I got around to tackling the most epic Takahashi series of them all. The next book that I'm going to review will be volume one of Inu Yasha! See you soon!
---Richard F. Yates
(Primitive Thoughtician and Supreme Bunny Lord of The P.E.W.)
SUPPORT INDEPENDENT FOLKS WHO ARE JUST MAKING STUFF BECAUSE THEY LOVE IT!!!
https://steemit.com/@richardfyates
https://primitiveentertainment.wordpress.com/read-a-damn-book-list/
https://makersplace.com/store/richardyates/