A major milestone has been achieved as this past weekend I attended the Baltimore Comic-Con and exhibited my creator owned independent comic book, "I Thought It Would Be Zombies…" for the first time.
I went into the show with zero expectations, so disappointment was not much of an option; but even if it had been, the weekend was truly very fun and rewarding on a number of levels.
The weeks leading up to the convention were brutal as I struggled to prepare. I averaged about 60 hours each week on "I Thought It Would Be Zombies…" in addition to the 40 at my day job. The weekend before Baltimore I woke up on Sunday morning and set to work at 10 AM, working through 24 hours straight until 10 AM on Monday morning; in order to get the comic off to the printer before heading to work at 11:00! Naturally I crashed hard that evening, but the following day it was back to pulling a near all-nighter; getting to sleep at 7:00 AM to catch a quick nap before my day job shift, as I worked to prepare the promotional materials like the banner and postcards. One of the highlights of the convention just may have been two nights of solid sleep in a cushy hotel bed! Blissful!
I picked up the postcards and banner on my way home from work at 8 PM on Thursday evening, packed and prepped, and grabbed 4 hours sleep to get on the road at about 8 AM on Friday for the 2+ hour drive to the Baltimore Convention Center. Running on a mixture of excitement, adrenaline, and Dr. Pepper, I hauled my gear in and quickly set up my table for the first guests arriving at 12:30 that afternoon.
---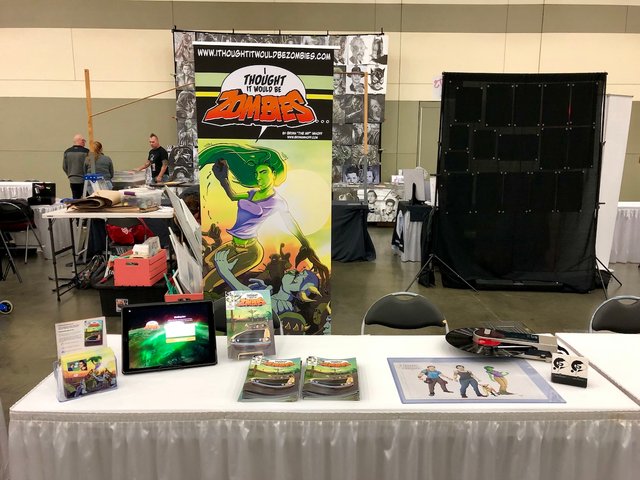 My home for the weekend, Artist Alley A97...
---
The most important element was the comic book of course! But in addition to that I included free takeaway postcards, an iPad on hand for signup to my email list, the very first page of character designs I ever completed of the primary characters, my business cards, and a vintage SoundBurger record player which is a prop in the comic book and makes a great visual and conversation piece on a table!
---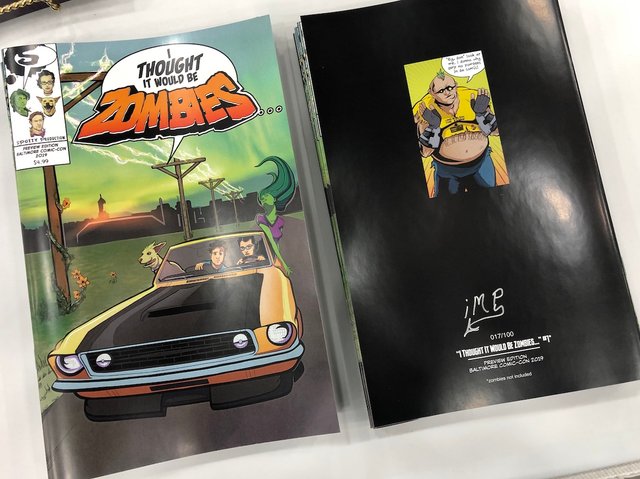 Issue #1, limited to 100 signed and numbered copies...
---
---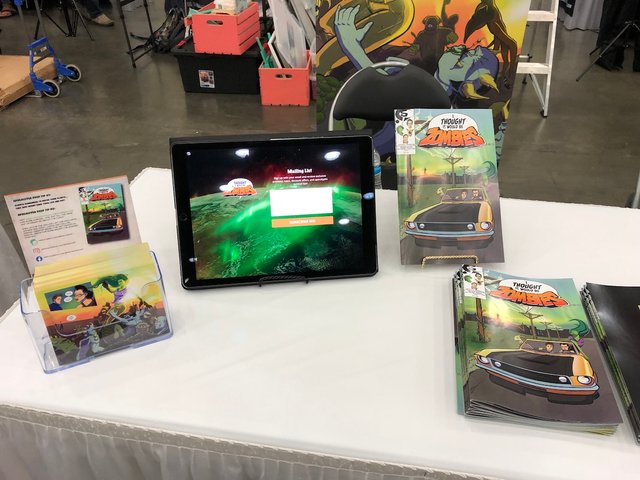 Marketing materials (Steem listed on the postcards and banner of course!)
---
---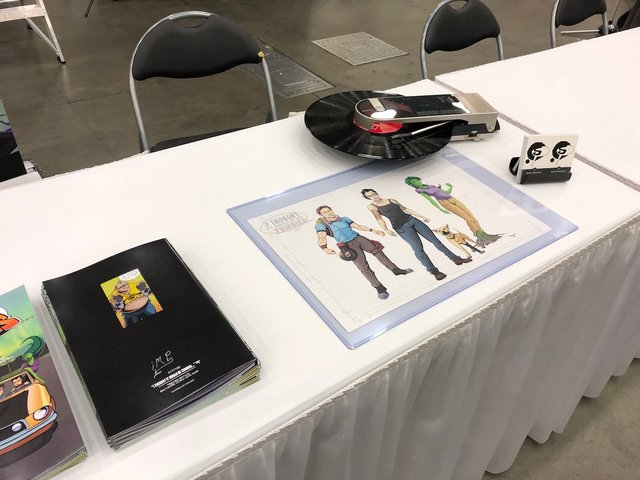 A couple inspirational conversation starters...
---
I was located at Artist Alley table A97, near the back right corner of the pretty expansive exhibit hall. Foot traffic was pretty steady throughout the weekend with Saturday afternoon being the busiest. By circumstance, that Saturday also featured the Baltimore Running Festival which included a marathon and a half marathon with the finish line right outside the convention center! Several vendors who exhibit regularly at the show remarked this was a bit of a down year for them and felt it definitely had an impact. Roads were closed and traffic getting to and from the convention center was a nightmare until early Saturday afternoon. I was so happy to be at a hotel across the street and not have to deal with that hassle.
---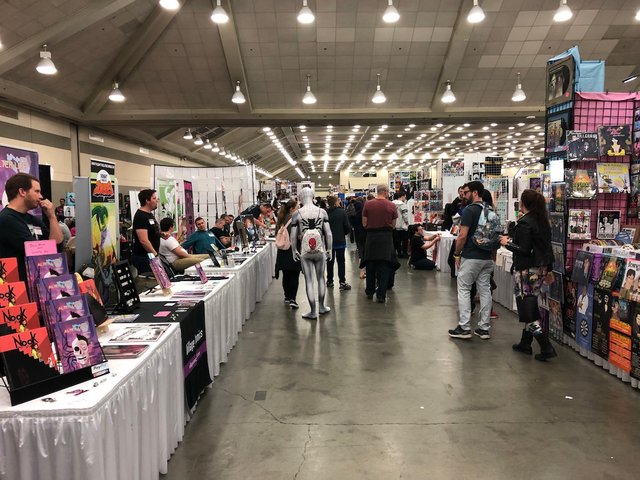 Light traffic in my little section of the alley, late Sunday afternoon as I was shopping about!
---
I'm always entertained by the culture clash out in the streets when these disparate events happen alongside each other. The hotel lobby and surrounding restaurants were a mixture of runners and geeks… and it was usually pretty clear which was which!
Dave arrived a few hours into the day on Friday and helped me man the table all weekend long. He's a great friend and support as well as the basis of one of the main characters in the comic!
---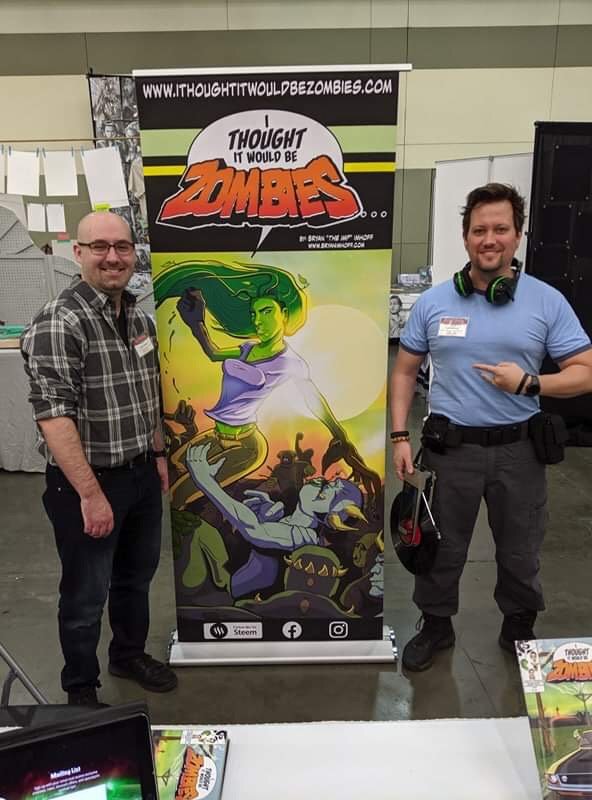 Myself and Dave!
---
On Saturday he even went as far as to cosplay "himself" based off the initial concept art I'd cooked up! Dave doesn't actually get his magical SoundBurger for a couple issues yet… but it was great fun to see him strap that on his belt!
---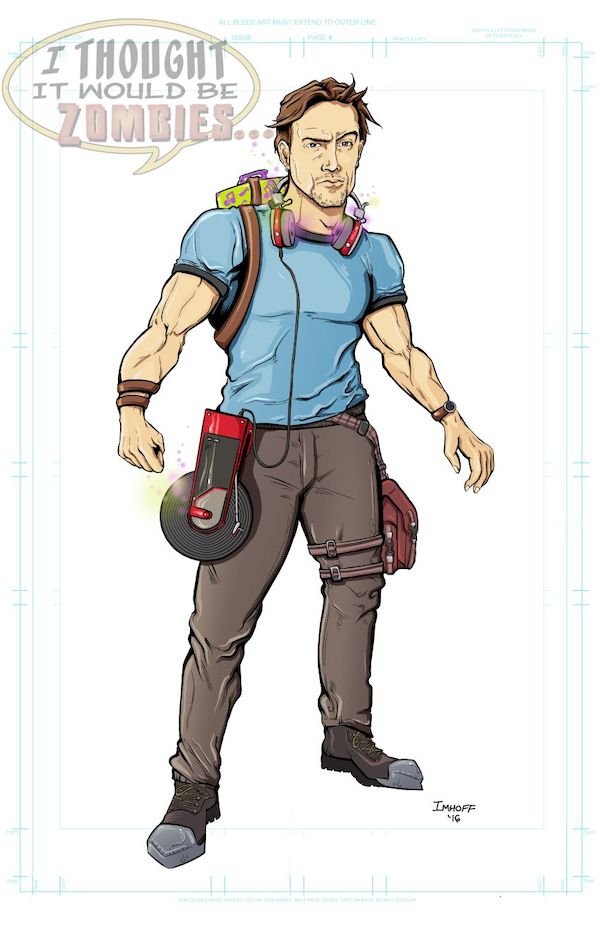 Original Dave concept art which Dave based his outfit off!
---
Sarah also made it to the show for the first half of Saturday. She couldn't stay the full day because she needed to return home and take care of her dog Bonnie (and the rest of her pack!) Yep. My art imitates life and there's little Sarah cares more for than Bonnie. I kinda conveyed that in the comic…
---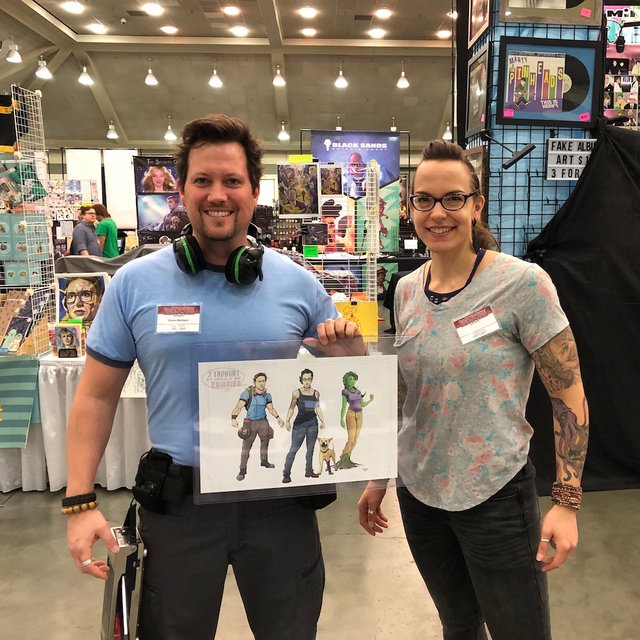 Dave & Sarah
---
---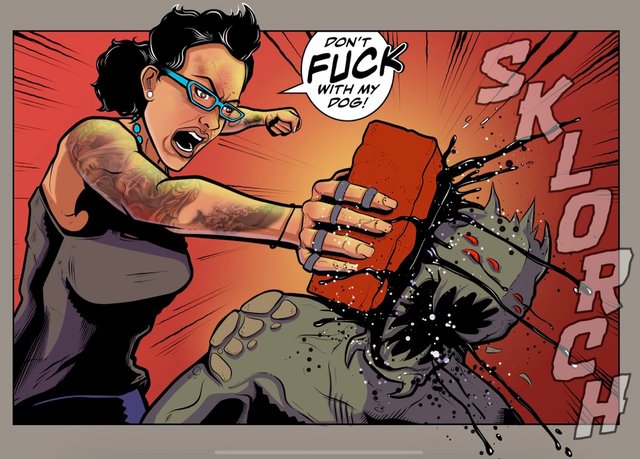 Sarah looking after Bonnie!
---
I brought along a few hastily scrounged together materials to do a bit of sketching during downtime. Trading card sized sketch cards are a fairly popular commodity nowadays and something I thought I could manage, prior to moving into the world of full commissions and sketch covers in the future.
---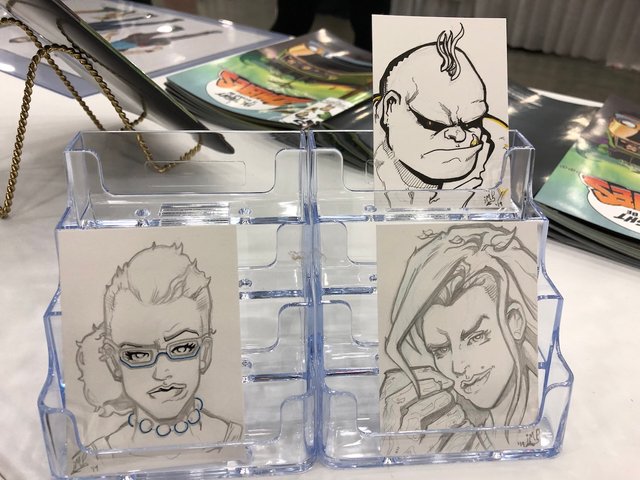 Sketch card samples I did on Friday and early Saturday... Sarah, Julie, & the Ogre-Troll
---
I cranked out a few samples of some of my characters, and then on late Saturday and Sunday actually got a few requests. One for Dave of course… as well as items like quick portraits of a family member or semi obscure X-Men characters like Quentin Quire. I was just charging $10 each for these as I experiment in the area and get a feel for the market.
---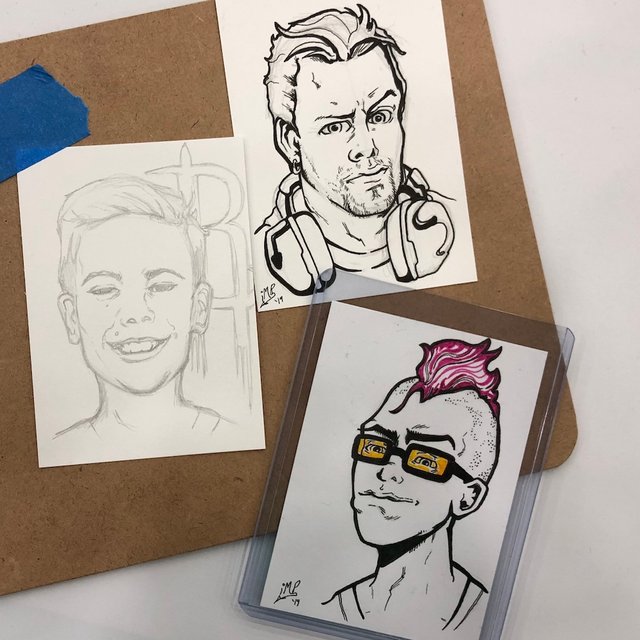 My first commissions in progress!
Over the course of the show I sold 5 sketch cards and approximately 40 comics, collected a handful of emails, met some cool people, had some great conversations, and hung out with friends! I'll probably do a second post from my "fan" perspective. With Dave covering the table I was able to break away for at least an hour here and there and do a bit of shopping and sightseeing at the con!
---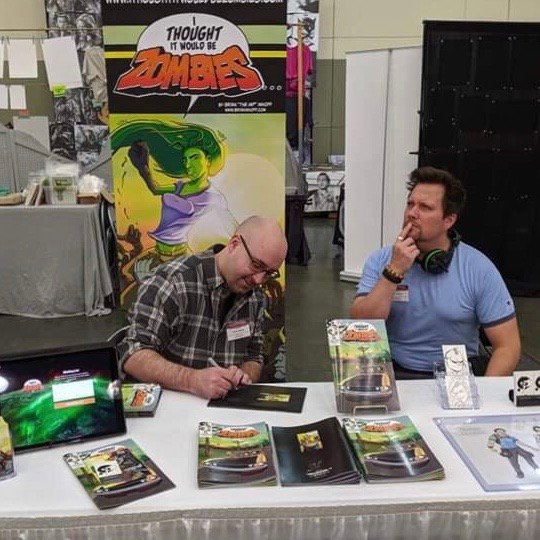 Don't think too hard Dave!
This weekend was a huge inspiration to keep at it, and do everything better. I've already begun improvements to the first issue of "I Thought It Would Be Zombies…" in anticipation of a wider release to come, and jotted down a number of notes on ideas and items to help elevate my table and convention game for more shows in 2020.
A big thanks to everyone on Steem who have been a big support so far, and to all my hyper supportive friends. I wouldn't be doing this without all of you!
What's in the future? For now I'm catching up on sleep, household chores, reading some comics, playing some video games, and watching some movies. I've also begun moving ahead on the start of issue #2 alongside revisions to issue #1. I've been working on updating my websites and social media as well as setting up an online storefront. The Fundition campaign will continue to run to assist in the full print run and wide release of "I Thought It Would Be Zombies...", and I'm in the beginning planning stages for a more traditional KickStarter campaign to be launched in January. With luck and a bit of effort I can keep plugging away on all these initiatives and keep you all a bit better updated about the progress as well!
Thanks so much for reading and following this project, and all the support you've given in the past and what is to come!
- Bryan "the Imp" Imhoff
---
This is an official Fundition campaign update post to help fund the publication of the independent comic "I Thought It Would Be Zombies..." meaning your votes alone can help you earn rewards like a free copy of the comic and more! For more information check out https://fundition.io/ and the prior update articles for "I Thought It Would Be Zombies..."!
---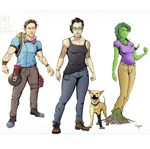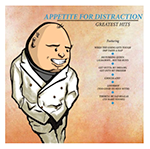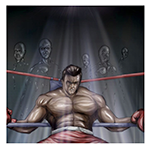 ---
@bryan-imhoff | @spottyproduction | @exploreunlimited
@steem-comic-con | @creatingcomics