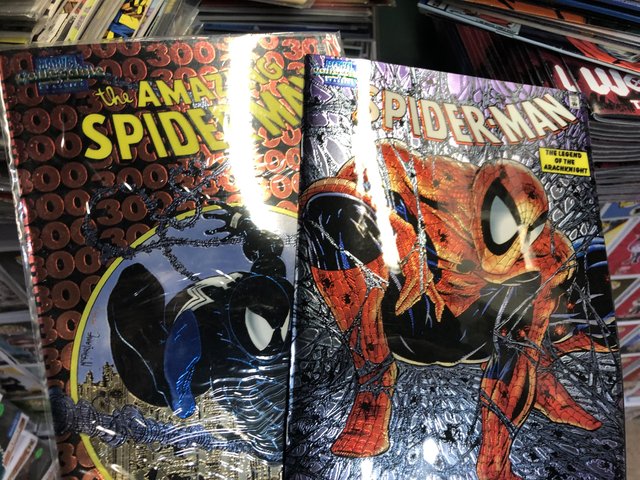 At my shop Conquest Comics, we are currently in the process of acquiring a pretty sizable collection of comic books. We made a deal with the seller to accept the long boxes...sight unseen for a specific price per box. I'll delve more into the specifics in the next piece when I cover more of what we have found, but I just wanted to give a little sampling of a couple of the books that we uncovered amongst the common fodder.
So far we have had to snag the boxes in waves. I believe so far, 4 waves totaling 41 long boxes. Each box houses between 200-300 comics depending on if they are bagged and boarded. So there's a bunch of books here thus far. I think we are to be getting another car load tomorrow so probably around 10 more. Then it'll be slow drips and drabs from there over the next month or so until they are all cleared out.
This was stock from a shop that closed up about 10 years back and there is a very odd mixture of pure dogshit all the way up to elite tastiness...and everywhere in between. I only took a couple photos that first batch but it's of a few choice blue chip books.
What we are doing is filing through them ever so quickly and pulling out books that we know for certain are winners. It could be a $10 book or a $500 book. Just something that is basically wall worthy. I'm so pumped to get this new stock in and can't wait to share it with you all as it's quite the score.
Anyway, without further ado...here are a few of the biggies that I snapped pics of to taunt my buddy Jason with. I wish I had snapped more but I'll get to it in the coming days....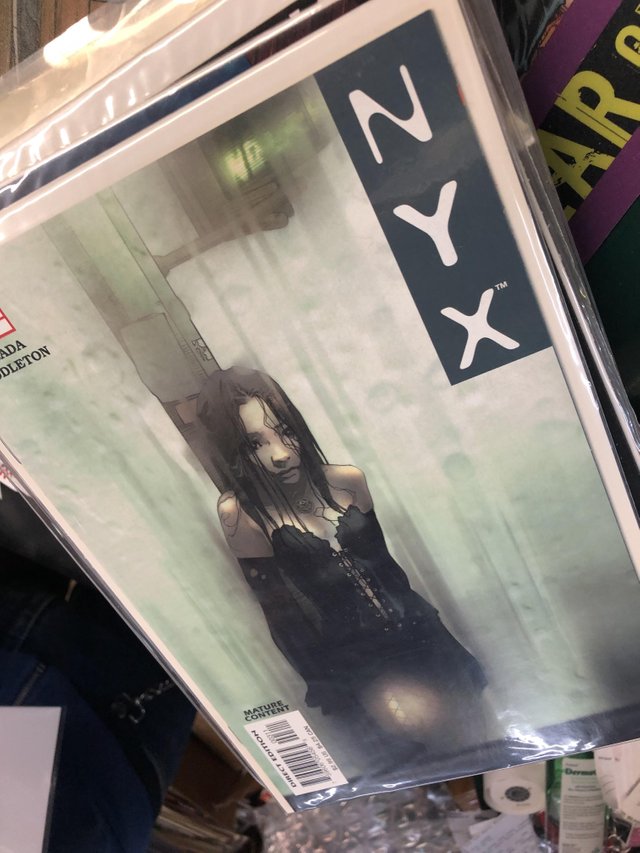 This is NYX #3 which houses the 1st appearance of X-23. Remember that little badass girl with the claws in Logan?!? Yeah...that's her. Depending on condition, this book could take in anywhere from $300-$800 clams!!!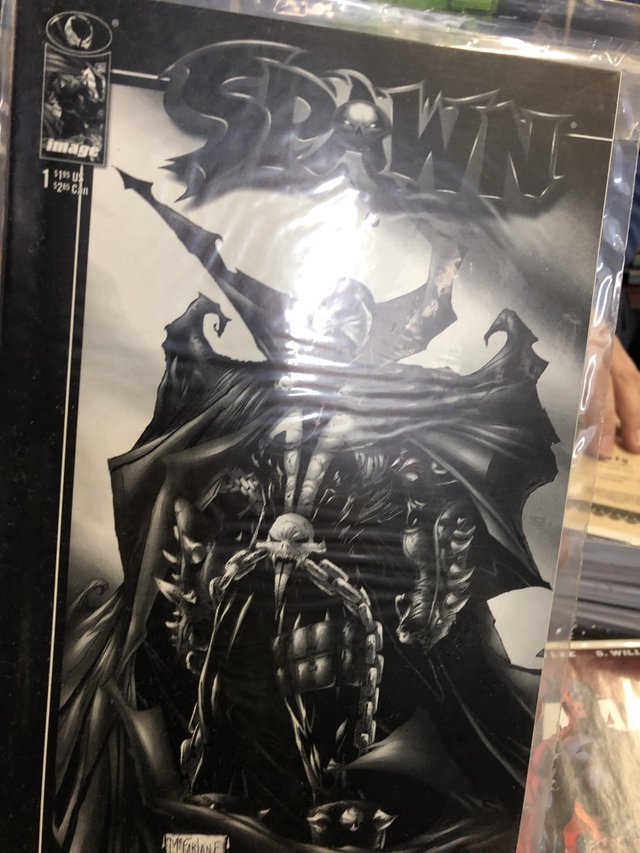 Ah...the highly coveted Spawn 1 Black & White. This book is a ghost and with Spawn's growing popularity in recent years, copies get scooped up quickly. These suckas fetch anywhere from $300-$500 and I feel they will steadily rise more over time as they get locked away in collections. Tasty tasty tasty score.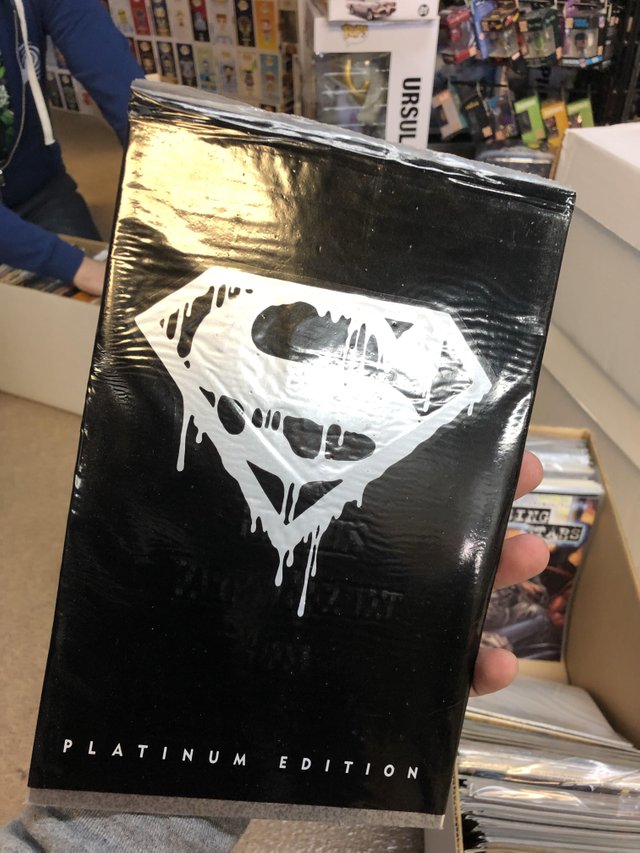 This one is a funny one. About an hour prior, my buddy Jason was in the shop and was telling me how he just put in an offer on a Superman #75 Platinum Edition on eBay. Fast forward about 60 minutes and I yanked one from one of the boxes.
This is the "Death of Superman"...but what makes this one special is it's the Platinum version which was a bonus for retailers back then. Not a terribly expensive book but still commands between $100-$250 on a good day...depending on the market.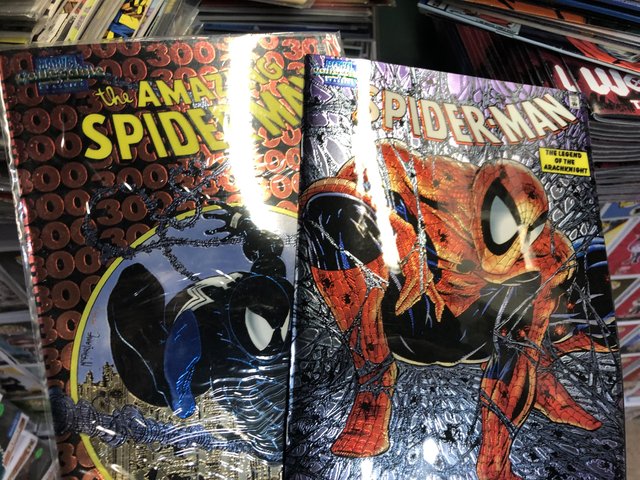 The 2 books above are reprints that are highly sought after. It was part of the Marvel Collectible Classics Lime in which they took somewhat prominent books and reprinted em with kickass Chromium covers that really pop! The 2 books are both McFarlane covers and reprint Spider-Man #1 and Amazing Spider-Man #300. The #300 is the 1st appearance of Venom Incase you were wondering.
Depending on the day and condition of these books...they could fetch anywhere from $250-$750 a pop! I have the Amazing #300 Chromium in my collection as I'm a completist with that run. Super awesome book that never pops up!!!
Anyway, I'll be showing off more as we've yanked out hundreds so far and we are still getting more boxes!!! Can't wait to find more treasures!!!
Thx for looking!
Blewitt