Xves's Sandbox [#1] || The Markets vol.1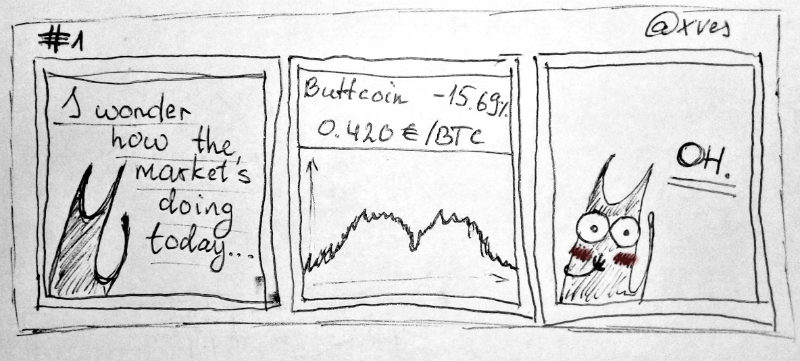 (I present to you the #1 issue of my comic strip!).
Get your detective hats on!
---

(The clue from last post).
In my last post I gave you a sneak-peek to this comic strip.
Those thinking their asses off about what the photo on the right depicted, think no more! (I mean, still, keep thinking... trying not to think about anything might drive you crazy!)
So, do you still have no clue?
Why, it's the damn buttcrack! I made you stare at and think about a buttcrack!


What was the inspiration?
---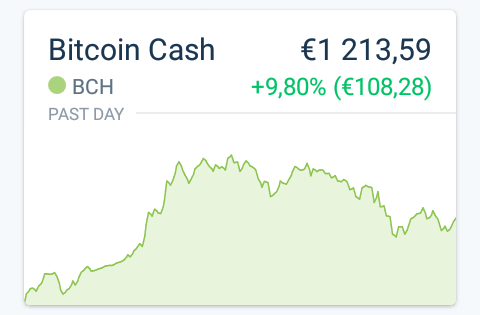 But(t) where did my xuman get the inspiration for this strip anyway?
Well, lately she's been opening her Coinbase application quite often on her phone. I think she's hoping to get rich... but we all know that will never happen.
So, this one day she noticed the BCH chart looked like a pair of buttcheeks. Of course, she screenshotted it, too, the immature young adult she is. I still find that the buttcheeks of my comic strip look juicier than the BCH ones did!


Welcome to the backstage, grab a cold one from the minibar!
---
This comic strip was originally drawn with a blue pen on a white sheet of paper and taken a photo of with a Samsung Galaxy Xcover 3. To get to the state it is in above, it had to go through some things in the Pixlr Online Photo Editor.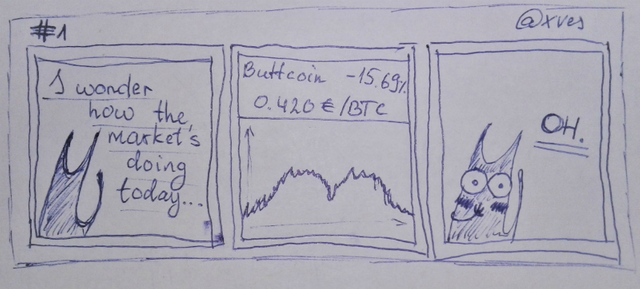 (Original (unedited) version of the strip).
The first thing @kristves edited about the photo was probably the brightness, contrast and saturation. It was followed by making it black and white + adjusting the color levels in the Color Lookup tool. She then decided to add a little red to my blushy cheeks with a brush and finished it all off by changing the image size to a little smaller one.
---
Do you want to see more of me? Or do you have any ideas of your own for my xuman creator to use on me (as if I were your sock-puppet!). All contributions are welcomed and any ideas borrowed from the comment section will have their thought-author mentioned!
---
PS! If by any chance I remind you of some other cartoon or comic strip character, you've got @kristves to blame for that. She lost all her creativity growing up. (This is the part where you feel sorry for her).
---
PPS! Don't forget to check out my previous post - the #introduceyourself post!