El Mosquete: First satirical newspaper of Steemit + Contest Call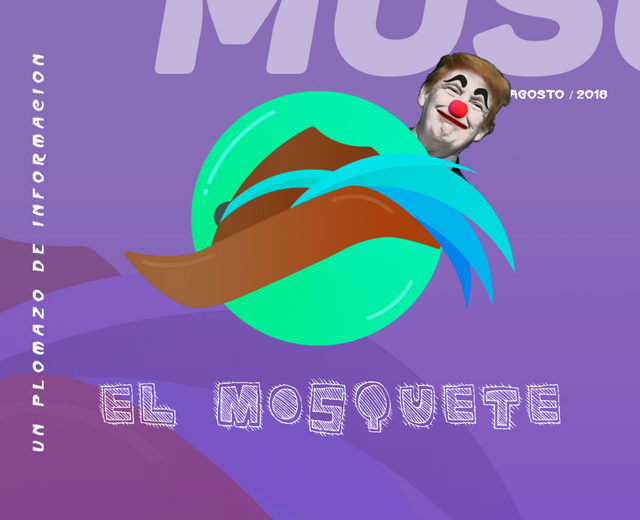 Mosqueteros, with the support of
@comedyopenmic
, is pleased to present to you -
The first satirical newspaper of Steemit:

"El Mosquete"

Here we will cover the most important and relevant news of the community...and some other gossip from the neighbor.
We will do whatever it takes to get the news to your screen.
If @anomadsoul gets caught celebrating Rep 70 like a valley girl after her last final, we will be there.
Source
Or, if our dear friend
@buttcoins
finally decides that he wants to make some real steem and takes up ComedyOpenMic's proposal to the gigolo world, we will cover it.
Or if ComedyOpenMic get their act together and start being funny, we'll be there too.
Source
"El Mosquete"
won't care who you are.
We won't discriminate against anyone because of race, sexual orientation or gender.
We will probably make fun of it, but we certainly won't decriminalise prostitution. Wait, no sorry, wrong post. We will be impartial and poke fun at all the weird and wonderful things happening on the steem blockchain and yet go unreported. Everyone is our sights and fair game for our reporters and we will always get our man, no wait that's the Canadian Mounties. Irregardless, we promise to bring the most up-to-date coverage of the menace Spiderman and hourly photos of
@zenkly
's new moustache. So, lock up your children because we are prepared to do what needs doing on the front lines of news.
And as
@walden
would say:
Source

Who is behind the "El mosquete"?
Director
@zenkly
Fearless fighter from the summoner's rift and Steemit believer. He was instructed in the art of reporting in serious discussions and revolutionary acts in comments of the blue network.
---
---
Writers
You can read their articles throughout the week.
---
@andreacrangel
The dark journalist of Mosqueteros that is better to have as an ally than as an enemy.
---
@josevbc
A man of acid language and heavy humor, one day we found him wandering, we needed a Venezuelan who will protect us and we decided to adopt him.
---
@asdrubal


Given the urgent need to give an ethical axis to the newspaper, we decided to recruit this journalist for his incorruptible rectitude and moral standing. We know that your stay in prison was just an "accident".
---
---
Guest writer: YOU
Source
Yes. We also want
you
to participate in "El Mosquete". That is why we launched an open call to participate with articles of humorous / satirical news.
Every two weeks, "El Mosquete" will publish a report with the articles of our writers.
The best 3 articles of the community, which on this occasion thanks to the support of @comedyopenmic, will be rewarded in the following way:
First place: 7SBD
Second place: 5SBD
Third place: 3 SBD
The articles that want to participate must have the following characteristics:
The article must have a news format with a humorous tone.
From 400 to 1000 words.
It must contain the tags #comedyopenmic and #elmosquete.
Participations made from the publication of this article and until Saturday, August 25 will be taken into account.
This contest receives entries in both Spanish and English. Both versions constitute the same contest, so it is not necessary to make entries in both languages, although it would be interesting to reach many more people. In any case, they will be taken as a single participation.
We are on the lookout for your news and do not forget either - our writers have you in their sights.
We hope to have your support to continue with this initiative.
Any support, donations, delegations, or undergarments can be thrown at the @mosqueteros account.
We also ask for your support for those who support us and support those who support us... you know.


Click To Vote @ComedyOpenMic For Witness And Disrupt The Steem Blockchain With Laughter!

Vota por este testigo
Publicado desde mi blog a través de SteemPres : http://mosqueteros.longligaming.net/index.php/el-mosquete-first-satirical-newspaper-of-steemit-contest-call/
We thank @idikuci and @sharanaithal who enriched and made this article readable.