This is the perfect week for a goofy pick-me-up. So I decided to indulge @quillfire and enter his only slightly absurd contest. He wrote a poem that on the surface appears to be about farts. He was gracious enough to explain the deeper meaning, however, and you'll find that it's really a requiem for crypto based social networks. Very clever, that Quill.
Anyway.
So the contest rules were that you had to recite the poem. Easy enough. My plan was to recite it like a rap, and maybe set it to a hip-hop beat. I placed my phone on the desk and gave it a go. I watched it, and wow, talk about cringe. There is no way I could put that on the internet. China would attack. Putin would convert to Buddhism. The world economy would collapse. It would be that bad.
But I did want to join, so I re-read the rules, specifically this last paragraph (emphasis mine)...
The video can be of you reciting the poem, or, you can employ other visuals with a voice layover. You can use background music if you like, or not. I have no preference, just be creative ... and have a good time.
So I felt like I had a little bit of leeway to veer off into a different direction. And so here is what I came up with. For your viewing pleasure, I have uncovered footage of Sir Stephen Hawking himself reciting the poem S-B-D. Here is the text of the poem, credit @quillfire:
S-B-D
Think not that it strange, some words we derange,
Torture what once did impart,
Too words, they disgraced; as if they unchaste,
Such word, I'd argue … is 'Fart.'
It's strange but it's true, we launched it a coup
Mutiny, rebellion, revolt,
The king we deposed, new words we composed,
As 'Fart,' we sought to demote.
We began to Pass Gas, out through it our ass,
Began, to Cut it the Cheese,
Began to Break Wind, as other's chagrined,
For blowing ... a Backdoor Breeze.
We've replacements galore, like the Ol' Rump Roar,
Butt Yodeling, for those in the know,
Bend from the knees, for a good Butt Sneeze,
The gift's in the giving, bestow.
You Toot Your Own Horn, though never forewarn,
You blast your Buttock Bassoon,
Your O-Ring Oboe, it has a good go,
Artisté, you carry a tune.
But what of old friends, on those we depend,
Old friends … no better than Fart,
Seductress, a vamp; you're off with your tramp,
While breaking … your old friend's heart.
In place of a mystery, with Fart you've a history,
With Fart, you know what you get,
It's easy to spell … and easy to smell,
And works, when even it's wet.
Remember, recall; when once you were small,
The fun you had with your Farts,
You called them by name as played you your game,
Before … you learned of upstarts.
But now you are old, and soul you have sold,
Now, you've much you desired,
Behave as you ought, forgot how you fought,
By what … you once were inspired.
From whence came the flame that brought you acclaim,
From whence, did come it the spark,
Where found you your brawn, to fight carry on,
Imprint, that left it it's mark?
Not all do agree, what means S-B-D,
Acronym … what was it, the source?
@ned, he's a coder … cheese pizzas, an odor,
… Silent But Deadly, of course.
So do what you will … but I have a Quill,
And stand, I will for my friend,
I'll draw it my sword, and fight it the horde,
Though lone, I stand at the end.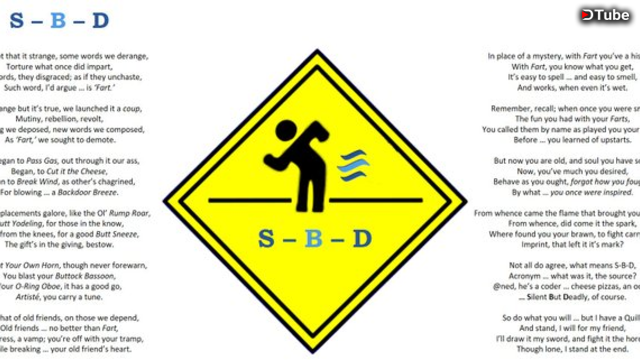 ---

This was also my entry into Round # 40 of the Comedy Open Mic contest. I nominate @hyperbole and @corpsvalues, because they are both looking like they are just about ready to quit this joint.



Join us @steemitbloggers
Animation By @zord189, Dividers By @jaynie
---
▶️ DTube
▶️ IPFS