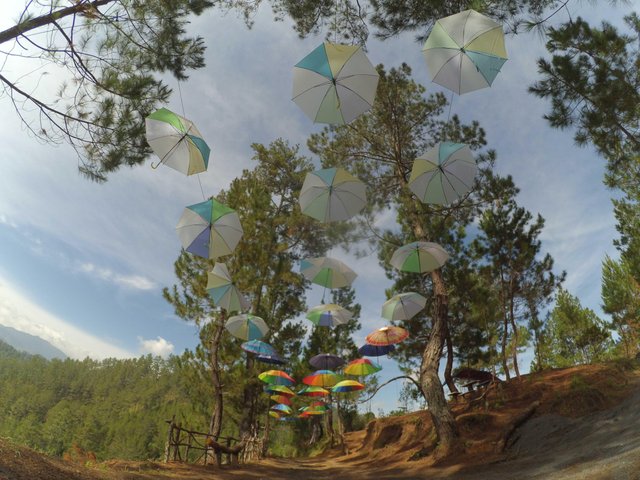 Hanging umbrellas one of them you can enjoy in Takengon, Central Aceh, Indonesian. Various colors and models of flying umbrellas in this tour makes the view more cheerful.
---
Colorful umbrellas in open conditions arranged at the top of the road. There are red, yellow, green, orange, blue, to purple.
Installation of colorful umbrellas is also held in the same place. The existence of these umbrellas attract tourists.
In addition to relaxing and enjoying the coolness, do not forget to pose in the colorful umbrellas that exist in this forest, Especially if not for the many beautiful places in this region and also the cool weather. Kampung alone can be transformed into colors, with a variety of sweetenings, including colorful umbrellas.
My goal is to share with this amazing community my passion in photography, and hopefully contribute to the amazing inspirational content on Steemit.
Hope you enjoy this post I am trying hard to provide original quality content.
|Title| Colourful Umbrellas |
|- |- |-
|Category| #colourfulphotography |
|Camera| Xiaomi Yi |
|Location| Takengon, Central Aceh, Indonesia |
|Photo By| @molyshare |
Thank You For Visiting My Blog Upvote, resteem, and comment. If you like this post. @molyshare