Blue Sea, Cool Breeze, Calm Moments … Pondicherry, India – Colourful Photography
This is my entry in @juliank's Colourful Photography contest.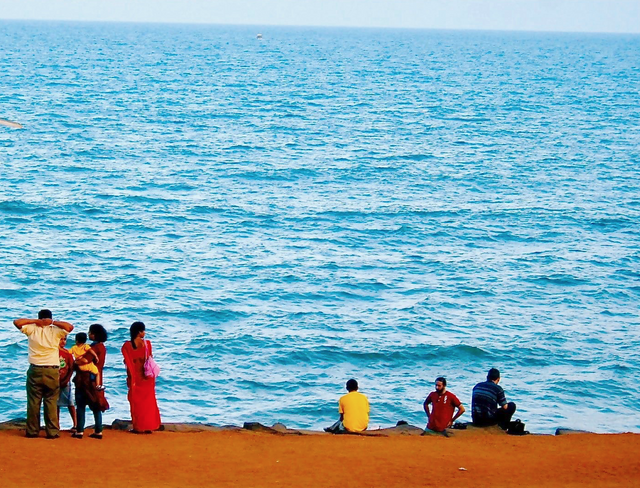 [Click Here to Enlarge Photo]
A taste of Europe
I snapped this photo from the window of our hotel room in Pondicherry (aka, Puducherry). The city was a French colony until  1954, and much of it retains a quaint, European vibe. Pleasant tree-lined streets lined with cafes, restaurants, well-maintained historic villas, churches and temples, antique shops, bookshops, and various boutiques. 
A moment of calm
A seaside promenade stretches the length of the old city. These few locals were lounging on the "rock beach" at the far end, relaxing and looking out over the Bay of Bengal. Many Indians have a fondness for brightly coloured clothing, and these few people provided vivid accents against the wide expanse of the sea.
Like most Indian cities, Pondicherry is hot and noisy, and there's plenty of traffic and other such frenetic activity. But here on the seaside, anyone can come to experience a blissful moment of calm respite, gaze over the blue sea, and enjoy the cool and refreshing sea breeze.