Color Challenge Thursday Green Beautiful Cannabis Stolen
It is a sad Green Thursday as last Friday the 13th Full Moon night, all my cannabis plants were chopped and stolen.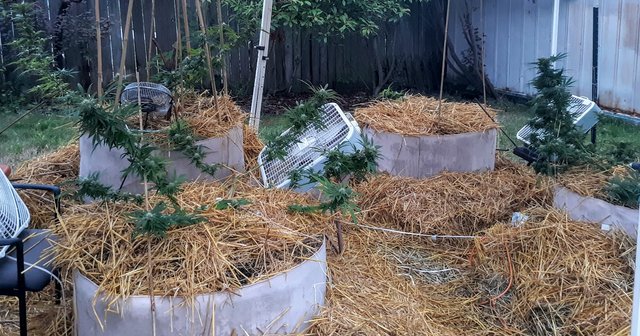 @kimmysomelove42
I awoke on Saturday morning to a horrible view out my office window. I was completely in disbelief as I have a 5 foot fence surrounding my property and neighbors on all sides.
I didn't have an alarm or burglary system in place. We have a local app called Next Door and I saw that my neighbor had posted a big post about seeing 2 bike riders with a trailer full of cannabis riding soo fast they fell and tumbled and pot flew all over the ground around midnight, 1 block from my house. Unfortunately , she didn't get a photo of them, however, the next day another neighbor did. So the neighborhood is on the hunt, in case they try to hit someone else's place. Karma has eventually a way of coming crystal clear and working itself out.
The worst part of all is they were even ready to harvest. The best crop I've ever grown, so beautiful and at least a month from being ready. They left me a few branches. I don't grow to sell medicine, I use it for back pain and to give away to friends with pain and cancer. I don't take pharmaceuticals, cannabis has been my medicine of choice my entire life!
Here is the latest photos I had of them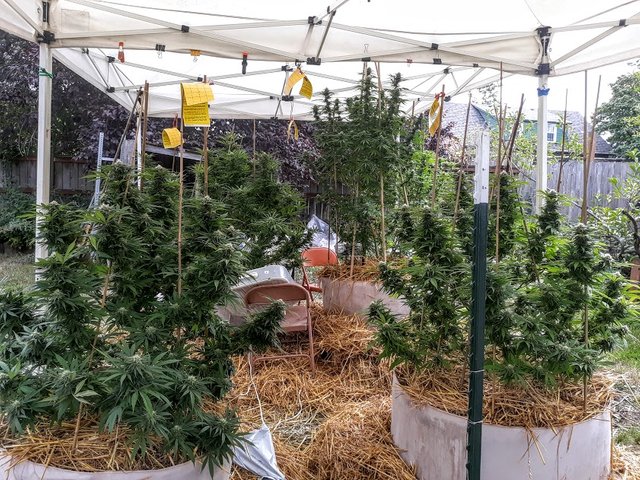 @kimmysomelove42
There are so many challenges growing outdoors. Every 3 to 4 days you must water, feed, prune, give them love and attention. There are bugs, and soil issues, mildew and molds and now the worst of all stupid humans!!!!
I'm hoping this experience, kicks me into gear and I can move out of town within a year, as I've been looking forward to living out in the country and growing more food and gardens again.
Lend your voice to this amazing inspiring group of humans!


Find more Steemians?
Or better yet, get paid to search the web, this site is fast and amazing!