Coinbase is a known name in the cryptocurrency space and a major cryptocurrency exchange from the USA. It has launched the Coinbase Card to enable it's United Kingdom based customers make payments online as well any store purchases using cryptocurrency.
Most cryptocurrency debit cards are generally powered by Visa and Mastercard. Coinbase Card is powered by Visa and therefore it will basically allow Coinbase's customers from UK to use their cards worldwide.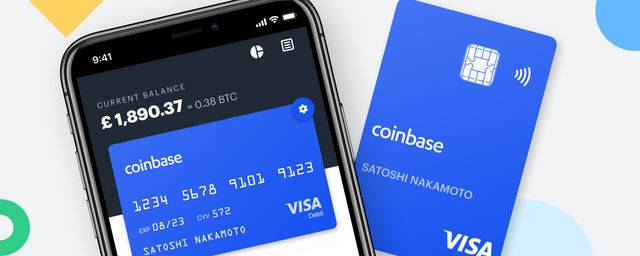 Coinbase Card also has an app available on iOS and Playstore which makes it possible to securely link your Coinbase account with the card. Any cryptocurrency balance available in the Coinbase account, supported by the platform will be available for use when making purchases with the card.
The card itself is a new modern contactless type and will use any balance in the customer's Coinbase account for spending.
According to the official release, "Customers can use their card in millions of locations around the world, making payments through contactless, Chip and PIN, as well as cash withdrawals from ATMs. When customers use their Coinbase Card, we instantly convert crypto to fiat currency, such as GBP, which is used to complete the purchase."
These moves will help get their customers to freely use cryptocurrencies for spending anywhere, anytime. Coinbase is currently waiving the card issuance fee of £4.95/card for the first 1,000 people joining the waitlist for the crypto debit card.
This card is issued by Paysafe Financial Services Limited. Paysafe Financial Services Limited is authorised by the Financial Conduct Authority under the Electronic Money Regulations 2011(FRN: 900015) for the issuing of electronic money and payment instruments.
As a cryptocurrency enthusiast I'm quite envious of countries with sound policies that allow its citizens to use disruptive new technologies to empower themselves. It's impossible to get such a debit card in India as all providers have shut down shipments to India owing to our regressive policies.
I hope to own such a card and use it in India someday!
---
If you like my work kindly resteem it to your friends. You may also continue reading my recent posts which might interest you:
---