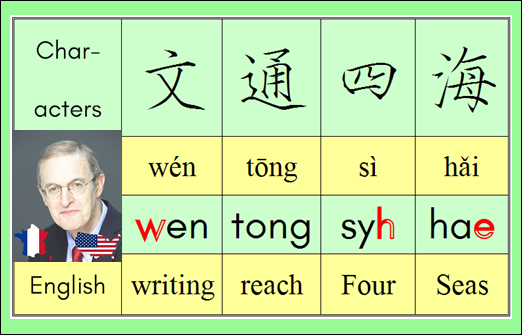 Wentong Syhhae 文通四海 = "Reach out to the world through writing" (sounds much more elegant in Chinese). I chose this name because I speak multiple languages and I am eager to continue learning more. This name is a Classical Chinese phrase, a very compact and elegant way of expressing oneself that allows the writer to say a great many things with only a few words.
文 Wen "writing"
通 Tong "reach, communicate"
四 Syh "four"
海 Hae "seas"
This name is spelled using GR Tonal Spelling, the first official Chinese government romanization (AKA National Phonetic Symbols, version 2 國音字母第二式, 國語羅馬字 promulgated in 1928), a romanized version of China's first alphabet, Bopomofo (AKA zhuyin, or National Phonetic Symbols, version 1 國音字母第一式 promulgated in 1918).
In the GR system, each rhyme 韻母 is spelled differently, depending on the tone. Here are the relevant spellings (highlighted in green) for my Steemit name: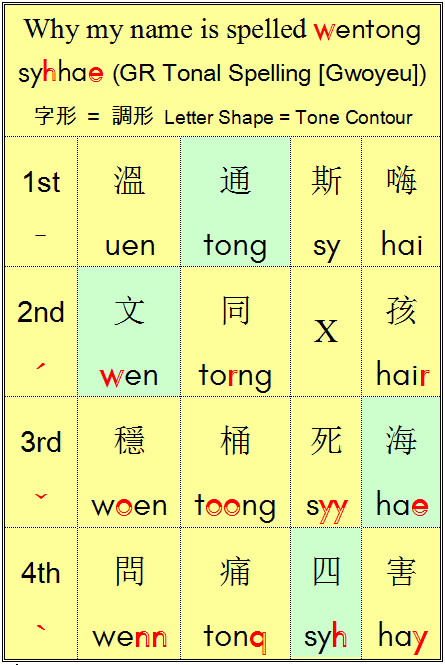 Two previous blogposts with minor errors:
Basis For My Steemit Nickname
文通四海 :為何選這個外號
https://steemit.com/cn/@wentong-syhhae/basis-for-my-steemit-nickname
---
The "Four Seas", A Common Classical Chinese Allusion
「四海之内皆兄弟也」押韻講解
https://steemit.com/cn/@wentong-syhhae/the-four-seas-a-common-classical-chinese-allusion
The "Four Seas" is an allusion to a passage in the 論語 Analects of Confucius 12.5 顏淵 Yan Yuan:
司馬牛憂曰:「人皆有兄弟,我獨亡。」
Symaa Niou sadly stated:
"Of brothers all have one,
only I have none."
子夏曰:「商聞之矣:
死生有命,富貴在天。
君子敬而無失,與人恭而有禮。」
Tzyy Shiah answered. It is said:
"Life and death depend on fate,
for wealth and honor we only wait."
君子敬而無失,與人恭而有禮。
Gentlemen are unfailingly polite,
courteous to all and without slight.
四海之內,皆兄弟也。君子何患乎無兄弟也?」
Should a gentlemen imagine he lacks brothers?
All within the Four Seas are his brothers!
---
Who I am:
https://steemit.com/introduceyourself/@wentong-syhhae/enthusiastic-intp-polyglot