iCare智研得育数码游戏展+筹款活动 The iCare Games Digital Exhibition Fundraiser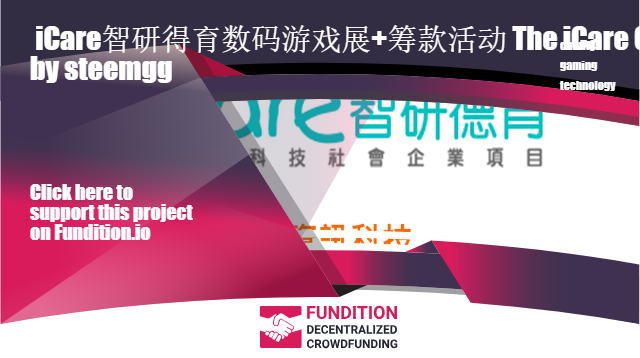 Support this project on Fundition.io
iCare Edutainment is a non-profit organisation in Hong Kong, whose goal is to use technology and digital media to help and inspire children with Autism, ADHD and Special Educational Needs and provide supports for their families. In particular, one of their key service is to provide game development workshop which provides a fun way for these special needs children to learn new technologies, discover themselves and their unique talent, and to express themselves through the games that they create.
After talking to their founder @honoru (a prominent member of the cn community here on Steemit), who expressed interest in running HTML5 game development workshops, we thought that we should do something to contribute to this noble cause and help these kids to regain confidence and taste the joy of success through game development. So we decided to run an event – The iCare Games Digital Exhibition Fundraiser – to fundraise for iCare to support their cause. This is scheduled to run at the end of October.
By running an exhibition, we will be giving an opportunity for these children to showcase their games to the rest of the world, which hopefully will give them the confidence boost needed, on top of the joy and pride of seeing their game earn money through upvotes. During the exhibition week, we will also be writing posts to showcase their work so more people would know about their game and who they are, and give them support and the interactions that they needed. The SBD proceed of our exhibition posts will also go directly to the authors of the game. Finally, all the fund raised here in Fundition and on Steemit for this event will be donated to iCare.
So, to recap:
Event: The iCare Games Digital Exhibition Fundraiser
Dates: 28th Oct – 3rd Nov
Details:
Games created by special needs children will be showcased on Steemgg
Posts will be made on each game to showcase each child and the game they made
SBD Proceed from these posts will be sent to the author of the games
All donation collected from Fundition and Steemit will be donated to iCare
How can you help:
Come and support the games and the posts when the exhibition happens

Send your donation through Fundition or through Steemit. All donation collected will be donated to iCare
Thanks for your support! We look forward to seeing you at our exhibition!
iCare智研德育是香港的一个非牟利机构,专注于利用电脑科技和数码媒体帮助和启发有自闭症,学习障碍等弱势学童和扶助他们的家庭。其中,iCare的〈童.乐编程〉项目透过工作坊教授学童们游戏编程,让这些弱势学童们在乐趣中学习新科技,发掘他们的才艺和潜能,并且让他们可以用游戏去表达自己的创意。
我们和iCare的创办者@honoru米高交谈后,发现他们正打算为学童们开办HTML5游戏编程工作坊。我们想帮助这些学童,让他们可以从游戏编程重拾自信和感受成功的甜头。所以,我们决定在十月底举办iCare智研得育数码游戏展+筹款活动!
通过游戏展,我们希望可以给学童们一个向全世界展示他们作品的机会,从而让他们更有自信。同时,他们会从游戏的点赞收益中看到自己努力的成果而为自己骄傲。在展览周我们亦会为每个游戏发帖介绍,让这些游戏和它们背后的学童得到更多的关注。这些帖子的SBD收益也会发给开发游戏的学童们。另外,在Fundition和Steemit上募集到的活动捐款将会全数捐赠给iCare。
来,让我们总结一下:
活动名称:iCare智研得育数码游戏展+筹款活动
活动日期:十一月二十六号至十二月二号
活动细节:
弱势学童会在Steemgg展示他们的游戏
Steemgg会为每个游戏写介绍帖让学童们得到更多的关注。
游戏介绍帖的SBD收益会发给做游戏的学童们
在活动结束后Fundition的所有筹款会直接捐给iCare智研得育。
怎样参与?
记得十月底来Steemgg给学童们多多支持就好啦!

您也可以在Fundition或Steemit为活动捐款。所有捐款会用来赞助iCare
谢谢大家的支持!希望在游戏展可以看到您!