It's unbelievable, I know.
But the photos below have all been captured in the UK! Looks like a Mediterranean paradise, right? Well, it's actually the quaint old town of Brighton where life is relaxed, the people are friendly and the views are breath-taking.
In all honesty, I could not have chosen a better time to visit this vibrant, stunning place. From the throngs of seaside revellers to the beach attractions, it proved to be an unforgettable time from start to finish. Hope this entices many of you to come visit Brighton and embrace it's glorious atmosphere, especially when the conditions are this damn good! :)
---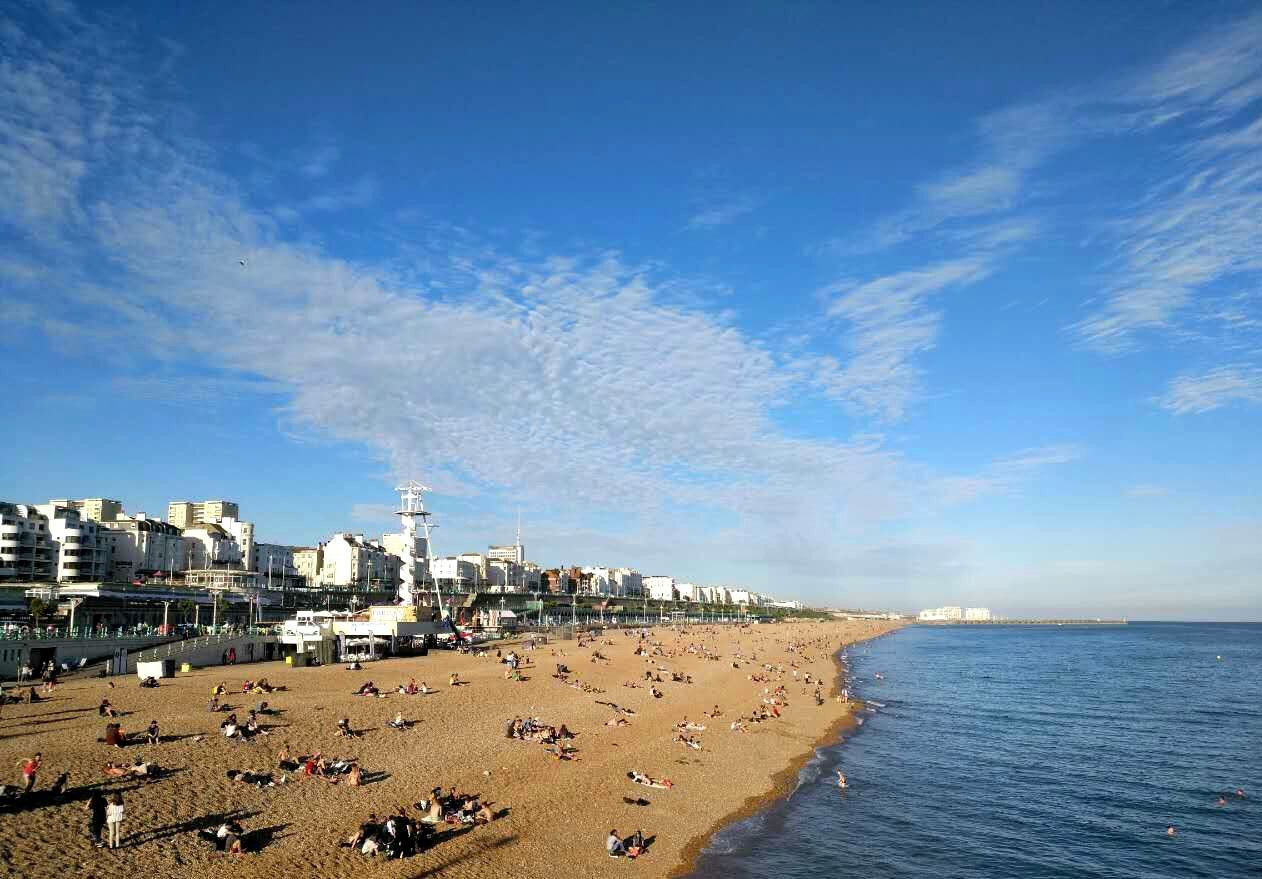 ---
My parents are still over from China so that was, in fact, the catalyst in taking a trip down there. They had heard so many good things about the place so it was good to be able to show them firsthand. The walk along the seafront seemed like a pretty good start to the day so that's exactly what we did!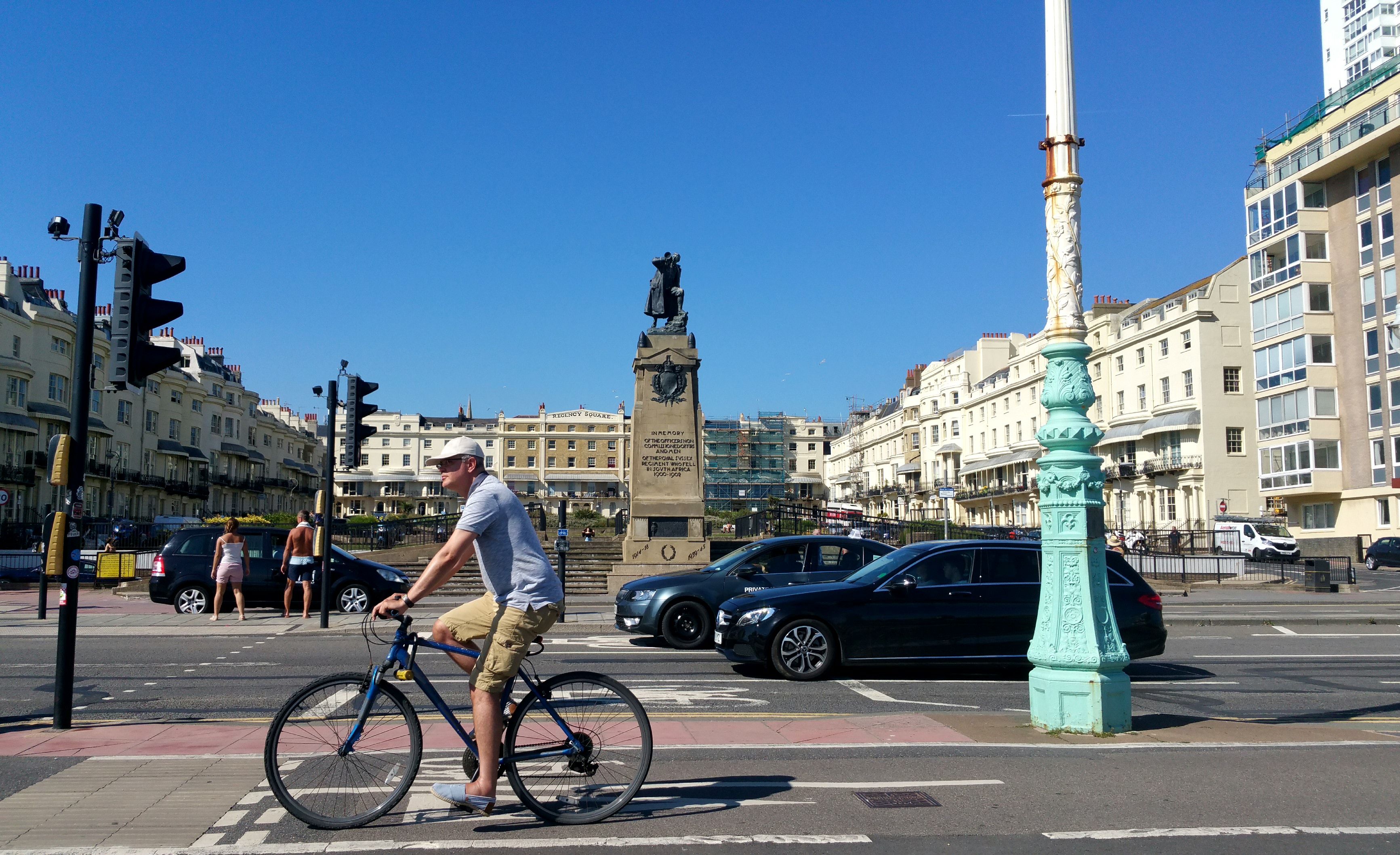 ---
The beach is not made up of sand but instead small, smooth pebbles next to the waters edge. Though a sunbed or beach towel are all you need to enjoy some delicious "fun-in-the-sun." Or simply choose to take a nice, calming stroll by the seafront. Both options should provide similar results.
Serene bliss... :)
---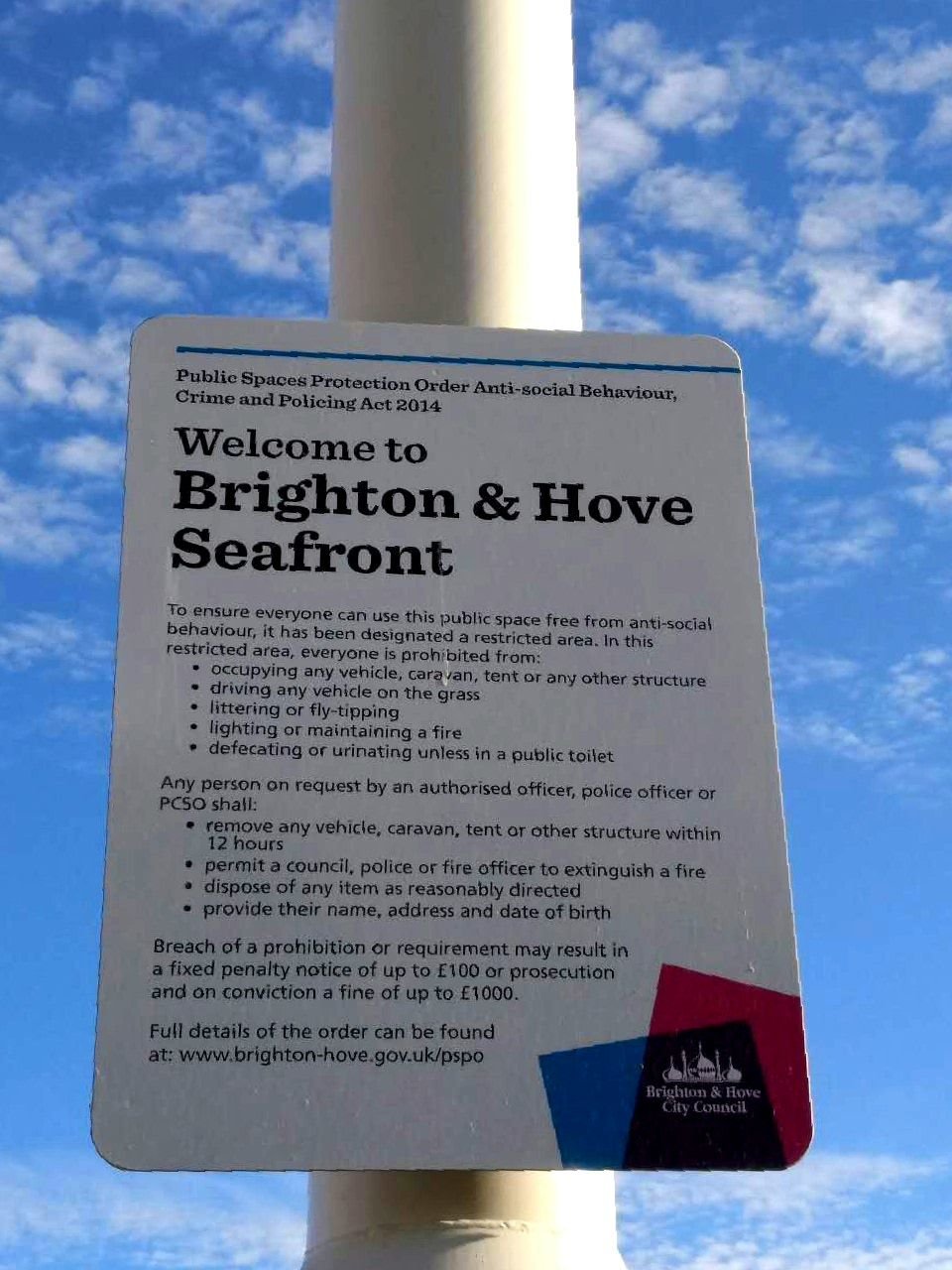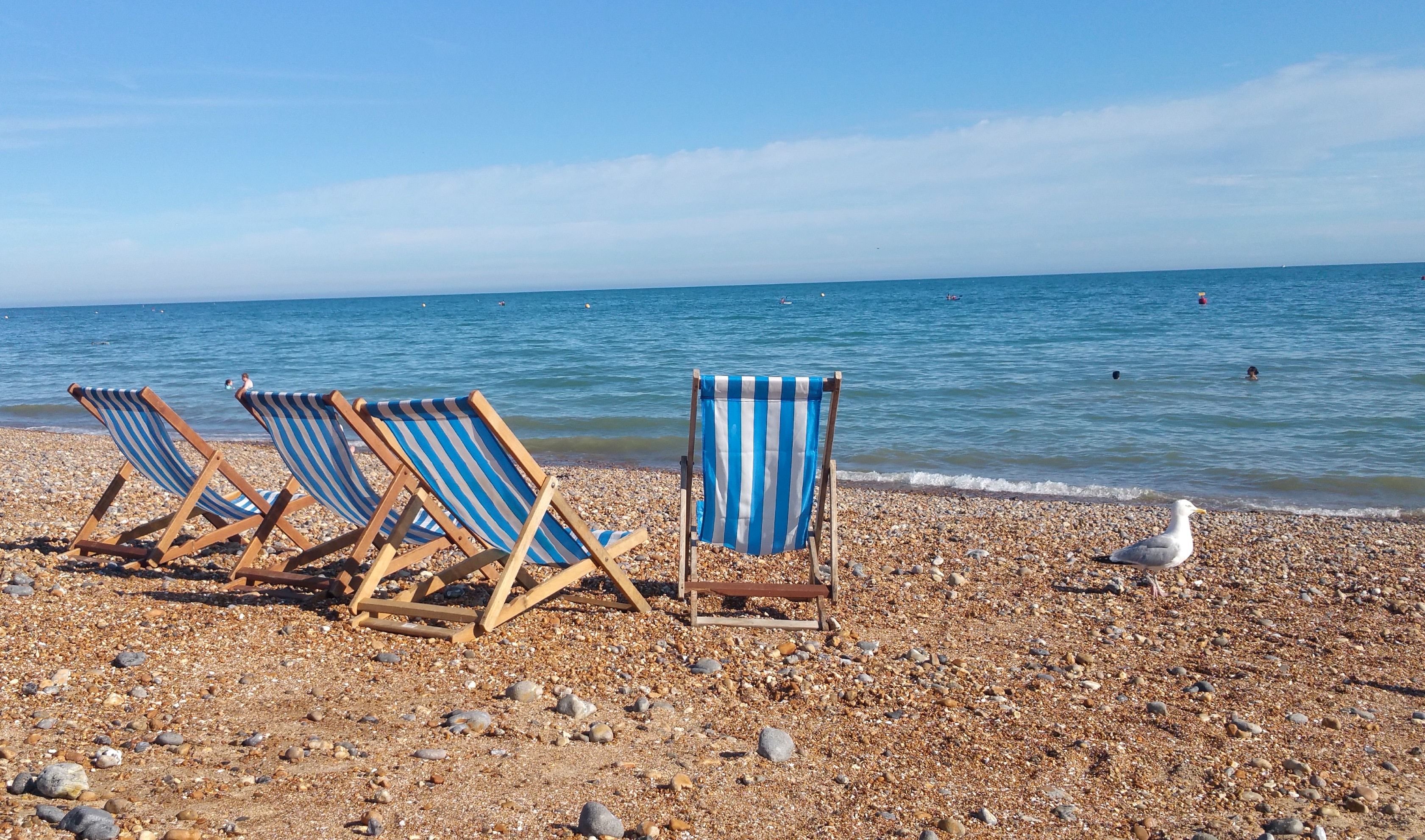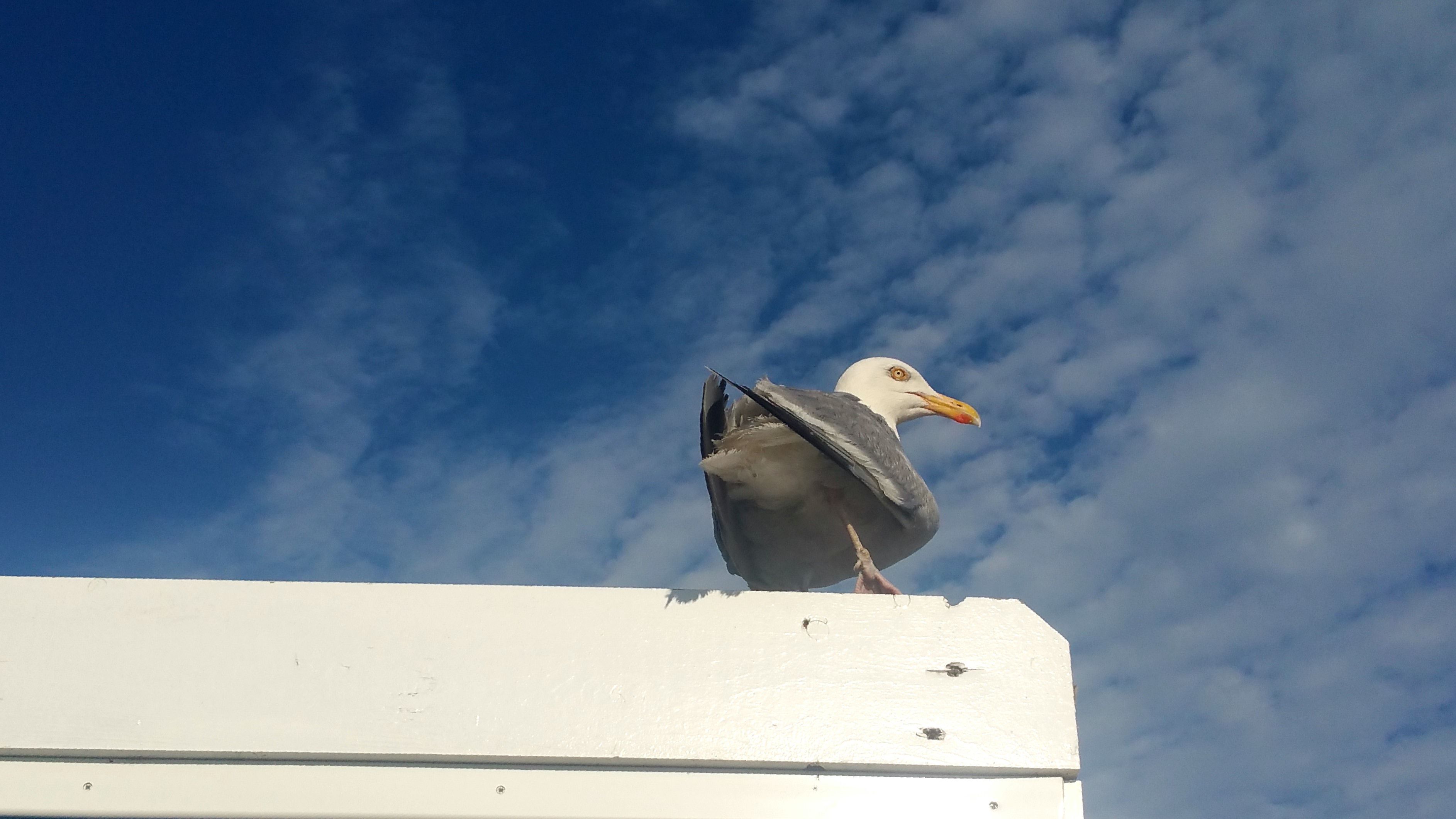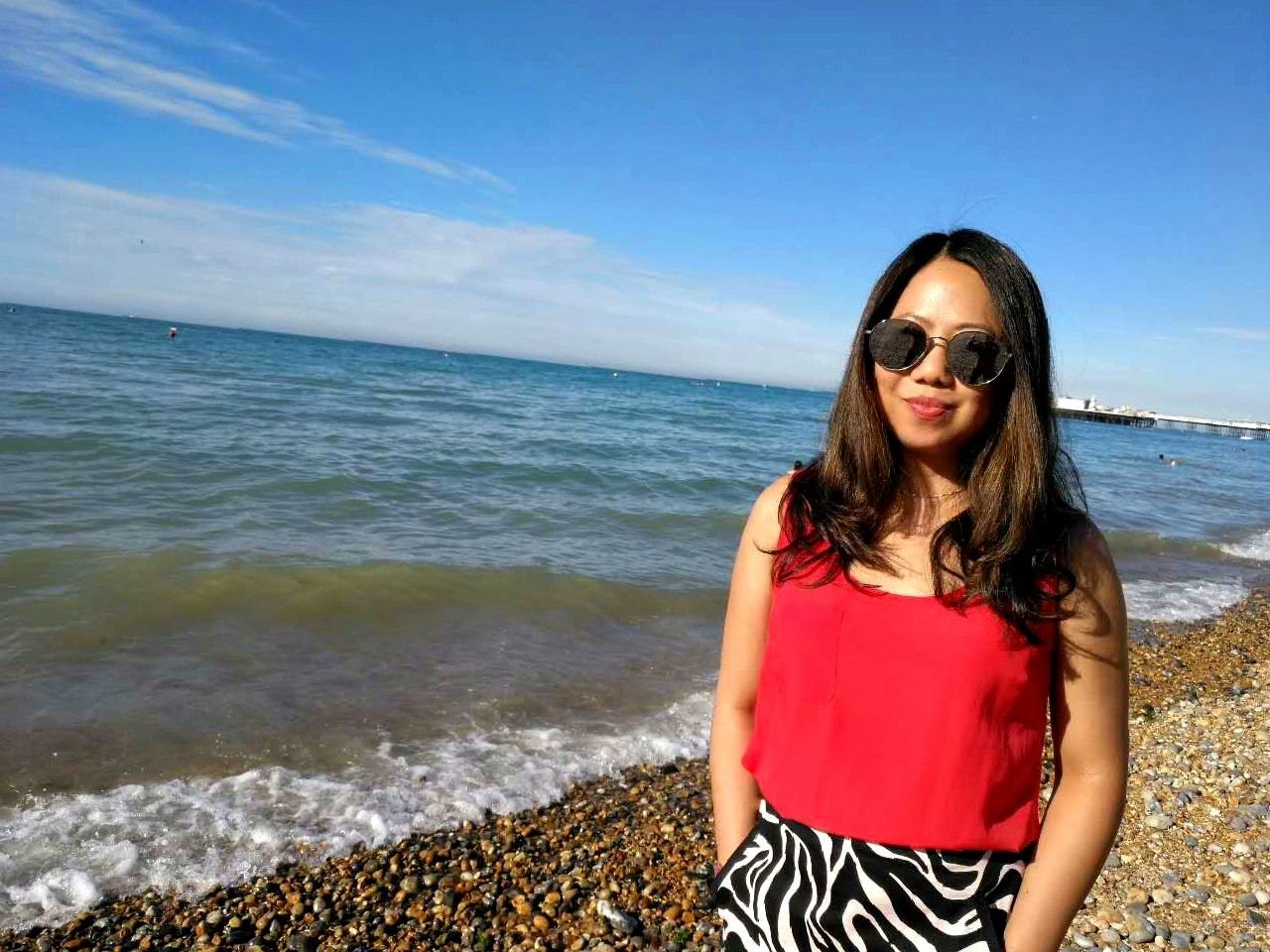 ---
We trekked our way along the wide promenade towards the West Pier.
This actually used to be a beautiful Victorian building years ago. However, it was ravaged by intense thunder storms a few years ago and has since fallen into disrepair. Today, we can only see a stick-like "framework" just off the coastal area.
The metal skeletal structure all that remains of what it once was.
Though to me, it seems to possess a tranquil, haunting beauty in it's own right. Like that of a stylised piece of artwork. A historical relic of the old West Pier, displaying a glimpse into the past. A great iconic structure of it's era to photograph or paint.
I would definitely recommend people take a few moments to have a look and reflect.
---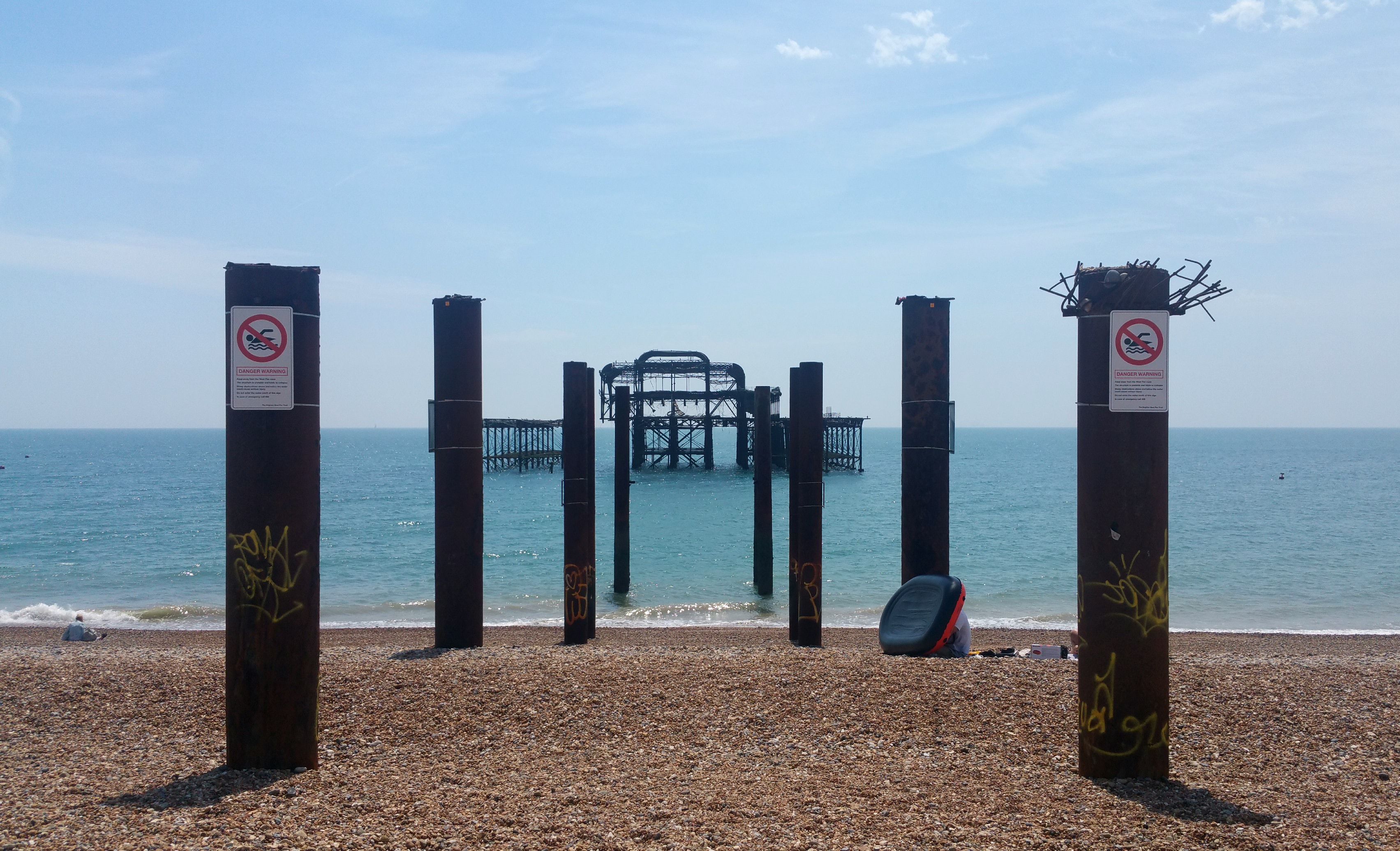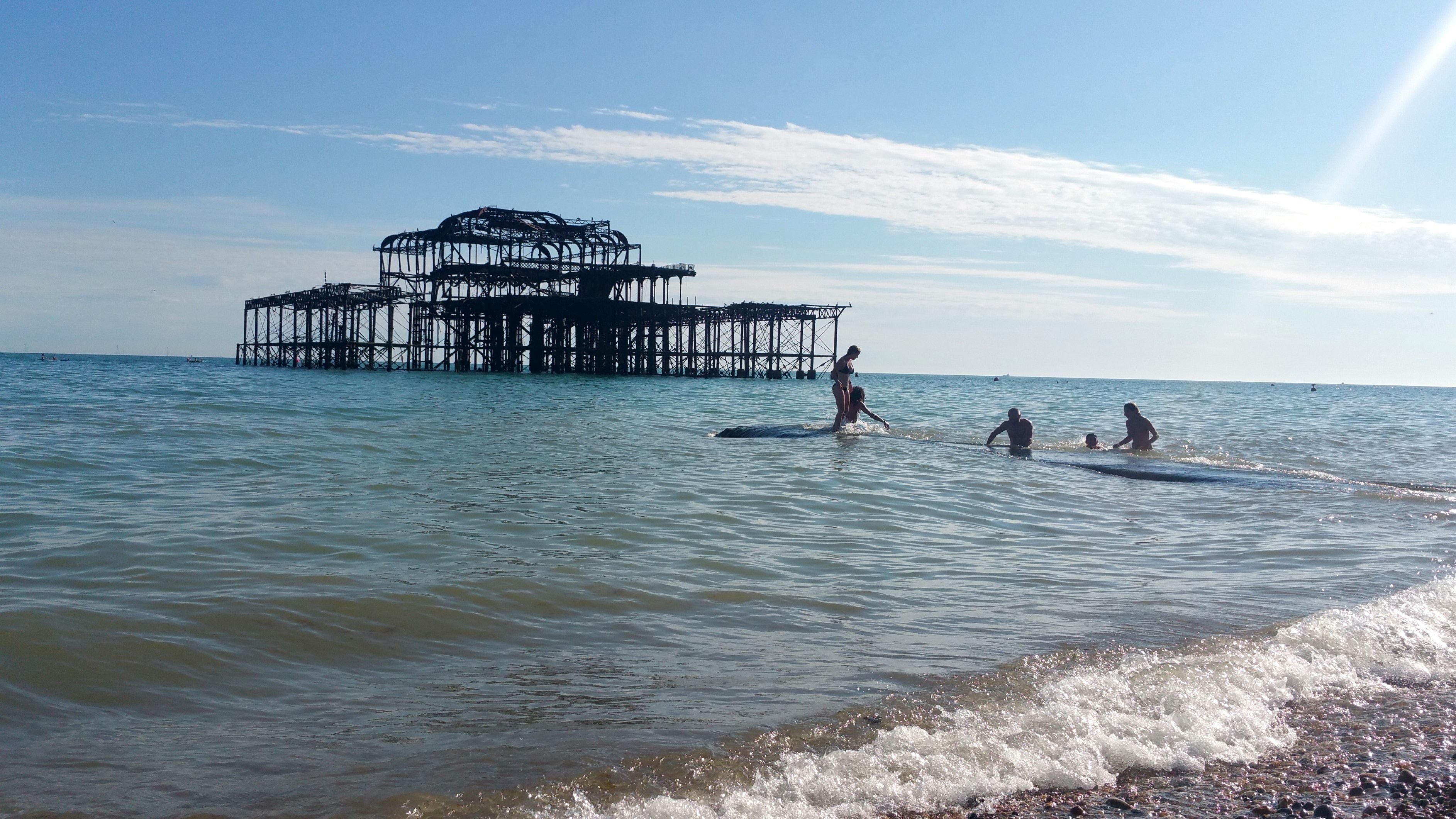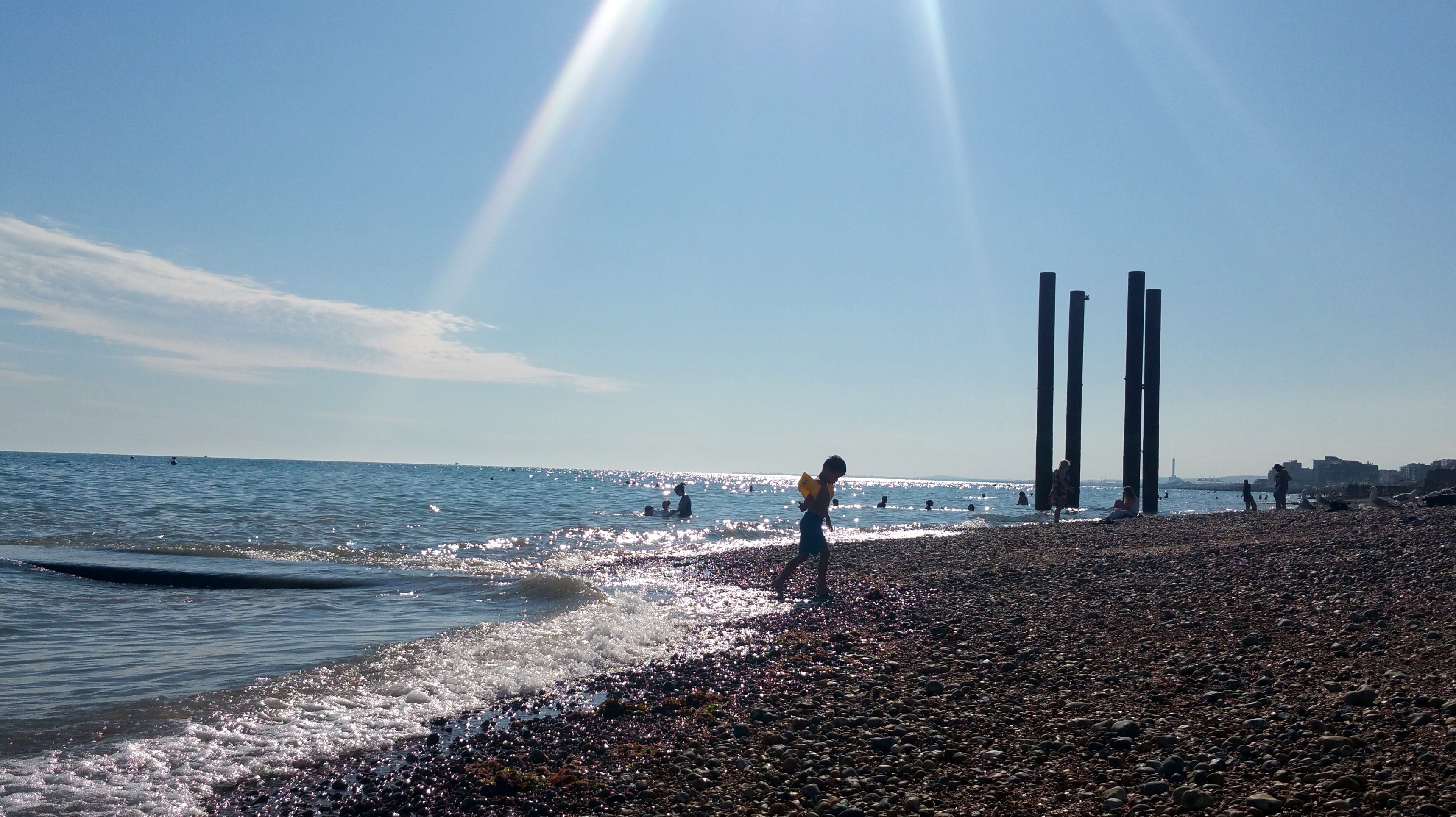 ---
Further down the West Pier, there are a plethora of bars and restaurants to check out. As well as many talented, young street performers showing off their vocal skills. Very entertaining indeed.
It could also make the ideal hotspot to have a romantic date with that special someone in your life, lol. Just saying! :)
---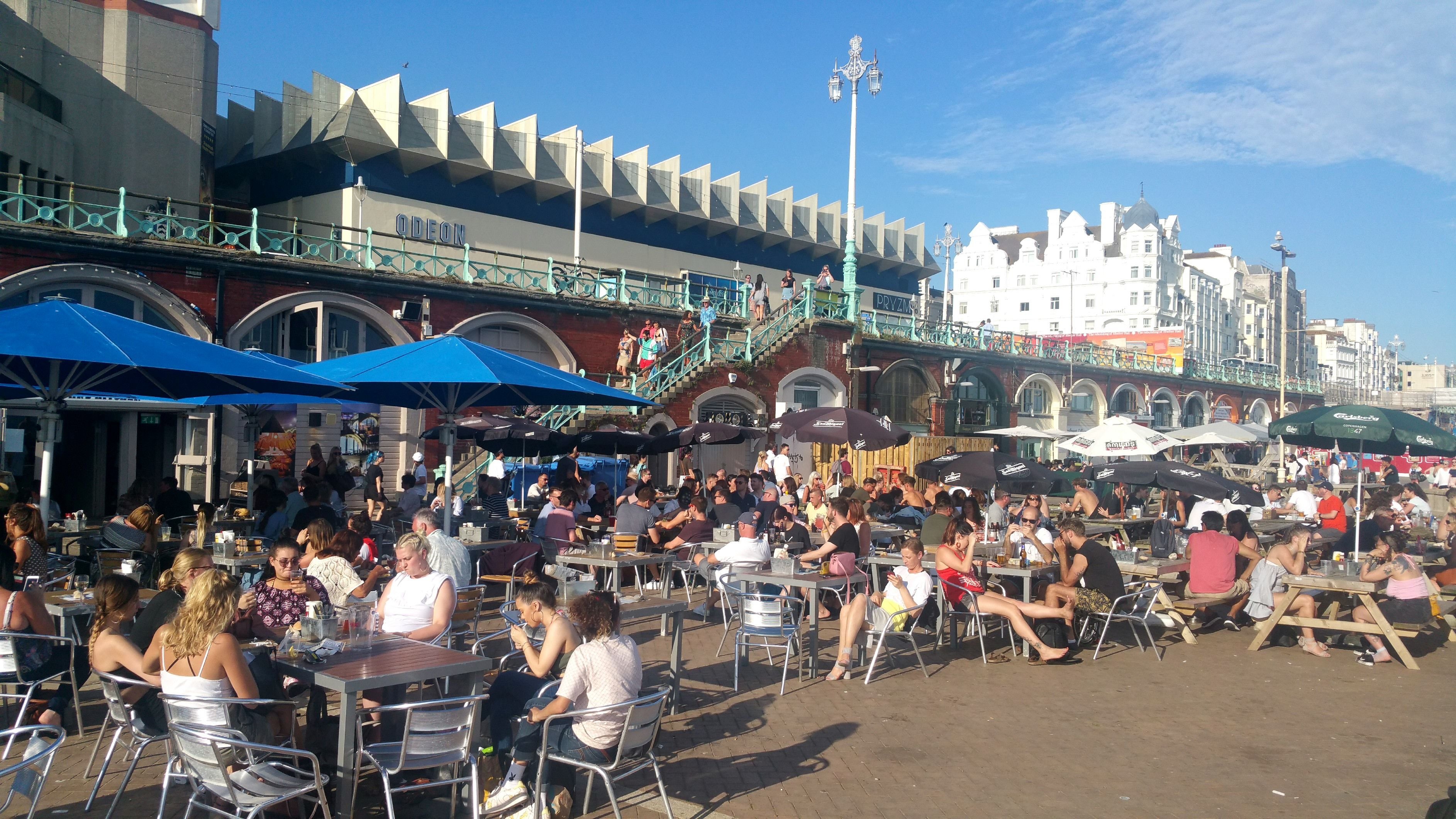 ---
The golden sun blazing above definitely added volumes to the experience as a whole! I decided to buy everyone a "summer berries" flavour ice cream while watching thrilling games of volleyball and basketball game at the beach side!
A perfect and memorable time which only seemed to be getting better as the day drew on.
---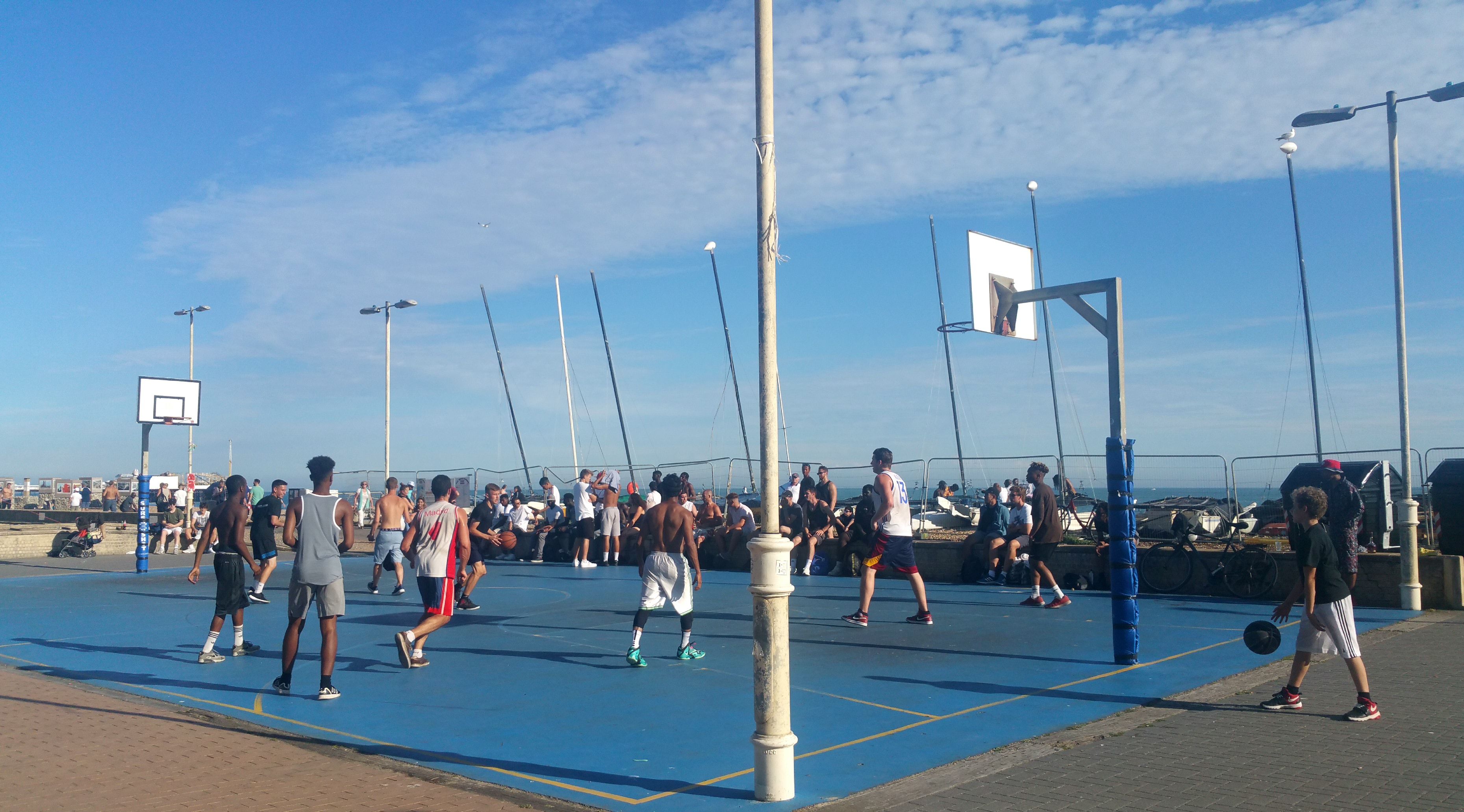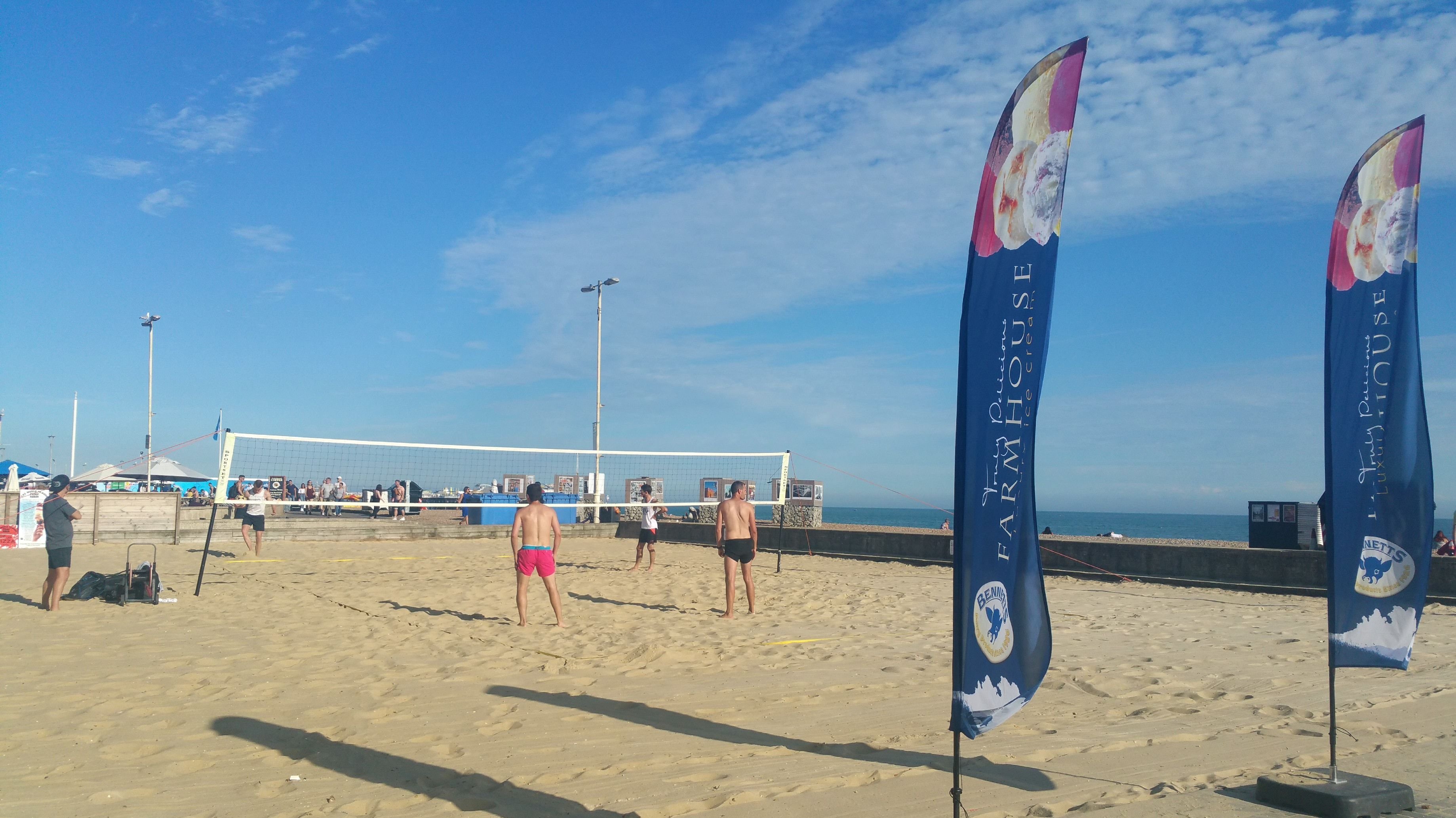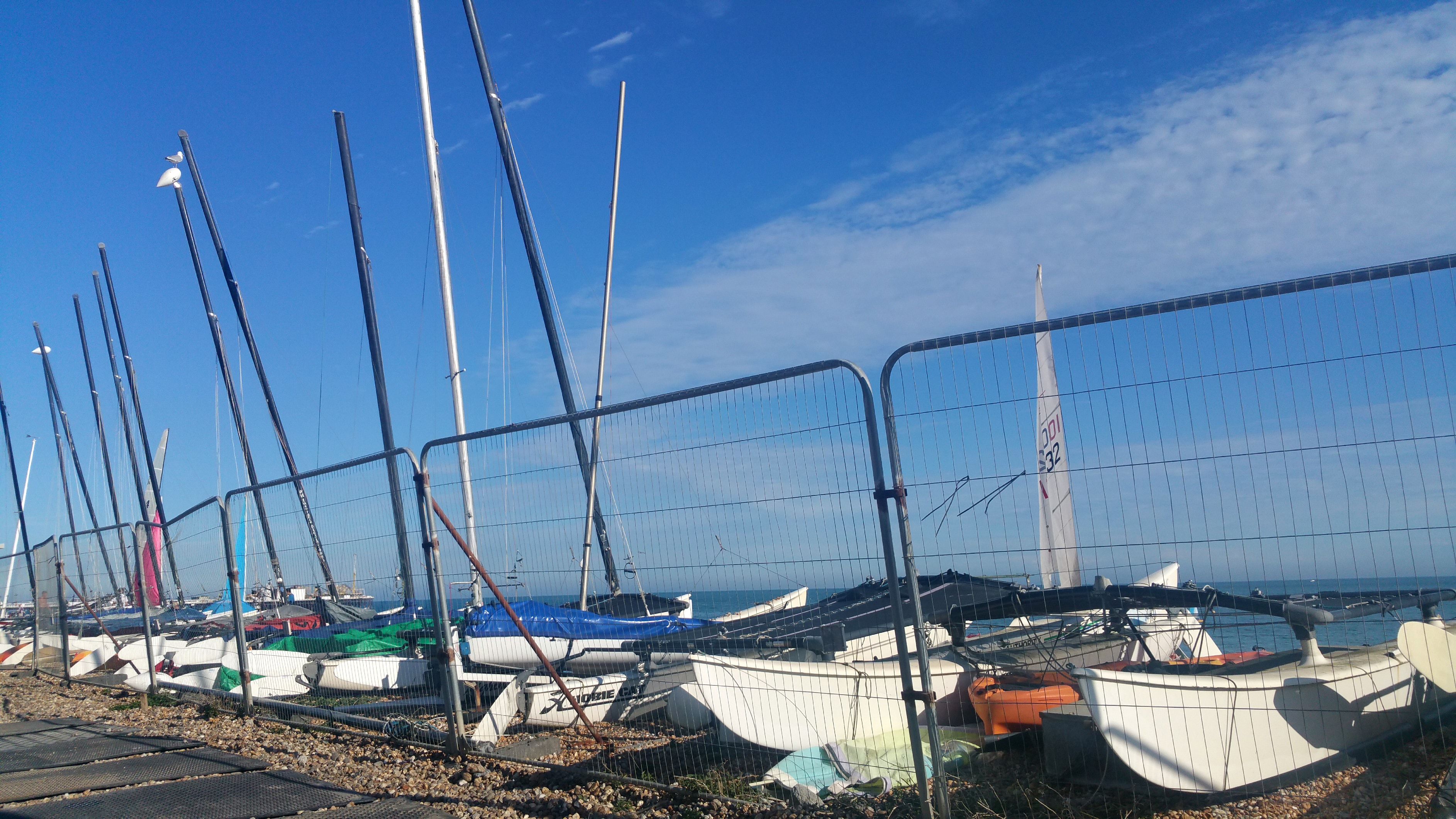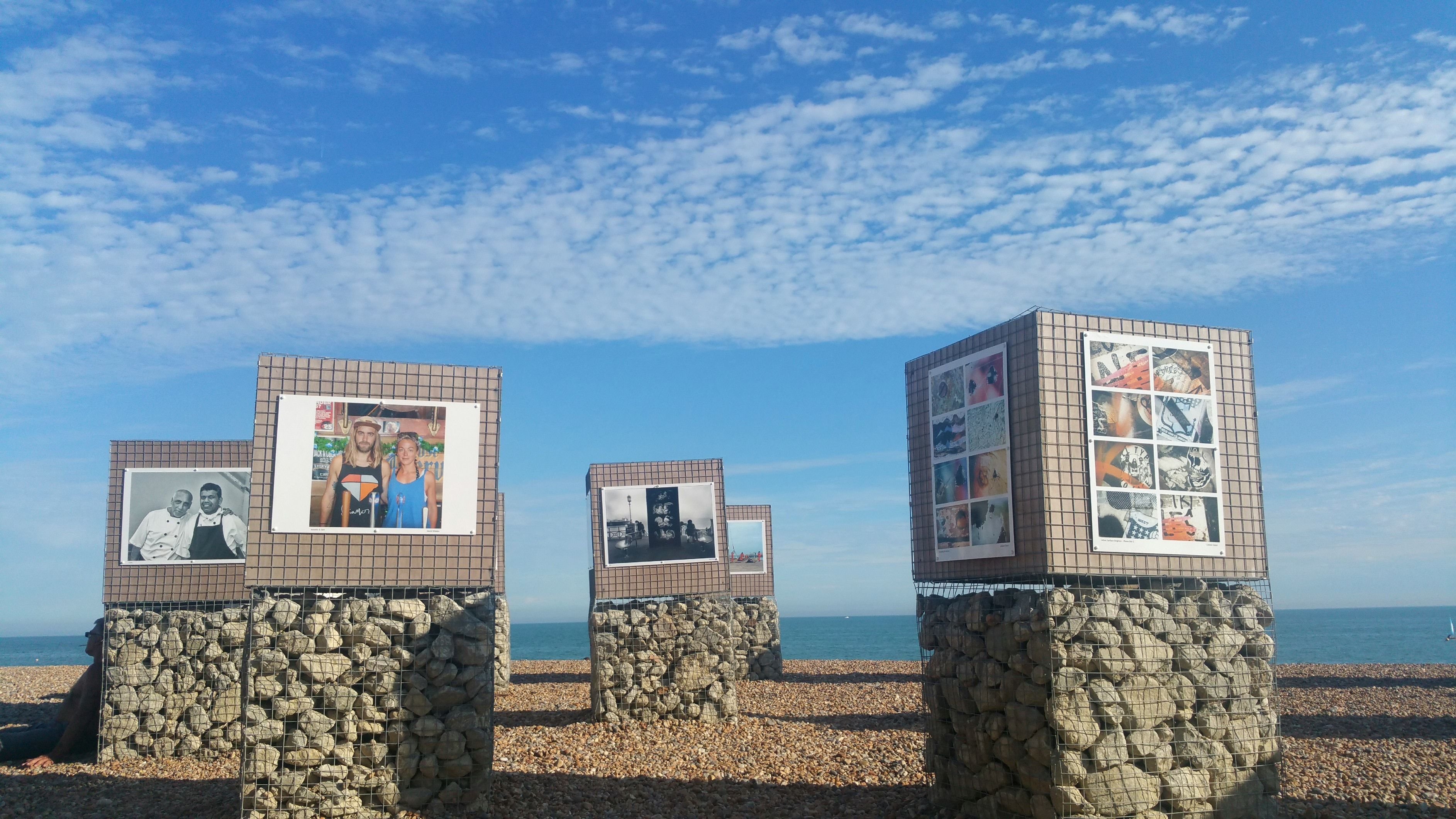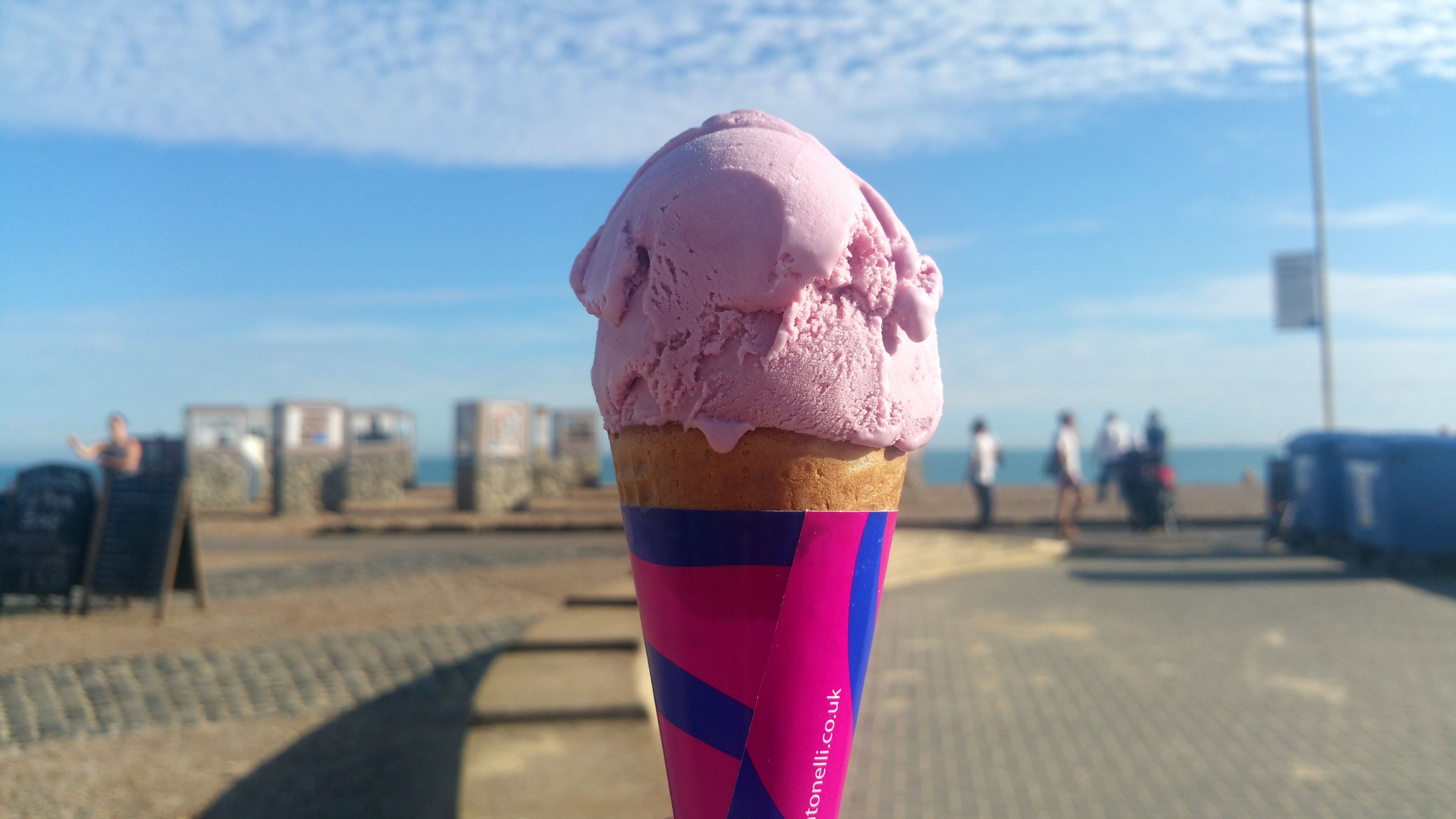 ---
At the close of our afternoon long walk, we spotted the famous Brighton Pier. A really impressive and enjoyable landmark of the bustling town! One of my favourite things about the pier is that it has retained that "vintage" feel, whilst still adding a contemporary twist with what it has on offer to it's visitors.
---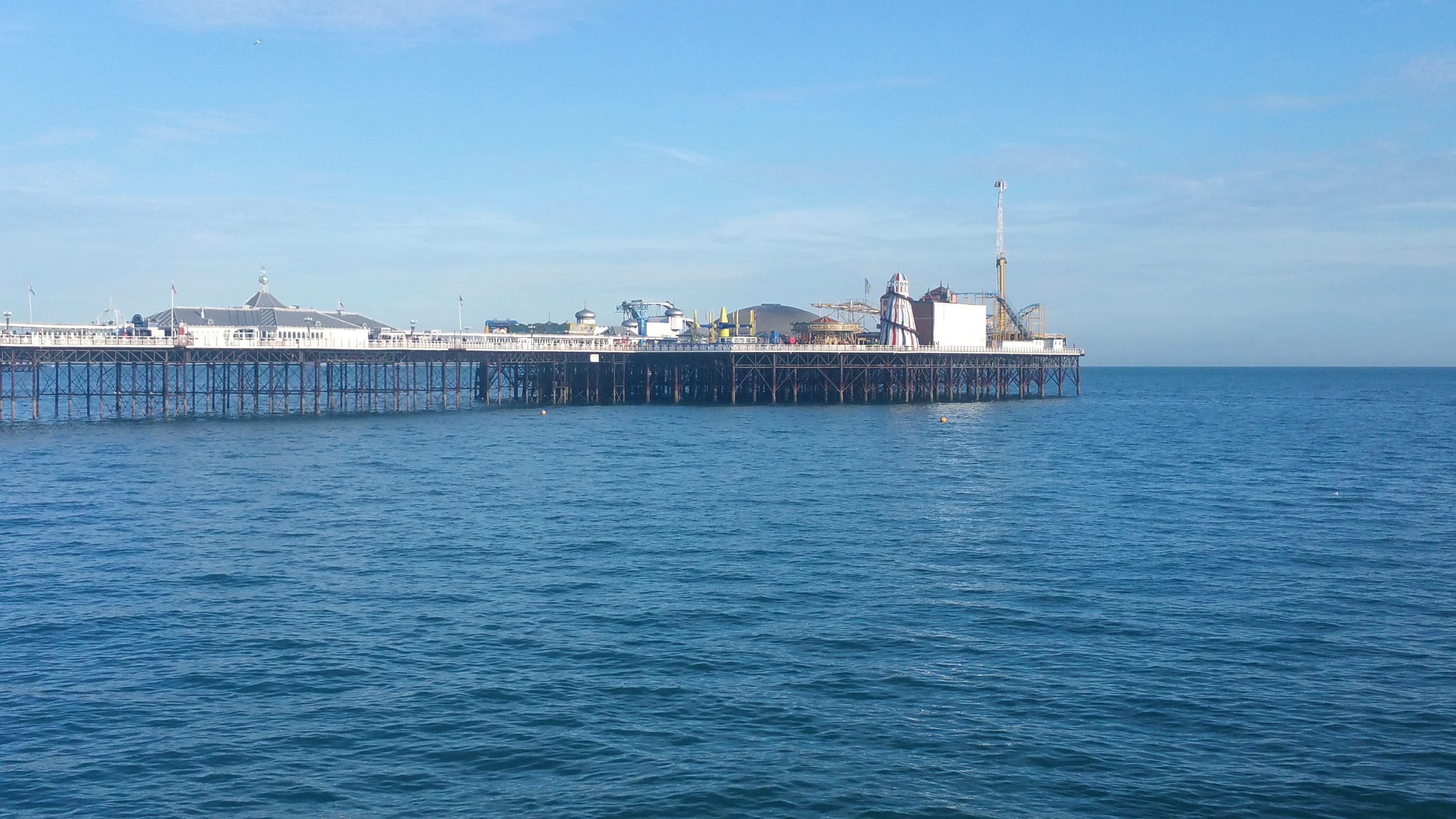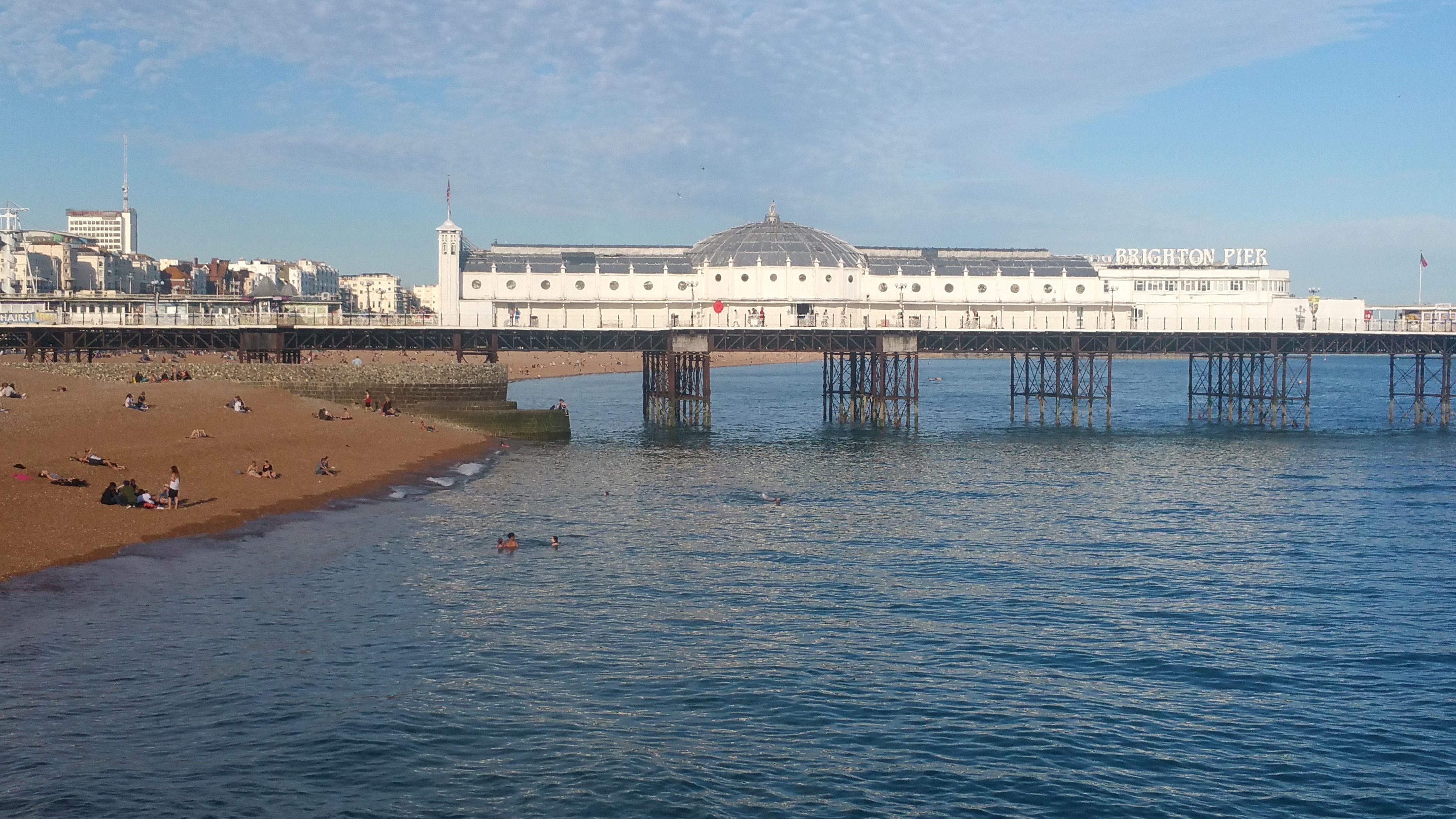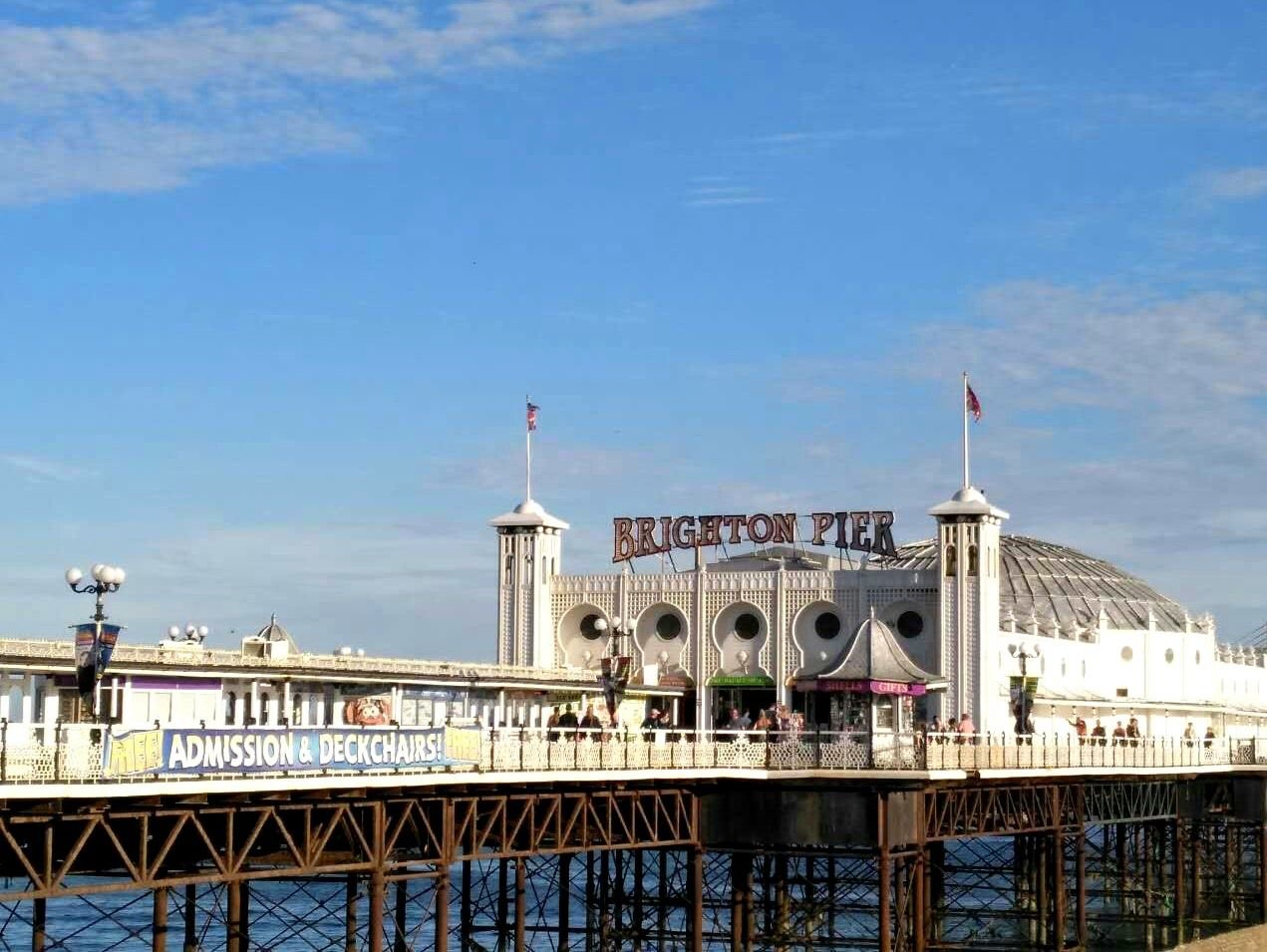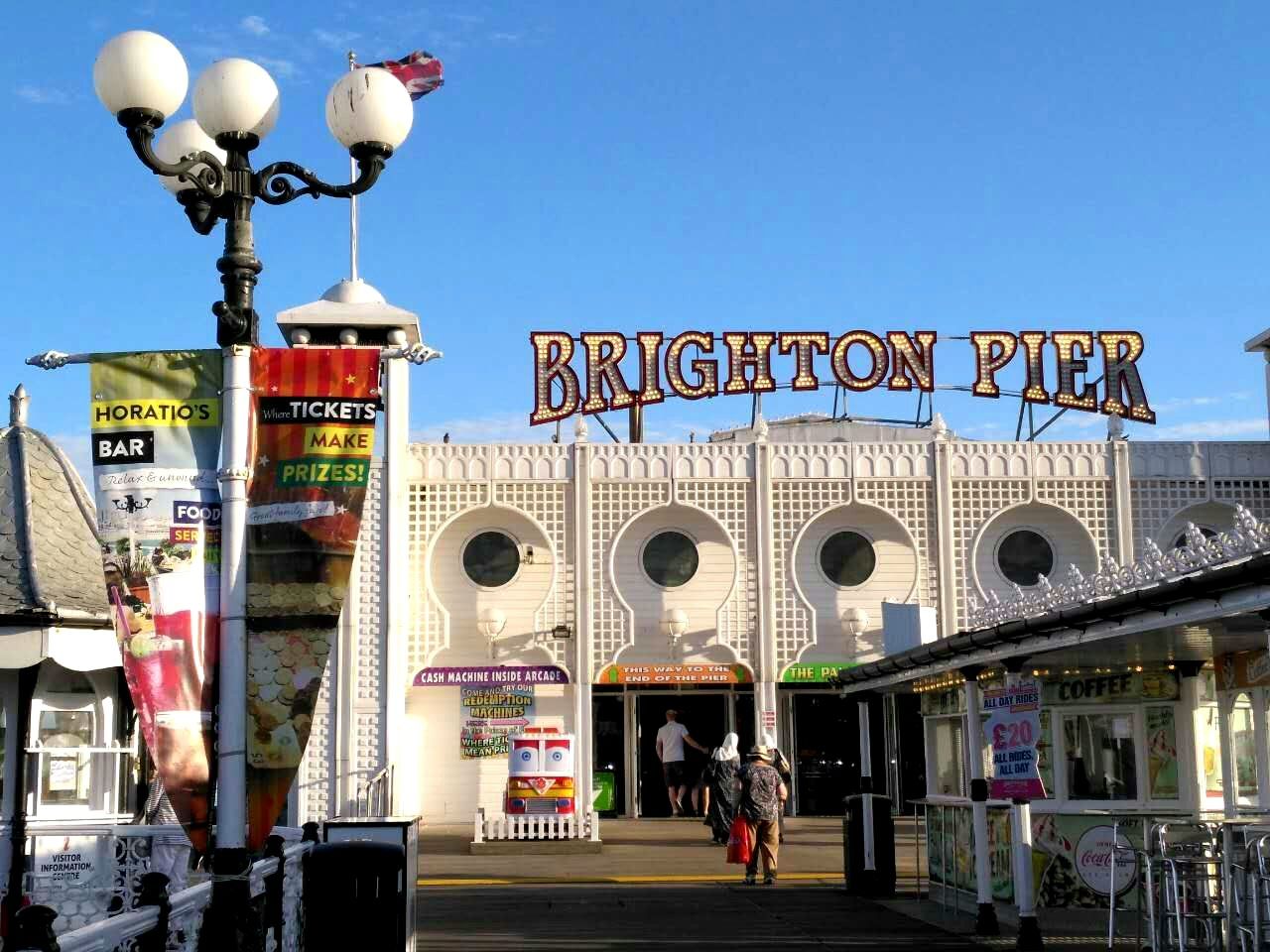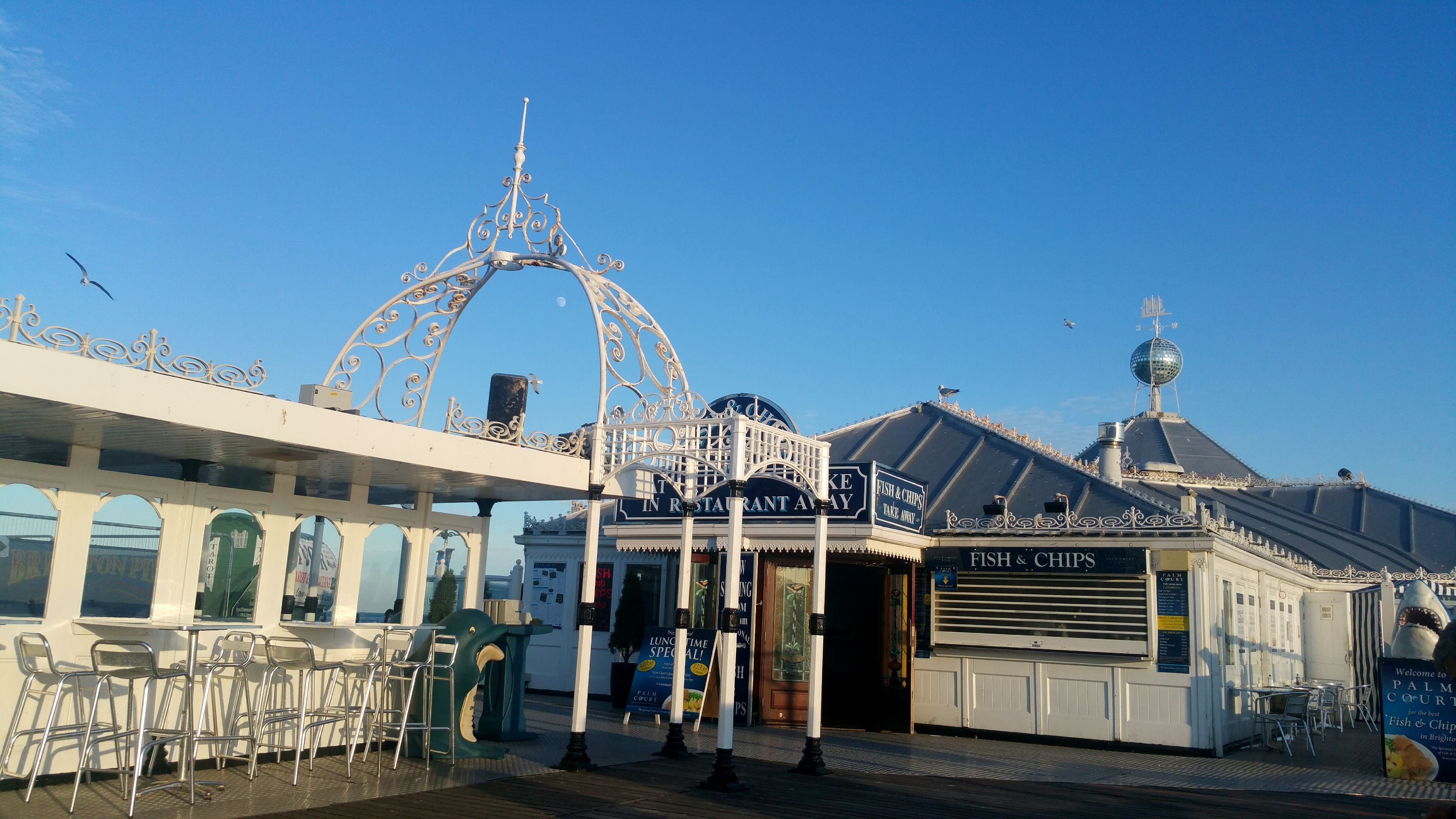 ---
Some main features include a good-sized fun fair along with video game arcades and plenty of food and drinks stalls dotted around. The restaurants serving traditional English food like "fish and chips" are a must try. Fresh and bursting with flavour.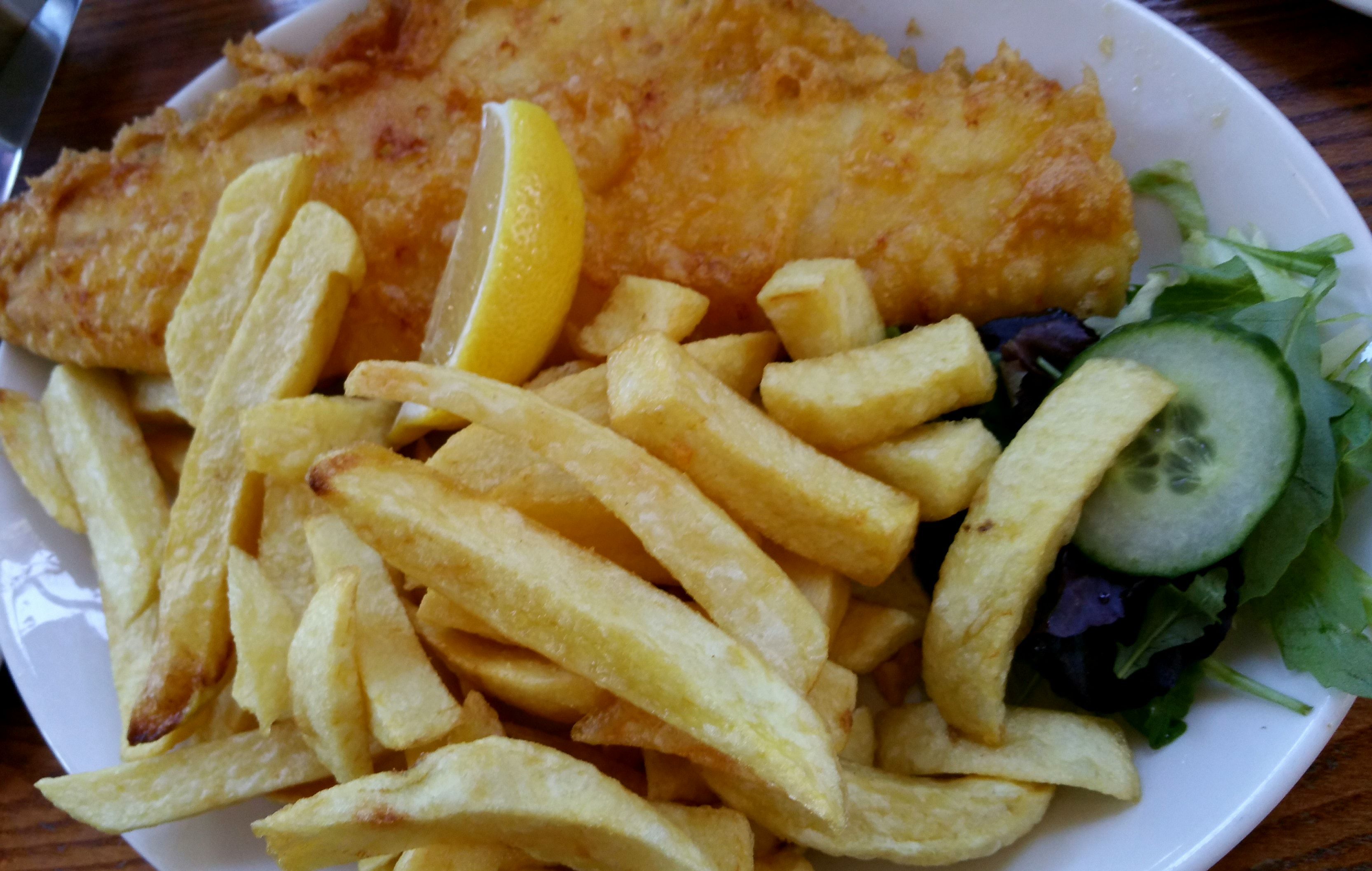 (Traditional Fish & Chips)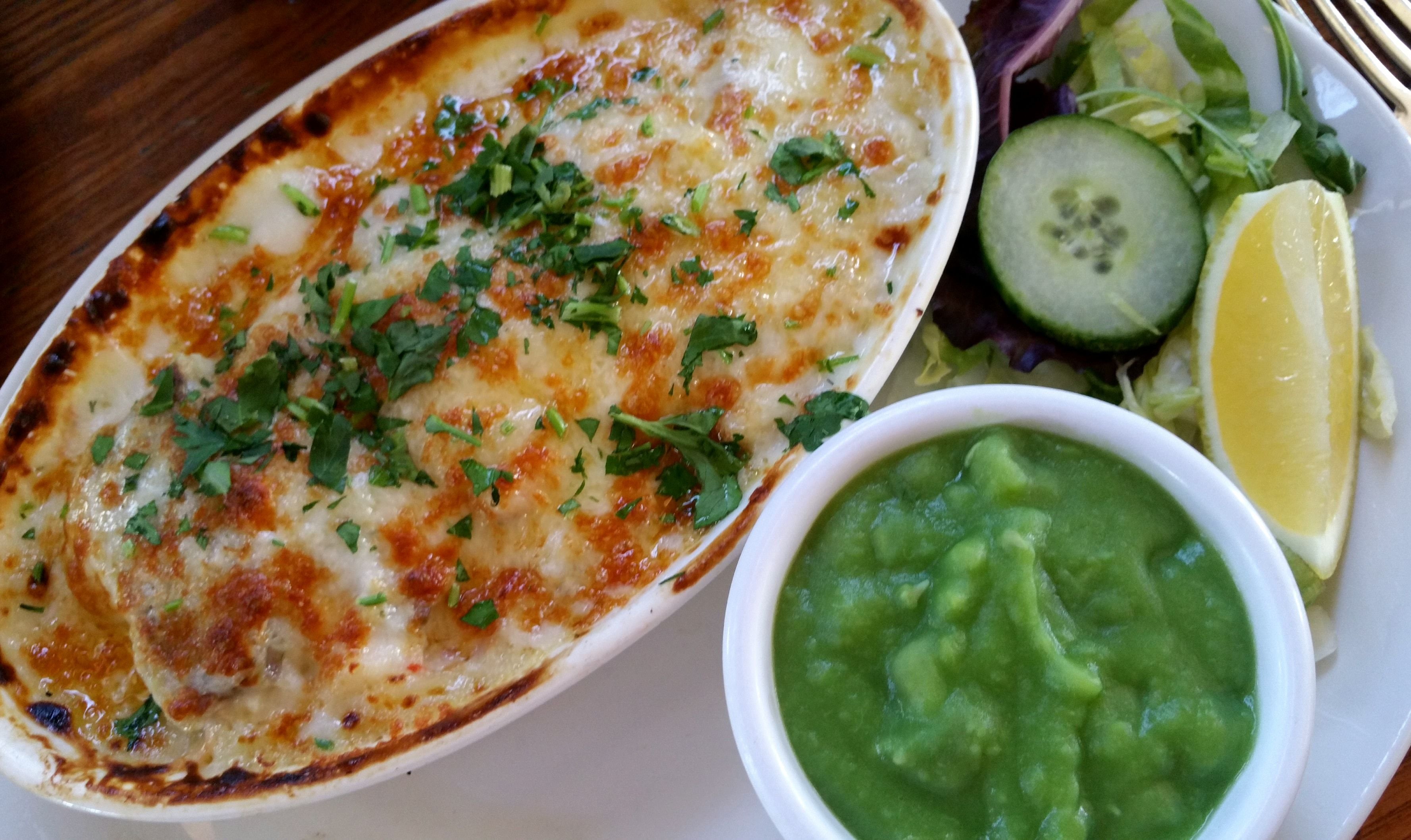 (Homemade Fish Pie)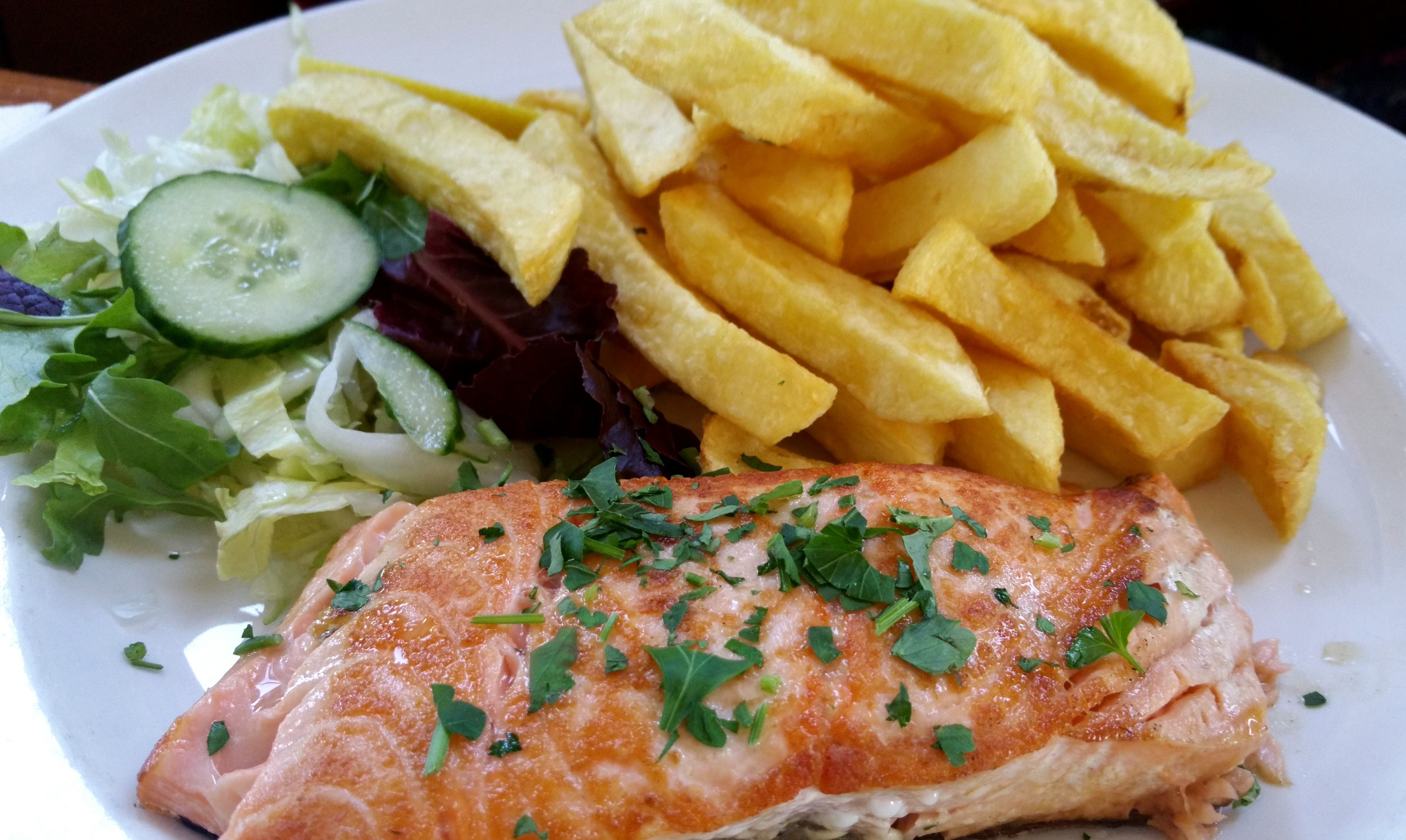 (Grilled Salmon)
There are also stalls that sell other such snacks like buttered waffles, candy floss and the age-old "Brighton stick of rock"!
And the fresh fried doughnuts are simply to die for! Just don't forget to try those whatever you do!
---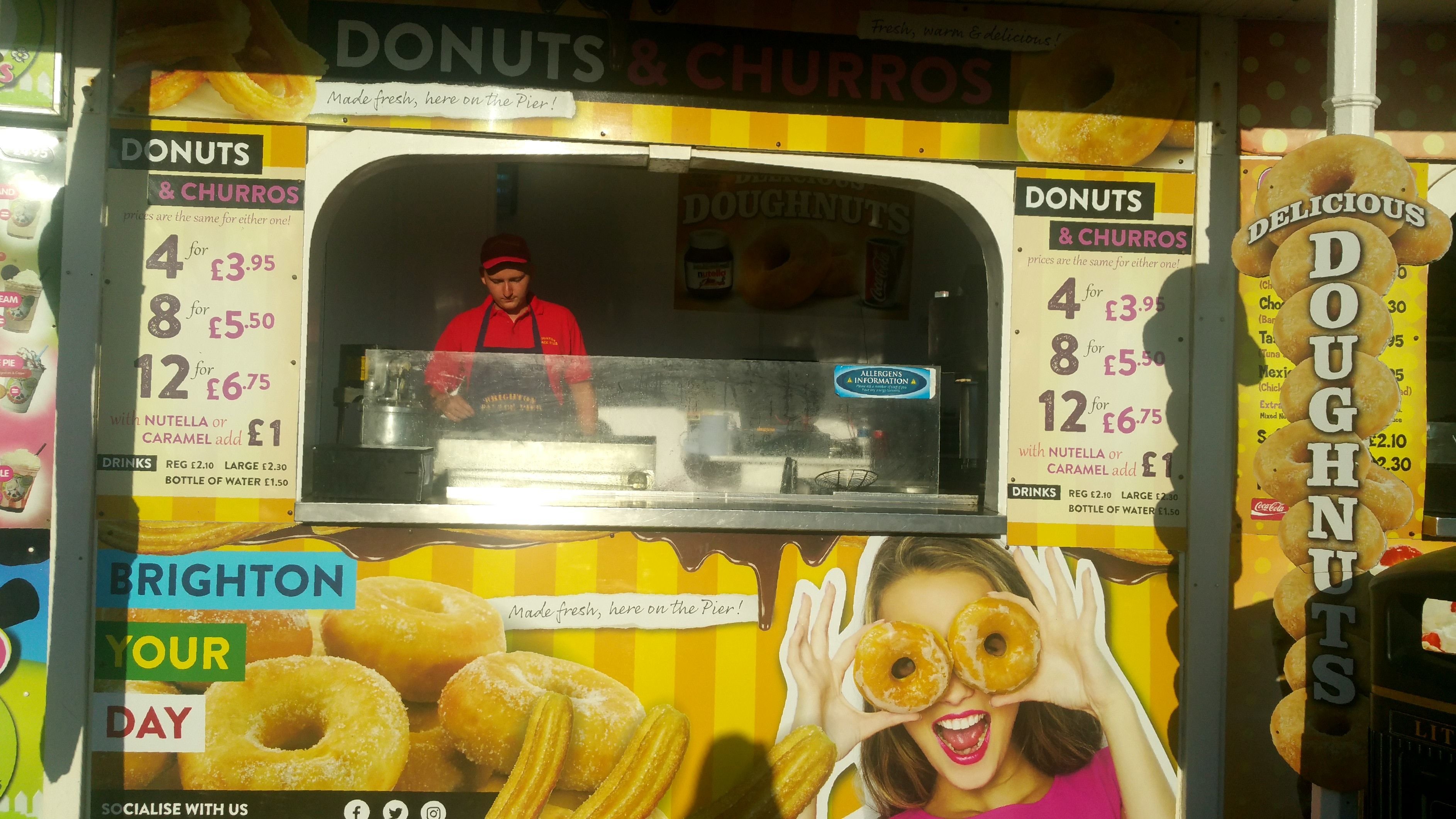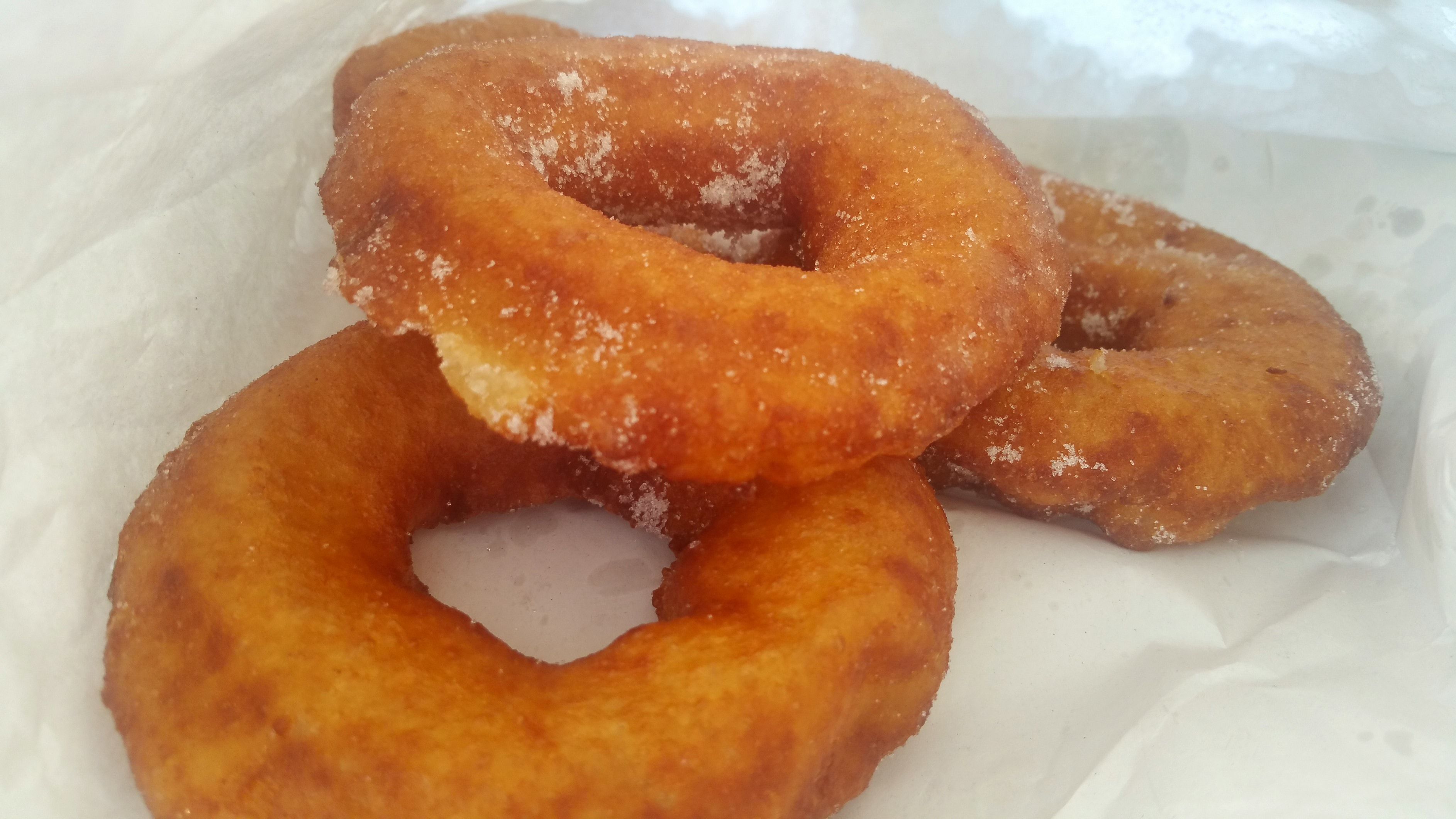 ---
Moving towards the back end of the pier are even more fairground attractions. These include The Horror Hotel, Wild River Log Flume, Turbo Rollercoaster, Bumper cars and more. There is something for everyone! There is plenty of excitement to be had and a fantastic choice of place to visit with a group of friends or family.
---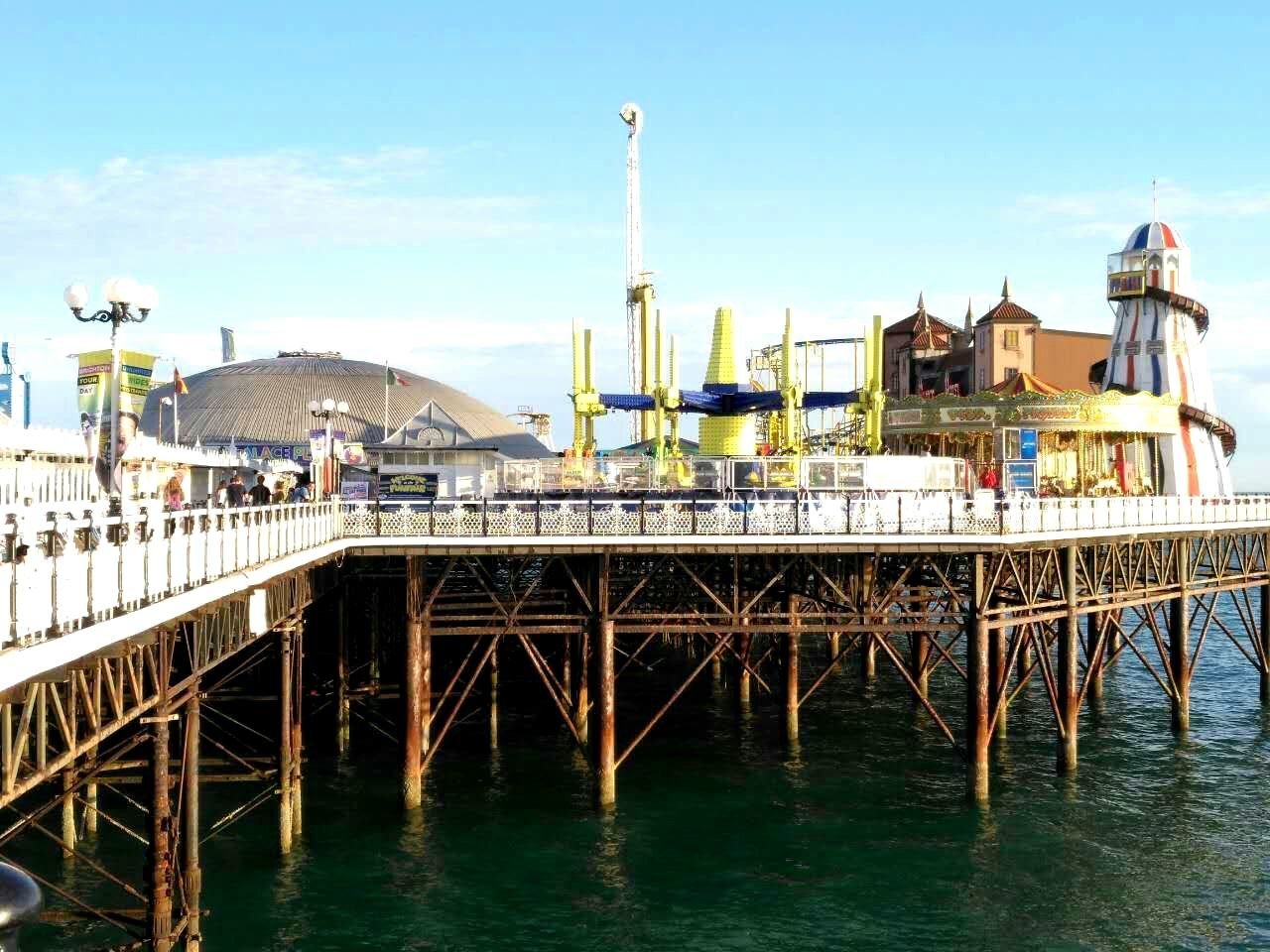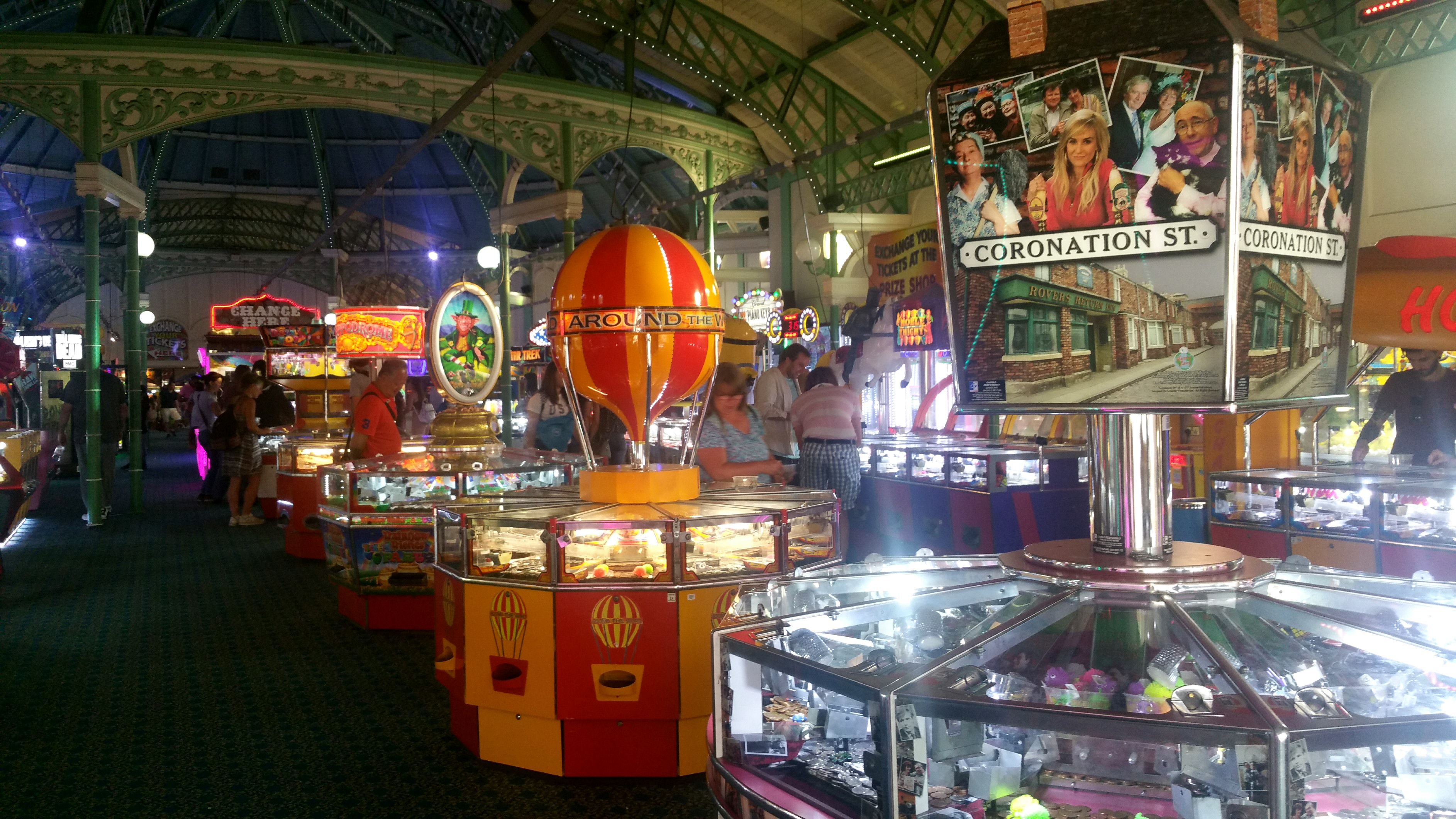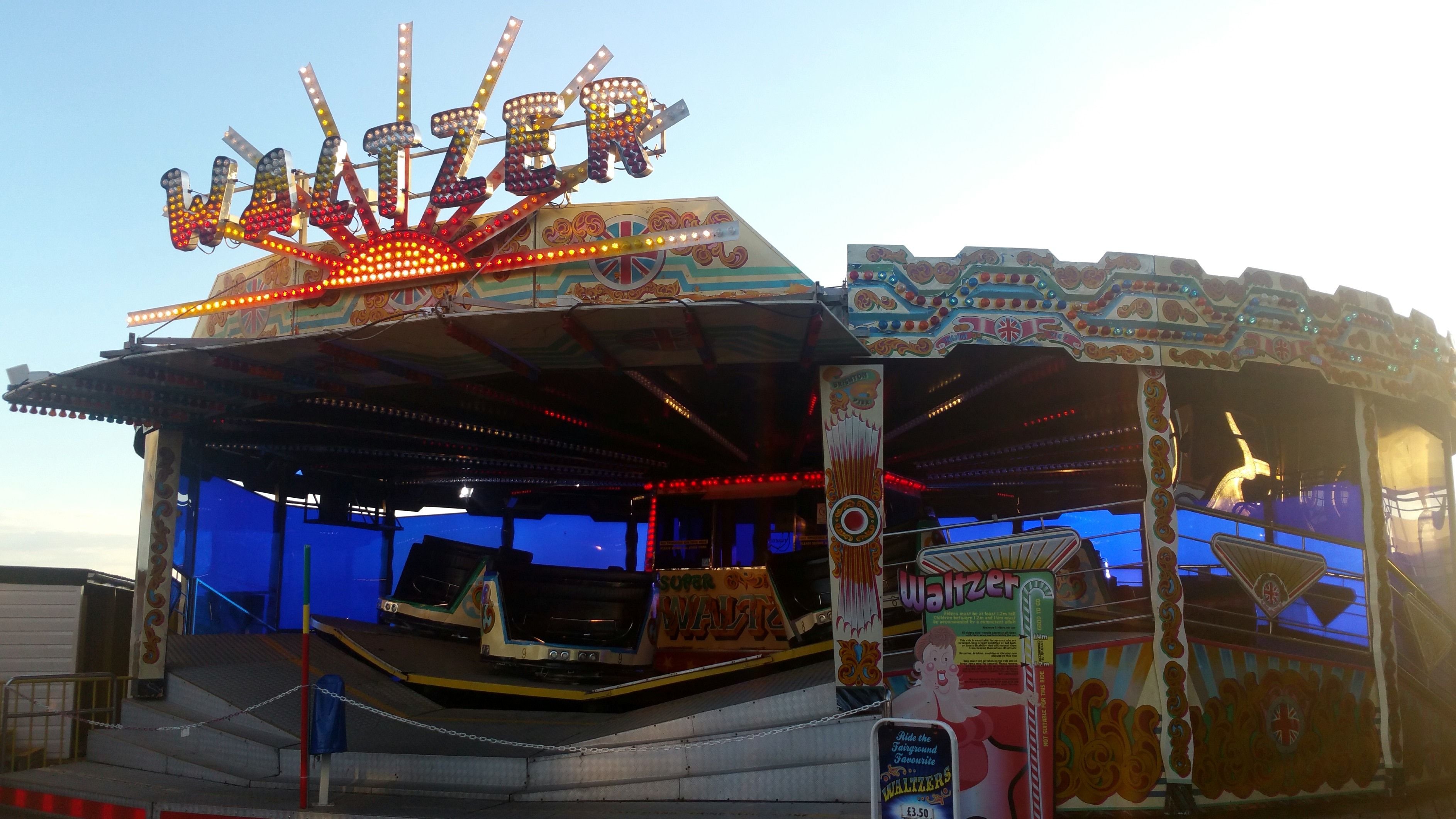 ---
It must be said the rides were a bit on the pricey side but if you purchase a wrist band for £20, you can go on all the rides you want. Which, believe me, can keep the whole family entertained for quite a few hours. In fact, you will make your money back after the first 5 rides you go on, lol.
I am not a big arcade fan (left that part to my hubby), but I do love gazing out to sea. The views from the pier are nothing short of spectacular. Thanks to the gorgeous weather, it was possible to see very far along the coast. On this incredible sunny day, all the shimmering white buildings contrasted so well with the contours of the sea and the scattered beach rocks.
A true sight to behold and one so soothing and relaxing.
---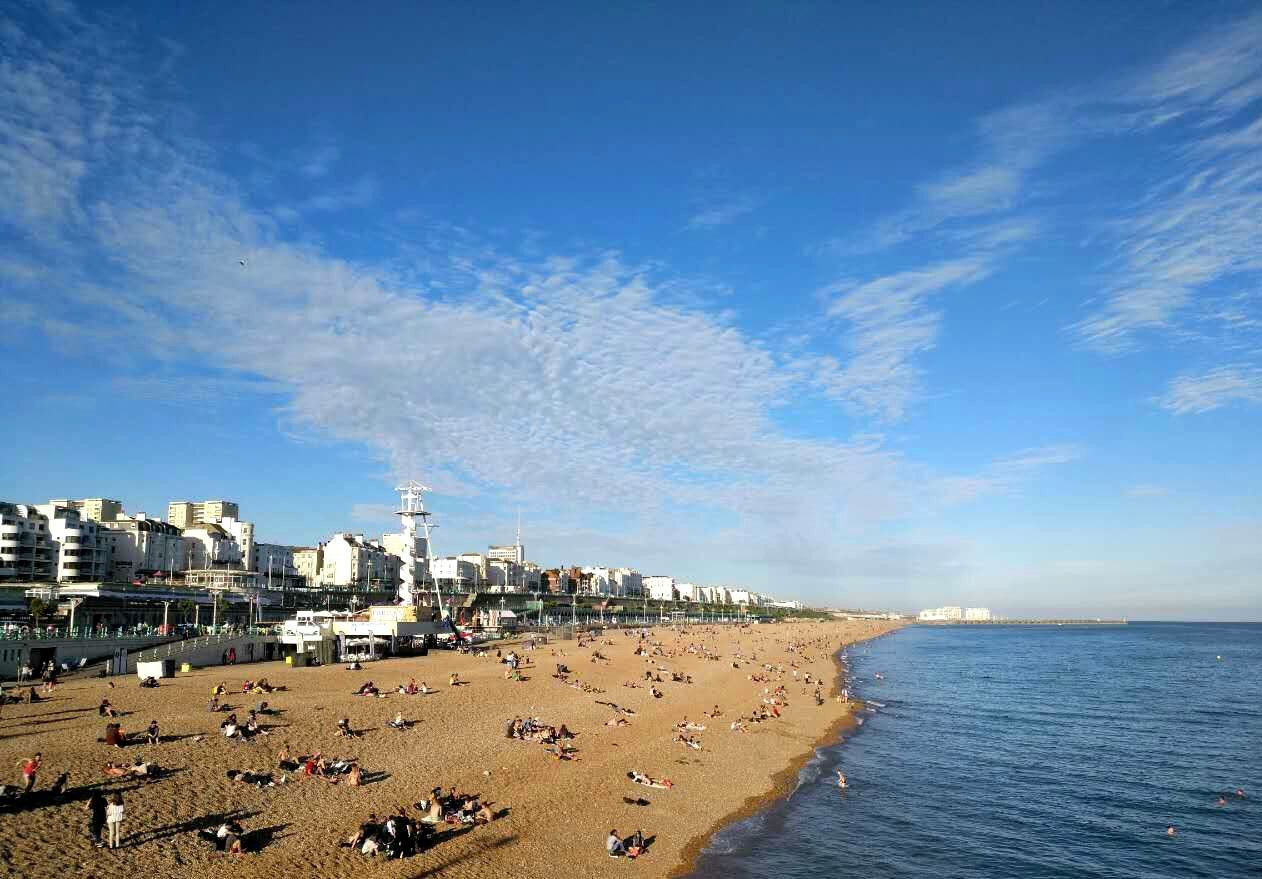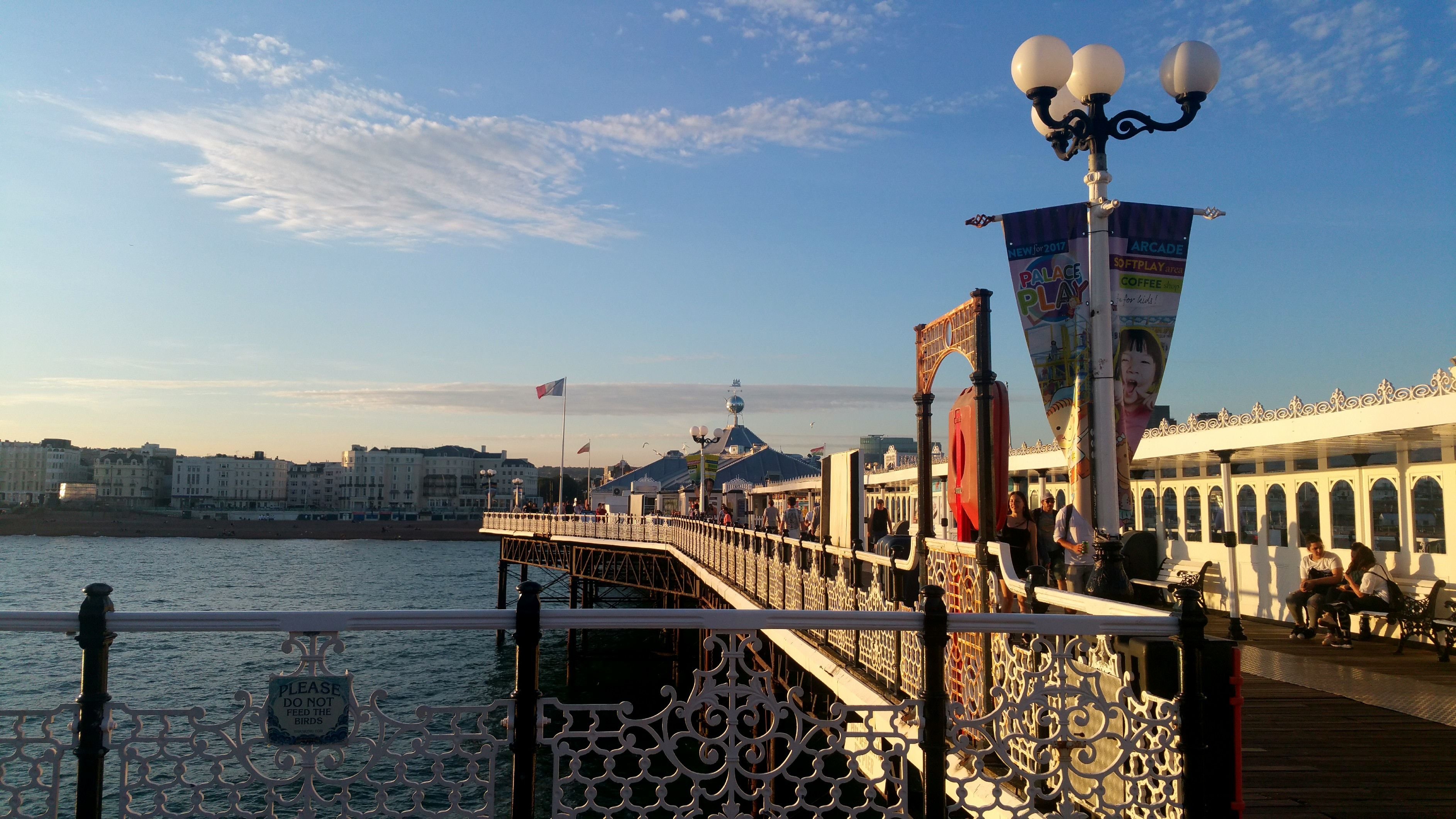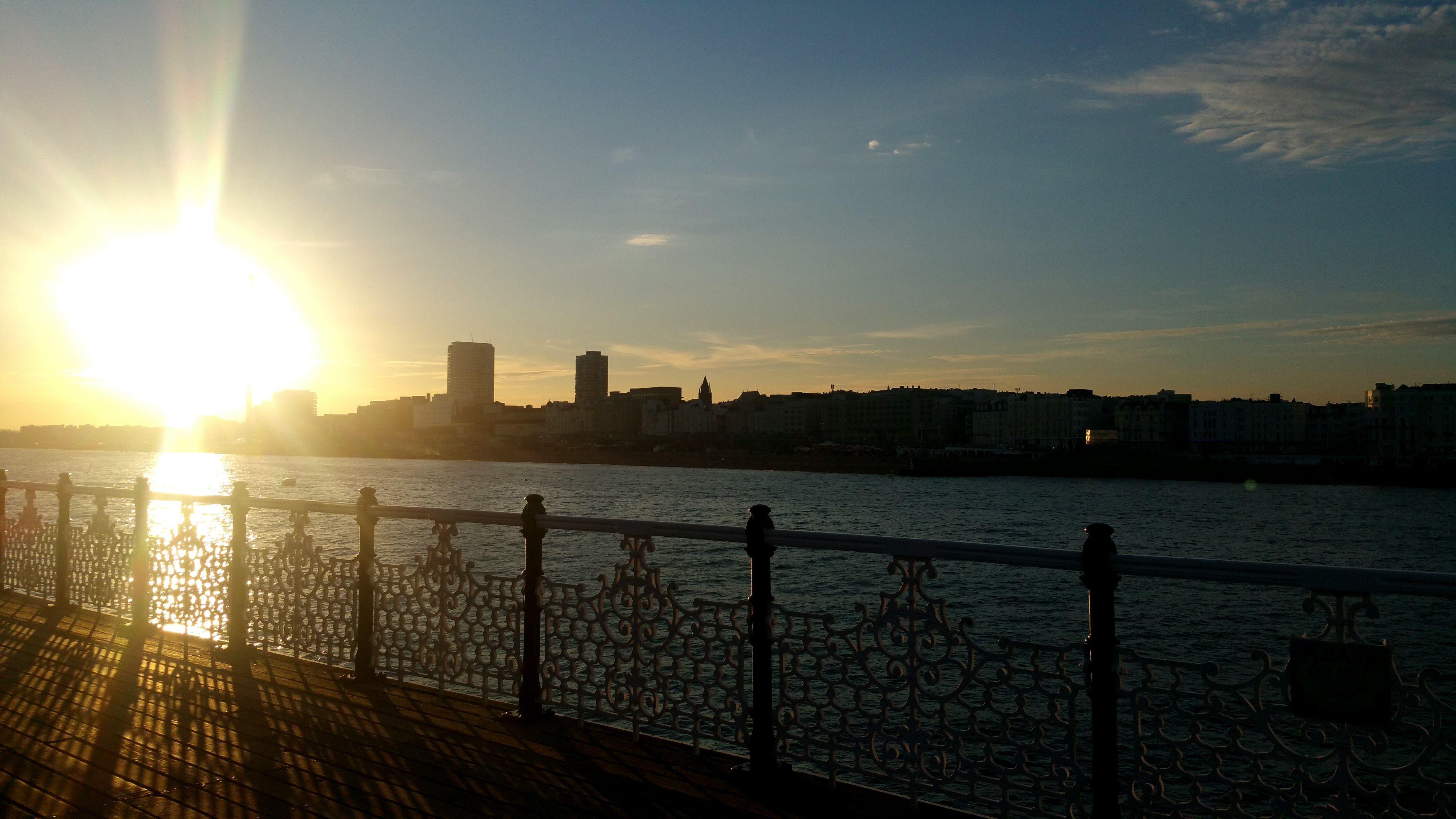 ---
It's no wonder Brighton is such a treasured gem of a location within the UK. Given the right variables of weather and seasonal timings, it can be a wondrous place to enjoy a fabulous day out. Or even a few days, time permitting.
My family loved it, as did I, and I hope to return very soon as it's only just over an hours drive from where I live. An awesome day out and one I hope you too can get to experience if ever in the UK.
You won't regret it! :)
---
真的难以置信以下这些照片都是在英国拍摄的,看起来像是地中海国家吧, 呵呵?其实它是伦敦周边的古老城市布莱顿。这儿环境优美,生活休闲,人们也都非常友善!
说实话,我选了最好的天气来参观这个充满活力,美景如画的地方。海滩的美丽与狂欢的人们,都让我对这个城市留下了难忘的记忆。希望更多的人能来参观海滨城市布莱顿。当然,天气好就更完美了!
---
我的父母从广州过来度假两个月。事实上,这也是我计划来布莱顿的主要原因。他们之前听说了很多关于这个地方的介绍,所以这次特别安排他们过来看看,呵呵。
我们开始沿着海边散步。海滩不是由沙子组成,而是平滑小巧的鹅卵石,布满水边。你只需要一张沙滩椅或一条沙滩巾就可以自在地享受日光浴,又或者在海边漫步,宁静而休闲。两者都是不错的选择。
不知不觉,我们漫步到了西码头。这曾经是一个美丽的的维多利亚建筑,但由于几年前被激烈的雷雨所毁坏。如今在海边我们只能见到它残留下来的"框架"。
对我而言,旧西码头依然有自己独特的美,犹如一件风格化的艺术作品。它展示了历史遗迹,如今已成为了布莱顿的一个标志性建筑物,是许多人拍摄或绘画的聚集地。我会推荐大家在这儿停留片刻,静静观赏。
在西码头边上,有很多酒吧和餐馆,以及众多有才华,年轻艺术家在街头表演,非常有趣!这儿也是浪漫约会的好地方哦,呵呵。
阳光普照,蔚蓝的海水在金璨璨的阳光照射下波光粼粼,引人入胜。我决定为大家买夏日浆果风味的冰激淋,并在海滩边观看沙滩排球和篮球比赛。我们在这儿度过了一个完美难忘的下午!
---
沿着长长的海岸线,我们来到了著名的布莱顿码头。这儿可以说是这个繁华城市的地标。我好喜欢这个码头,因为它不仅保留了"复古"的维多利时代风格,同时也结合了具现代气息的游乐设施来迎合众多的参观者。
布莱顿码头包含了一个大型的游戏娱乐场,并且配备大量的食品和饮料摊点,供应传统英式食物如"炸鱼薯"等。这里的美味海鲜都是来访必尝的,哈哈。
还有众多的小吃摊位出售牛油威化饼,棉花糖和传统的"布莱顿摇滚棒"等。新鲜油炸的甜甜圈是我最爱,大家可别错过哦!
码头的后半部分有更多的大型游乐项目,包括恐怖酒店,疯狂过山车和怀旧碰碰车等。游戏种类繁多,一定有适合你的,呵呵。
游乐项目的费用是有点儿高,但如果你购买价值20英镑的腕带,就可以任意去所有的游乐设施。一家老小可以在这里耗上好几个小时呢。事实上,只要你玩上五次的游戏,就把钱赚回来了,呵呵。
比起各种疯狂游戏,我更爱看海。从码头凝视海洋,景色令人叹为观止。由于天气晴朗,我可以看到沿海很远很远的地方!在阳光的照射下,闪烁的白色建筑与蔚蓝海洋,及满布海滩的卵石,一切都显得如此协调与宁静。
---
难怪人们说布莱顿是英国的稀有的宝石,一点儿不假。如果能碰上这样的好天气,真是非常值得一游。
我和家人都非常喜欢布莱顿的海边,期望下次再来。毕竟伦敦离这儿仅仅一个多小时的路程。希望大家也来看看,相信你们一定不会后悔的!