Draw on blockchain x Google SEO : A server experience 當服務生的小經歷 | #9 假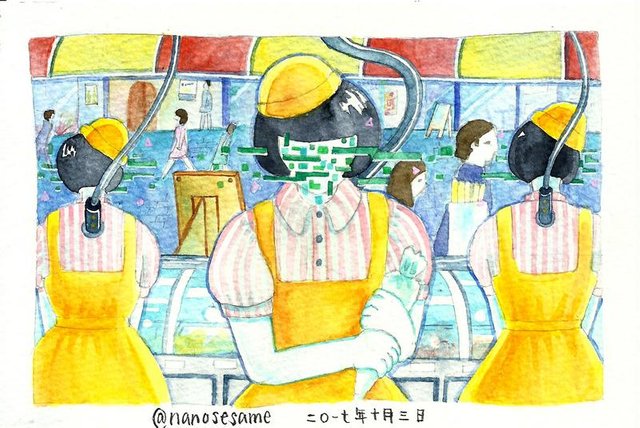 小拖拉人的我這次谷歌點名晚了,圖生出來了文一直在寫(哭)然後仍硬著頭皮厚著臉皮發出來(攪不好一年後這篇是首位吶!哈哈哈...)這次的題目是「假」,有很多關聯的想法,不過
時限在即
先分享一個「假」(fake)。
傳送門&謝謝JUBI 開題目
近年在討論區看到一些日本旅遊討論,當中有一種說法我覺得很有趣,我也想分享一個小小的個人經歷和想法(個人的想法,我不是通也不是達人,請勿以偏概全)
A late entry of @jubi's Google SEO #9 (cry and thank you). This week's theme is "假". There are 2 meanings of this character: Holiday and Fake. I have many ideas, but the most I wanted to share is the following, about "fake" :)
Recently, there are some discussion about traveling Japan, and about the stunning service. By this chance I would like to share some of my experience and thought. (My personal experience and view only, I am not a expert of Japan and can't represent them m(_ _)m)

Outline 起稿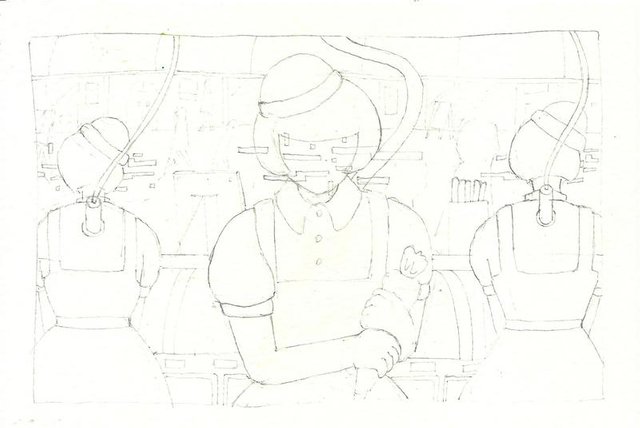 這次的靈感就是來自於這絕頂的服務有時候難免覺得他們都是機器人這種想法。我們有時不滿店員態度不夠好,又會感動於窩心的店員。如果,有一天,他們都是由格式化的機器人代替,提供同一樣的頂級服務。到時,我們又會不會覺得沒生氣呢?會不會覺得「假」呢?
The idea from the nice service in any condition may make me think that are they robots? We complain bad services; we appreciate warm services. If some day, all staff are replaced by robot with same nice standard of services. Will we feel boring? Will we think it is not real enough?
---
霓虹國(註1)的服務生態度好,服務貼心之高評價我想世界知名了,分分秒秒都和顏悅色,笑臉迎人。而有些人認為這種「笑」是假的,因為這是他們的工作,雖然看著很開心,但心裡卻有表裡不一定如一的覺悟。
幾年前在霓虹國呆過一陣子,在一家甜點店上班,雖說是兼職,但也得學做甜點和販賣,技術含量跟正式員工也沒多分別。店員有本地人也有外國人,出勤搭檔比例一半半。
進去第一件事,就是學說「歡迎光臨」,怕生的我說的不夠大聲,不停練習。到聲如洪鐘了,也要練笑容。笑到臉肌僵硬。
有些時間沒太多客人,邊打掃邊準備食材也邊聊天。跟比較熟的日本同事聊著聊著,說到香港人都很喜歡到日本旅行,其中一個原因是日本的服務太好,店員超級有善,買東西送你出門口送到我都不好意思。
我問他,這是真的嗎?會有累的時候嗎?他一臉懵懂,看來這是個奇怪的問題。
Japan's good services with a world famous level. Any time with smiling face and greetings. Sometimes the staffs see me out that make me feel shy because I only bought little things and not a high price. However, some people may thing that not all are real, as a human, who won't have bad mood, and can't always being nice. It is fake, or an acting, we don't know what they are thinking actually.
I had been there for a short time and being a snack truck's part-time staff. Around half of us are foreigner and the rest are locals students and full-time staff. The first thing I asked to learn is greeting. I was a shy character and it took a little bit time to practice how to greet with loud enough voice but friendly.
One day, it was not many customers, a local and I did cleaning and chat. In the conversation, I mentioned the amazing service in Japan and will Japanese feel tired or is it "real"? He showed a frustrated face, I think I asked a weird question.

Coloring 上色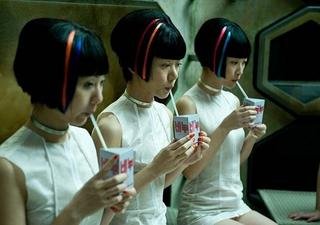 由背景開始上色。店員的形象一半來自自己的記憶,在顏色和場境上作參考。另一半來自於電影《雲圖》的裴斗娜,裡面有一節關於複製人的覺醒。當我們的店員都變成像很多電影中的人工智能機器人或者複製人,而我們作為客人會變得無理取鬧,不用體諒他們嗎?(額...其實連真人也有奧客,所以結果挺明顯的)
Start from the background. The image of the staff is from my own memory. Referenced the color and environment. And also from the movie Cloud Atlas's Doona Bae. One part of the movies is about rebellion of the cloned human slaves. I wonder that in the future, if staffs are robot or cloned human, will we become rude to them? (er... even now we have unreasonable customers... the answer is quite obvious.)


機器人,想他做哪個表情就能寫哪個表情的概念。但是,到將來機器人有了學習功能,他們會自己分辨的話,又會如何反應呢?所以我畫了個「加密」了的臉。
Robot, somehow with the idea that we can control their facial expression by programming. However, with AI, the robot can learn and what will they act by their decision? So, I drew her a encoded face.
---
「沒有想太多。」他認為大概因為一出生都是被這樣教育,見人要說早午晚安,每一家店都是這樣說歡迎,都是這樣恭敬的態度。就像呼吸一樣自然地做出來,發生甚麼事都自動回歸基本,生存的一部份。
我感覺像站在水墨畫前問畫得迫真不迫真,也好像問我拿筷子吃飯方便嗎?
我... 沒想過這問題。
曾經有一位前輩跟上司電話中吵架,委屈的眼都紅了,掉了兩顆淚,她轉身抹抹臉,然後撐著紅筋未散的圓眼回來笑著說「歡迎光臨」。
又有一次,幾個死小孩來買飲料,又說好像不好喝,吵吵嚷嚷,又說倒這麼少敢收那麼貴。我笑著默默地做完飲料,交了出去,同事也默默收錢。死小孩們走了,同事等了一下,走來小聲跟我說「那不要買啊!」然後我們都忍不住笑了。笑大家都很敬業地默默完成了工作,她笑我以為她都沒感覺,我笑她也不完全是個機器人。
這一刻,問我這不就是「假」嗎?不能完全否認,因為那種笑容都是自己硬生出來的,不過我認為那是他們底線,不會跟客人黑臉,無奈也只能守本份。
He said that he didn't realize it or think of it. He thought that they were educated in this way from they were born. Greetings to everyone in daily life. From childhood they saw staffs greeting in that way and serve everyone very well. They are just supposed to do so and just do it naturally. I realized that it feels like I am asking does the Chinese traditional painting looks photo-realistic or not. Or asking me is it convenient to eat with chopstick. I didn't think about it.
Once, a senior staff argued with office stuff in phone. She tried not to cry and hide herself for a second. Then back to the front with her eyes still red, keep smiling and says, "welcome".
Another day, some naught kids came and order. They screwed why the drinks are so little with high prices, blah blah. My partner kept quite, did cashier; and I finished making the drinks. After they went far away, my partner came near me and whispered, "better not buy". We chuckled because we finished the job professionally; because she knew I thought she was robot like; becasue I was a bit shocked she would say in that way.
So, this is fake isn't it? Can't deny. They hided the real feeling of that moment. To me, it is too acceptable because this it is the bottom line, not being impatient, not argue with customer. This is the way to keep the profession.

Fine tune 修飾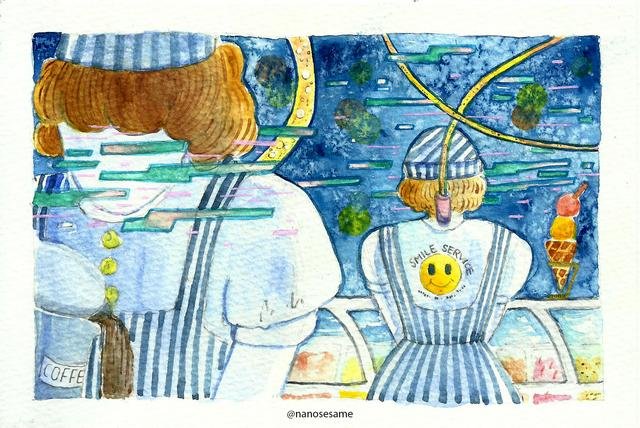 上面的是另一個版本,不過覺得氣氛太陰沉了,想法有點負面,就是覺得人類在將來對機器人不會太友善。看科幻片多了。所以轉向光亮一點畫用色,但保持中性的想法,待機動作一致以強調機器人效果,也沒加太多過於歡樂的元素。
This is another version. But it is too dark that I think we may be cruel to the robots. Watch too much sci-fi movie, lol. Thus, I turned to a brighter tone, but keep neutral by same standby gesture.




Epilogue 後記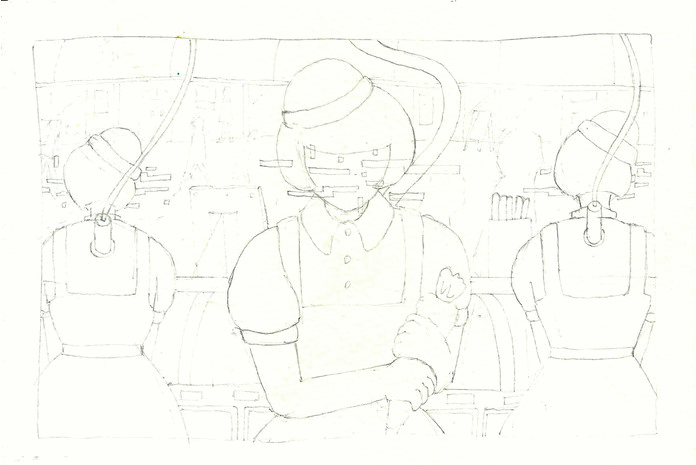 而我也慢慢習慣整天掛著笑臉。雖然最根本的思考跟他們不一樣,但「你敬我一尺,我敬你一丈」,客人們也回以滿足的笑容。外國人看來小小的「假」又何樂而不為呢,而且更可貴是跟貨品價位和小費沒掛勾的。
經過這些當服務員的日子,我不會去做「他們都是皮笑肉不笑」這種預設和推測,要把他人的良好服務解讀成「假」,也太辛苦自己。而且,在想這問題前先要求自己當個有禮講道理兼負責任的客人比較重要。
I also being comfortable and get used to serving in their style. Sometime as a foreigner, I think that I keep smiling and friendly, the customers also pay back by a big smile. Although I do not get any tips or 10% service charge (no tips and do not have tip system there and also in many Japan's restaurant), I am still happy to do this.
After these days, I won't question are they forcing a smile. It is tired to over interpret the service with goodwill. I prefer asking myself being a friendly and responsible customer first.




文末簽名越來越長怎麼辨 The post signature becomes too long (;_;)
註1: 日本的日語讀音NIHON跟國語霓虹同音,覺得很美,借來用一下。
Image of Cloud Altas source