漫步在綠色隧道/ Wandering in "green tunnel"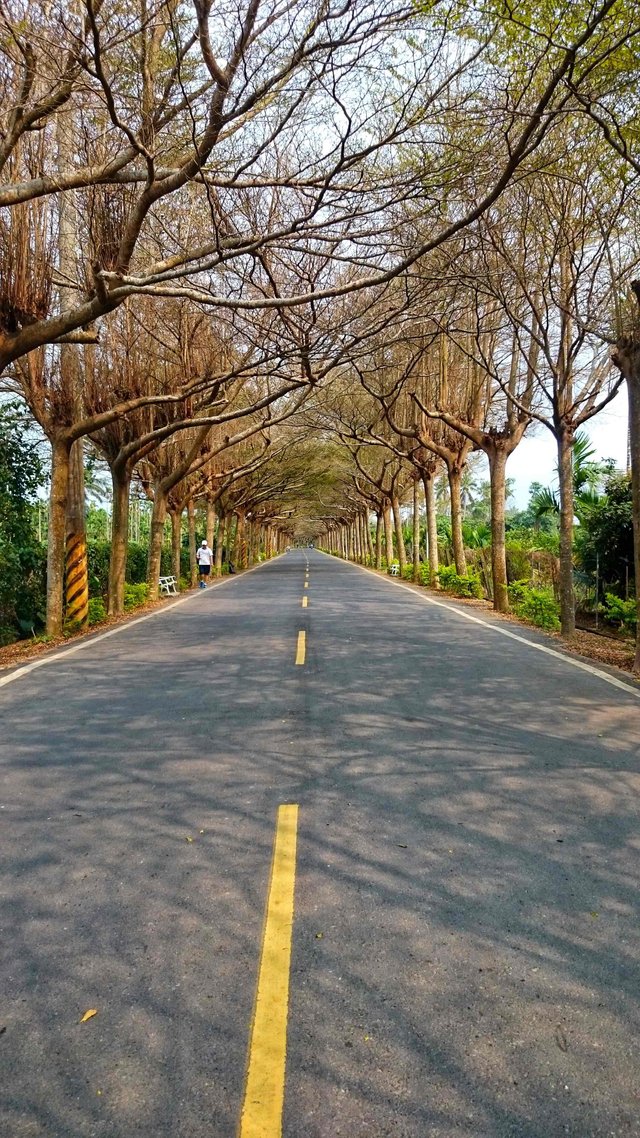 (相片攝於2016/3/19 屏東潮州泗林健走步道)
二月時,國中友人傳來訊息表示她想去看看綠色隧道。瀏覽過相關資料後相約三月一同去郊遊。出發前夕我們仍在討論附近有沒有什麼小吃美食或其他風景區,一股疲憊感忽然襲來便結束討論。隔日中午草草吃過午飯後立刻動身前往位在喧囂中的神秘小徑。
路上還發生一件小趣事:友人拿著手機替我導航。正當經過一處綠油油的稻田時,她忽然大喊一聲:「剛剛那邊要左轉!」我立刻緊急煞車。「你幹嘛不早點講啦!」「我顧著看綠綠田就忘記了⋯」頓時讓我啞口無言。
抵達目的地時,映入眼簾是這看不見盡頭的枯木。原本以為迎接我們的會是綠意盎然,沒想到是枯葉凋零。而相較於北部的冬天,三月的南部依舊暑氣逼人。若不是親身體會過,還都以為南部人口中說的「冬天穿短袖」是無稽之談!
漫步在「綠色隧道」中、看著來來往往的人群,心中那份忙碌和急躁感也漸漸緩慢下來。原來人的心可以這麼平靜!步道就像有個防護罩,把所有煩心事都擋在外面。
午後的風吹起來並不是那麼怡人,涼爽中夾雜著悶熱感;但風中似乎傳來一絲絲屬於這裡的專屬氣息,粗獷但祥和。
全場1.2公里的步道,說長不長、說短不短;就在我和友人的說笑中走完全程,一點也沒有感覺到疲憊感,反而覺得很踏實。
改天去看這隧道的另一種風貌吧!
*........* *........*
[English version]
(Photos were taken on Mar.19, 2016 / Place: Pingtung Yulin Walking Trail)
In February, my junior high classmate sent a message which was about the green tunnel. After browsing some relevant details, I decided to go on a trip with her in March. Before departure, we still discussed whether there were snacks or other scenery nearly. However, both of us were too tired to finish discussion. The next day, we grabbed a bite quickly and set off immediately to find the mystery path that concealed in the clamour of city.
By the way, it also happened an anecdote during our outing. My friend was navigating. When we passed a paddy field, she suddenly shouted "
Turn left! Turn left!" but it was too late. "Why don't you tell me earily?" I asked. "Oh! Because I was enjoying the adorable landscape then I forgot." she replied assuredly. What a speechless answer!
After arriving the destination, we saw a row of trees all without leaves. Honestly, I expected to view a verdant sight; whereas most of them were withered. On the other hand comparing with northern winter, winter in south was still sweltering. If it were not for personal experience, I might say " Wearing T-shirt in winter is nonsense."
While I was wandering in the trail, it put my mind at peace and ease. Also, the path just like protection that can resist all of annoy. Although the weather was confortable and crisp, it still make us feel sultry. In addition, the wind seemed to have unique smell belonging to this place.
I am looking foward to viewing the new scene.
Posted using Partiko iOS