[社區閒聊] Commun,又來新傢伙了?
看到黃鳥這一帖:Steemit背后的团队再推出去中心化社交平台Commun?
想到我也看到同樣的消息,當時心裡想,可信嗎?畢竟把Golos寫成Steemit背後團隊,看起來就很不懂,假新聞可能性是有的... 但也不能排除是記者搞錯,但真有其事...
於是劉美女特派調查又出動了!找英文媒體先,找到了,煞有介事,且沒弄錯事實,可見是中文新聞記者犯錯了...
Commun's launch kicks off new wave of decentralized social media
Commun comes from the team behind Golos.io, a Steemit fork launched by the same Moscow-based team. Like Steemit, Commun pays users for creating posts and voting on posts. The idea is that users are paid for their time, as opposed to regular social media sites, which profit from users' data and provide them nothing in return.
但這篇新聞沒給網址,我用Commun去Google卻找不到網站,真是太怪了.... 莫非這英文也是假的?
我還去Golos.io找了一下,雖然不懂俄文,但Commun這樣的事情總是大事,應該會有人談論才對....
沒看到。
最後,我看到文章裡提到 Marina Guryeva, CEO of Commun,所以去Google人名,一位俄國女老總(其實很年輕)的twitter出現啦!
https://twitter.com/marina_guryeva
Bingo!找到了!是真的哪!
看,我立馬去註冊了,啥都還不懂....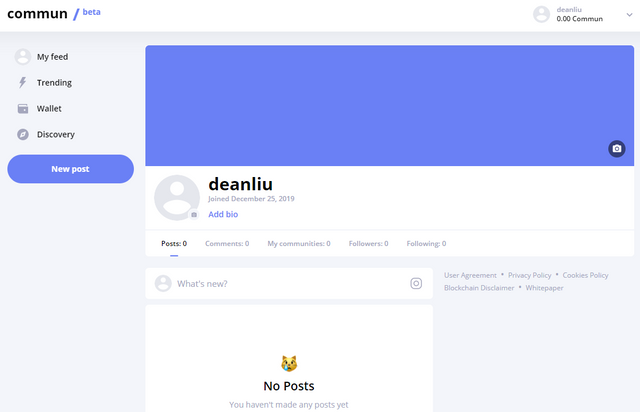 就我很快瀏覽,印象是有點類似Steem要推的Communities跟SMT的概念,跟這站名很符合,都是打社區概念... 但我註冊(要手機認證即可)後,想加入各Communities,確有錯誤訊息,不知是暫時還是怎樣.... 然後可以創社區,社區leader權力不小但可能會被成員替換,各社區會有自己的幣.... 是不是很像啊?
但人家的介面做得蠻精美的... 看來用戶還很少,都是英文的內容,還有個社區是Steemit,哈!
看來SMT再不發功,後進者在Twitter的推動下,只怕會愈來越多囉~~~~~
(暫時看來我也不會去經營Commun的,實在是沒時間)