注意:这是我的真实交易!!
NOTE: THIS IS REAL MONEY TRADE!!


如果您不清楚我在说什么,请查看下面的连结,里面有我的交易规则和资金管理。
[超簡單外汇交易策略] 我的外汇手記 Earning 900 PIPS every 3 months from FOREX Market
If you don't know what I'm talking about,please look at below post for the trading rules and money management.
Earning 900 PIPS every 3 months from FOREX Market
---
2017 Week 27 - Weekly Review
技术指标/ Indicator : EMA100, SMA200, Stoch (14,3,3)
EUR/JPY: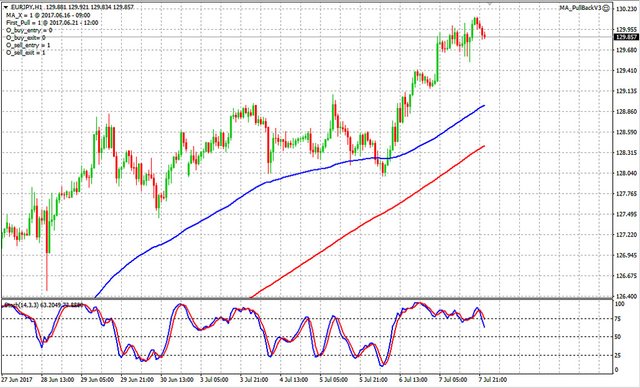 本周EJ没有交易。 EJ经过4天的整固后,廷续上周强势并在7月6日突破129.00
No trade is carried in this week. EJ continues to move up and had another breakout over 129.00 on 6 July 2017.
GBP/USD: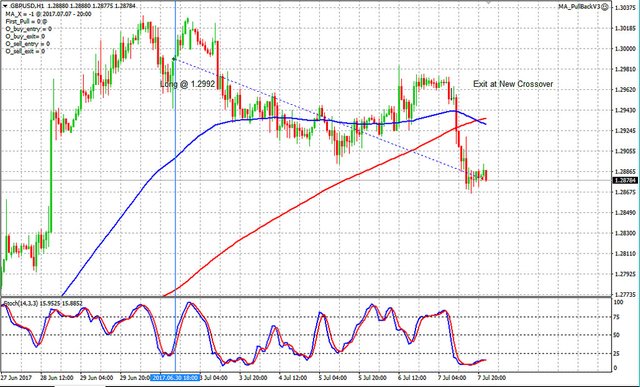 新的向下交叉在7月8日出现, 长仓已经平掉了, 一共输掉-112 pips。
GU Long position was closed due to the new downward crossover with -112 pips loss.
EUR/USD: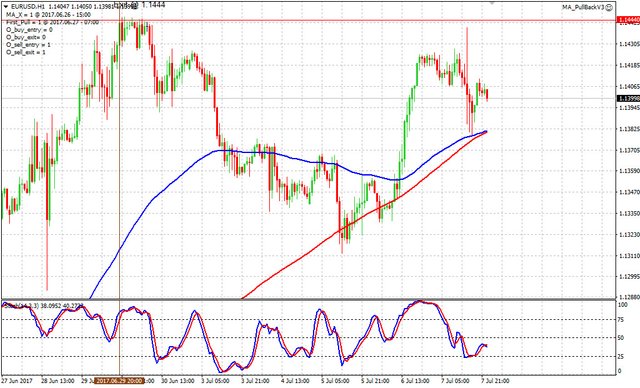 与EJ相同,EU本周没有任何订单。
新的下行交叉将在星期一/星期二出现。一旦撤回完成,就会放置短仓订单。
Same as EJ, no order was placed on EU pair in this week. A new downward >crossover is expected on Monday/ Tuesday. Short order will be placed once the the retracement is completed.
Trade Summary:


在这个星期,我只操作了GU 这对pair。在提交交易订单时,我感觉到这不是一个很好的进入点。但是,为了将来优化这个交易策略,我仍然进行了这笔交易。
In this week, I only had action in GU pair with -112 PIPS loss. It was not a good entry point while I submitted the trade order. But, I still placed that trade to keep the record for future improvement to this simple mechanical system.
---
我会坚持每周发布我的交易记录和回顾。
除了为了自己个人交易纪录,也希望大家可以利用这个简单策略去赚点钱。
这个策略不需要求交易者进行长时间的监控。只要 使用一些简单的工具,每天15分钟就可以进行保持此策略!
如果大家有什么TRADE IEDA 也可以一起讨论喔!
最后,请大家关注 @stay9n0
I will keep doing my weekly review on this trading strategy.
Despite of my personal record,I also hope that everyone could see the beauty of this simple strategy and learn to make some pips as well.
This strategy does not require trader to have long time monitoring. With some simple tools, you only need 15 mins to keep this strategy going!!
If you have any thought on Forex or TRADE IDEA, please comment below!

At last, don't forget to upvote and follow me @stay9n0
再次提醒:请先在demo account上执行回测和 Walk-forward test,然后才投入您的资金。
REMINDER AGAIN: Please perform backtest and walk forward test on Demo account first before you put your real money in.