IPFS, or the Interplanetary File System is a revolutionary new file hosting system based upon SHA-256, the same encryption used inside of Bitcoin. Cloudflare, founded in 2009, the same year as Bitcoin, is an established global cloud infrastructure provider serving customers around the world.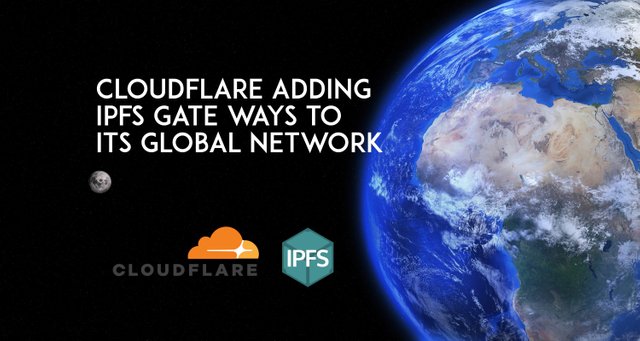 Cloudflare's use of IPFS software shows they are on the bleeding edge of technology, as they have become the first large company to adopt IPFS and release a public gateway. This helps decentralized applications serve files a lot smoother and gives IPFS a new face, and a face that is already well-respected in the networking industry.
Not only does the new gateway work to speed up the IPFS global network, it ensures the technology will also have many more eyes vetting for security and finding open voluntaries. This is something that makes the IPFS ecosystem more and more robust as time goes on.
Nebulus , a decentralized file hosting system based off Steem's blockchain, can also take advantage of Cloudflare's massive IPFS gateway. This can also help to ring true the DTube name as Cloudflare already hosts servers all around the globe serving millions of customers already.
Having solid gateways means that web browsers can also load videos helping provide a seamless and positive user experience for many people using decentralized applications. DApps in smartphones as well as inside web browsers can use Cloudflare's new gateways further reducing cost while still enabling decentralization.