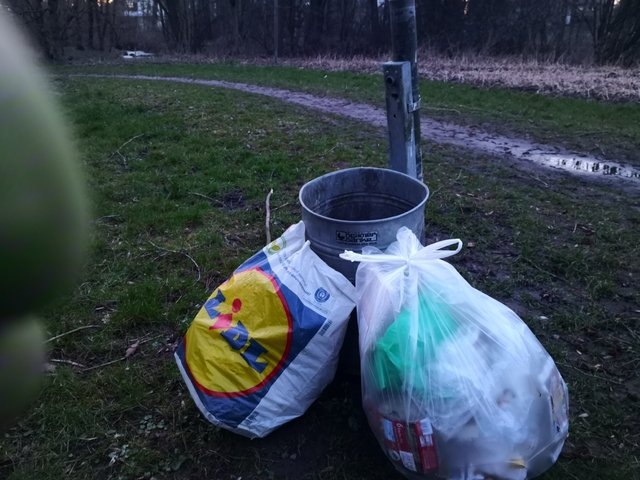 Nachdem mich das Spiel DrugWars und dessen derzeitige Entwicklung ein wenig angekotzt hat, hab ich mich dazu entschlossen ein weiteres Mal in die Nachbarschaft zu gehen und der Umwelt etwas gutes zu tun. Unweit von meinem Zuhause bin erst durch einen kleinen Park gelaufen um an den Feldweg zu gelangen, wo ich das letzte mal vor kurzem aufgehört habe. Leider musste ich schon hier feststellen, das wieder einmal viele Vandalen und Umweltverschmutzer unterwegs waren die einerseits Mülleimer aus der Verankerung treten und durch die Gegend werfen und andererseits viel herumliegender Müll.
After I got a little sick of the game DrugWars and its current development, I decided to go to the neighborhood again and do something good for the environment. Not far from home I first walked through a small park to get to the country lane where I last stopped recently. Unfortunately I had to find out already here, that once again many vandals and polluters were on the way, on the one hand the garbage cans from the anchoring step and throw by the area and on the other hand much garbage lying around.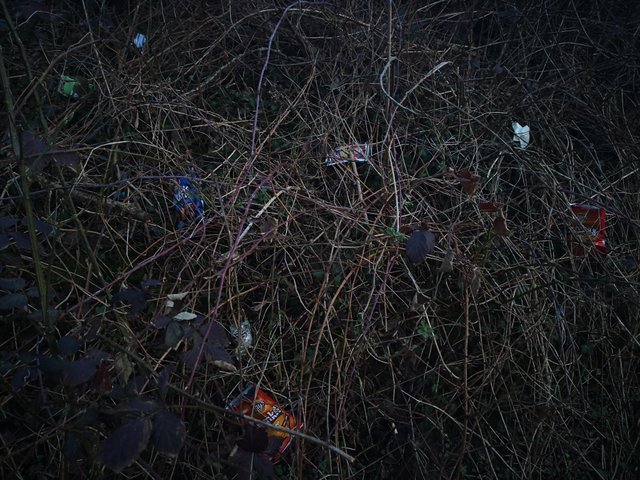 In einem Gebüsch lag jede Menge Müll. Plastikverpackungen von Nüssen und Süßigkeiten wurden hier achtlos an den Wegrand geworfen. Ebenfalls relativ viele Aluminium-Folien die darauf zurück schließen, das hier Drogen konsumiert wurden. Abgeschnittene Plastikflaschen mit Aluminium-Folien Kopf sowie Eimer... Ganz klar, hier wurden Bongs geraucht. Ab in den Sack damit und weiter gehts...
There was a lot of garbage in the bushes. Plastic packaging of nuts and sweets was carelessly thrown to the side of the road. There were also a lot of aluminium foils which indicate that drugs were consumed here. Cut off plastic bottles with aluminum foils head as well as buckets... Of course, bongs were smoked here. Off into the bag with it and keep going...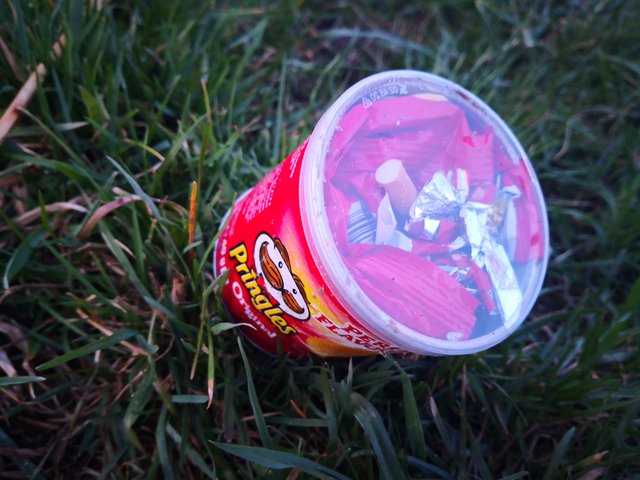 Am weiteren Wegesrand hab ich eine Pringles-Dose entdeckt. Und beim genauen hinsehen dachte, ich fall das erste mal vom glauben ab. Da wurde doch tatsächlich Müll in der Dose gesammelt um dann zusammengepackt den Scheiß am Rand des Wegs liegen zu lassen... Dumme und rücksichtslose Menschen.
Aber genau dieses eine sollte noch nicht der Höhepunkt meines CleanPlanet Walk am Dienstag Abend sein. Die größte Schweinerei die ich hier in der Gegend gesehen habe, kommt erst noch. Und zwar jetzt:
Further along the road, I discovered a Pringles can. And when I took a closer look, I thought I was falling off faith for the first time. There was actually garbage collected in the can and then packed together to leave the shit on the edge of the path... Stupid and ruthless people.
But this one shouldn't be the highlight of my CleanPlanet Walk on Tuesday evening. The biggest mess I've seen around here is yet to come. Right now: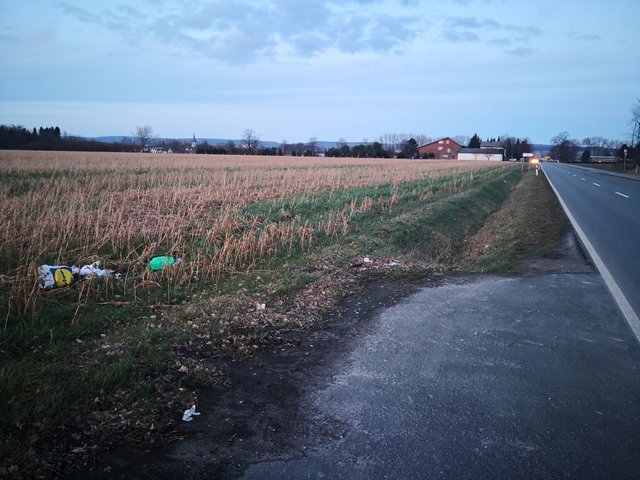 An der naheliegenden Straße gibt es eine Haltebucht. An dieser Haltebucht bin ich auf sehr viel Müll aufmerksam geworden. Entlang der Straße lag noch viel weiterer Müll, den ich mir für die nächsten Walks merke.
Beim näheren betrachten, um was es sich auf dem Müllhaufen handelt bin ich fast vom glauben abgefallen. Da hat jemand seinen Biomüll in Plastikverpackungen von unteranderem Hackfleisch gepackt und diesen dann an den Straßenrand "geworfen" Die Tüten warn aufgerissen und es hat sehr schlecht gerochen. Natürlich habe ich alles in meine Tüte mit eingepackt und die noch heile Tüte mitgenommen. So bin ich dann mit beiden Tüten, voll bis oben hin und schwer wieder zurück.
There is a rest stop at the nearby road. I became aware of a lot of garbage at this stopping place. Along the road there was a lot more garbage, which I remember for the next walks.
When I take a closer look at what the rubbish heap is about, I almost fell away from believing. Someone packed his organic waste in plastic packaging of minced meat and then "threw" it to the side of the road. Of course I packed everything in my bag and took the still intact bag with me. So I went back with both bags, full to the top and heavy.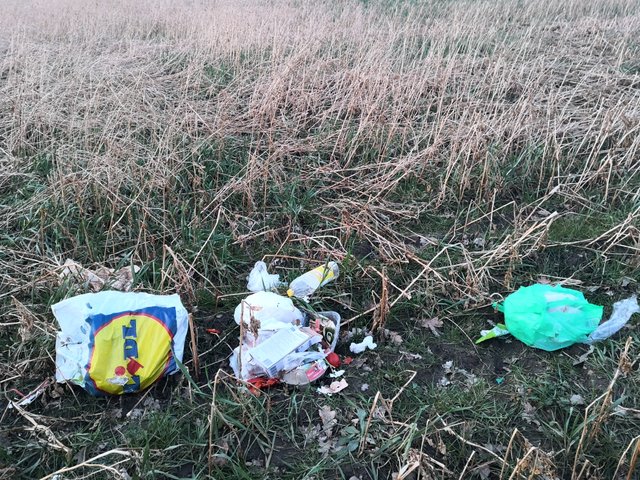 Da fragt man sich echt, was für Schweine unter uns leben die es nicht geschissen bekommen, ihren Abfall Zuhause zu entsorgen. Da muss ja jemand tatsächlich bewusst seinen Müll mit ins Auto genommen haben und gezielt dort abgeladen haben. Manchmal verlier ich echt den Glauben an den Menschen. Echt schlimm.
You really wonder what kind of pigs live among us who don't get shit to dispose of their garbage at home. Someone must have deliberately taken his garbage into the car and deliberately dumped it there. Sometimes I really lose faith in people. Really bad.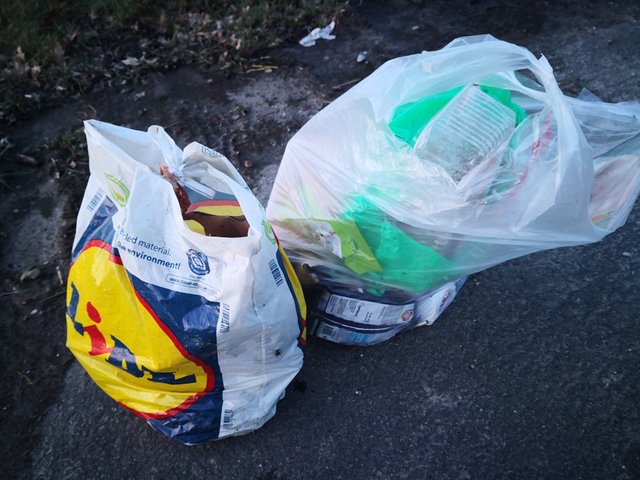 ---
Bei all dem Mist und Dreck der so in der Gegend rumliegt, bin ich froh, das ich mich dazu motivieren kann aufzustehen, spazieren zu gehen und einfach einen Sack mitnehmen, um die Umwelt zu verbessern. Die Initiative #cleanplanet ist ein super Projekt. Ich hoffe, das noch mehr Menschen dran teilnehmen und dabei helfen, die Welt zu einem sauberen und besseren Ort zu machen. Denkt immer daran: Die Erde, auf der wir leben, ist unser Zuhause. Zeig Respekt und wirf deinen Müll in die Tonne und nicht in die Natur.
Weitere Informationen zum CleanPlanet Projekt findet ihr hier:
https://cleanplanet.io/about/
With all the crap and dirt lying around, I'm glad I can motivate myself to get up, go for a walk and just take a bag with me to improve the environment. The #cleanplanet initiative is a great project. I hope that more people will participate and help make the world a cleaner and better place. Remember, the earth we live on is our home. Show respect and throw your garbage into the bin and not into nature.
More information about the CleanPlanet project can be found here:
https://cleanplanet.io/about/
---
Vielen Dank und ich wünsch euch eine tolle Woche!
Thanks and have a great Week!
@louis88 - Heute am 05.03.2019
🌍