CLEAN PLANET is a global protocol where
"the proof of Human" is used to protect the environment on a world scale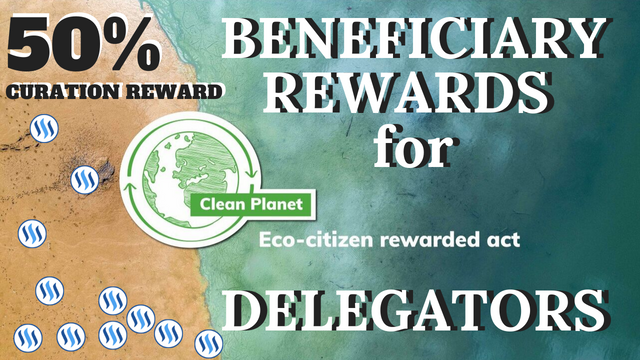 WEBSITE : cleanplanet.io
CLEAN PLANET opens the doors of the BENEFICIARY REWARDS for its Delegators
RECEIVE 50% OF THE REWARDED CURATION

For more than 14 months, CLEAN PLANET has been on the road to a Planetary Revolution.
CLEAN THE PLANET AND REWARD THOSE WHO DO...

A WIN-WIN SITUATION
The stakes are high and some of you are really concerned by the Cause.
We have convinced many Delegators who fundamentally help us to advance ever higher.
Today we reward the DELEGATORS for their support.
The goal of CLEAN PLANET is to reward CLEANERS even better.
The intention to clean up the planet is an honorable thought.
The action of cleaning the planet is a heroic act.
Delegators are the Foundations of CLEAN PLANET.
Delegators make CLEAN PLANET possible.
This is why the opening to sharing of the REWARD CURATION will be effective on 22 September 2019.
That is why CLEAN PLANET always rewards the CLEANERS who manage @cleanplanet's Voting Power themselves as best as possible.

We believe that the foundation of our ecological vision is not anchored in each of us.
Everyone has their own personality and ideals.
Maybe some of you are still throwing their cigarette butts on the ground, leaving plastic packaging in the Nature or throwing their cans out of the car window?
...We do not hope so, of course!
We look on the STEEM network as well as in all other social networks for people who are concerned about our future; those who want a better environment for their family and children.
Some of these people are already present at our side or have come to help us for a moment and have left for other projects for reasons that we respect.
But know that from 22 September 2019, you will be able to share the benefit of @cleanplanet by making a delegation.

A benefit for everyone from 06 October 2019 with your Delegation.
From 06 October 2019 (week n° 41 of our calendar) @cleanplanet will reward all present and future delegators.
The calculation is done every two weeks from 22/09/2019 19h00 (GMT)
---
50% of the CURATION REWARD will be given to the delegators after two full weeks of delegation... until 29 December 2019.
(Week 39 to 52)
This rate will be revalued from week 1st of 2020 of our calendar.
To receive, it is essential to make a delegation during two full weeks to benefit from the RETURN ON INVESTMENT in STEEM.
A transfer will be made with a fair and proportional calculation to your delegation in return.

Here is the List of our DELEGATOR who will recieve CURATION REWARD
@a-non-e-moose @a0i @ador1992 @akramkhan @anttn @astroboy @baloox @cadawg @carolegbelette @ciontheemrald @cleanplanetbd @cryptospa @cryptoyzzy @downrighthustle @dylanhobalart @ekitcho @el-cr @elmetro @evildido @exator @felander @felt.buzz @french.fyde @gregan @grizzabella @hafizullah @heimindanger @improv @ixindamix @jakir3 @jasonbu @jeanpi1908 @jesapelcroot @joshman @jznsamuel @kalypso56 @knowhow92 @linkus @louis88 @mamun123456 @masterthematrix @meanbees @mermaidvampire @michealb @michelios @misslasvegas @mitchel55 @muscara @mvd @new-world-steem @orlandumike @peachyladiva @rachel1998 @ragepeanut @rambaran @reggaemuffin @roelandp @roger.remix @saskia @scottcbusiness @seb-art @shellyduncan @soluce07 @steemauvergne @suesa @swam @t3a @tapu333 @tibfox @torrey.blog @toufiq777 @toufiqurrahman32 @tt3 @ultraseven @vdux @vevette @vintherinvest @walterjay @yangyanje @yann0975 @yesslife @zonguin @zorank
JOIN THEM and DELEGATE TO CLEAN PLANET

> In practice here are 3 examples :
Mr. A has always been a delegator with 1000 SP
The calculation of his reward cure begins on 22 September 2019 19:00 GMT
The total number of delegations is 28,178
(1000×100)÷28.178 = 3,54
Mr. A's Receipt Volume is 3.54%.
The 2-week rewards curations amount to 105 SP
((105/2)×3,54)÷100= 1,85
Mr. A will receive 1.85 STEEM for 2 weeks of delegation to CLEAN PLANET

Mr. B has always been a delegator with 50 SPs
The calculation of his reward cure begins on 22 September 2019 19:00 GMT
The total number of delegations is 28,178
(50×100)÷28.178 = 0,17
Mr. A's Receipt Volume is 0.17%.
The 2-week rewards curations amount to 50 SP
((50/2)×0,17)÷100= 0,04
M.B. will receive 0.04 STEEM for one week of delegation to CLEAN PLANET

Mr C joins CLEAN PLANET and sends a delegation of 2000 SP on Wednesday 25 September 2019.
The calculation of its reward cure will start on 06 October 2019 19:00 GMT
He must wait until Sunday 19:00 (GMT) for the accumulation to start for him.
He must wait two completed weeks from Sunday to the following Sunday for the calculation to begin for him.
The total number of delegations is 28,178
(2000×100)÷28.178 = 7,09
Mr. A's Receipt Volume is 7.09%.
The curations rewards of the 2 weeks amount to 50 SP
((50/2)×7,09)÷100= 1,77
M.C. will receive 1.77 STEEM for one week of delegation to CLEAN PLANET

POWER DOWN
This system leads us to start our first POWER DOWN.
In order to be able to transfer the returns on investment we are forced to start the power down system to have a reserve of steem to redistribute.
It's YOUR POWER DOWN.

MANUAL CURING
The new business plan system implemented is done manually. Transfers may not be made at fixed times and some may arrive earlier than others.
Please be patient.
If however you want to leave your CURATION REWARD to CLEAN PLANET, please let me know in comment, or on Discord Server, it will always be one less manipulation for me.

GOOD NEWS NEVER COMES ALONE
A page dedicated to CLEAN PLANET articles will open soon.
It is a SHOW ROOM that will allow you to choose CLEAN PLANET elements.
You will have a choice panel... T-shirts, caps, beer coasters, Basic Wooden Token, Seed Wooden Token...
You can choose how you want to donate to @cleanplanet depending on the item you choose in exchange for a cleanplanet gift.
Because this page is not a store... it allows you to have the items presented against a donation to the non-profit association CLEAN PLANET.
CLEAN PLANET has invested in FIAT for the purchase of the items and gives you the possibility to acquire some with CLEAN TOKEN, STEEM, SBD or Fiat
DISCOVER VERY SOON THE SHOW ROOM

Some Links To Consult :

Participate in a Delegation
NOTHING FOR US
ALL IS FOR CLEANERS

---



THINK ABOUT @cleanplanet

JOIN US AT Discord Server or KLIK ON THE LOGO BELOW...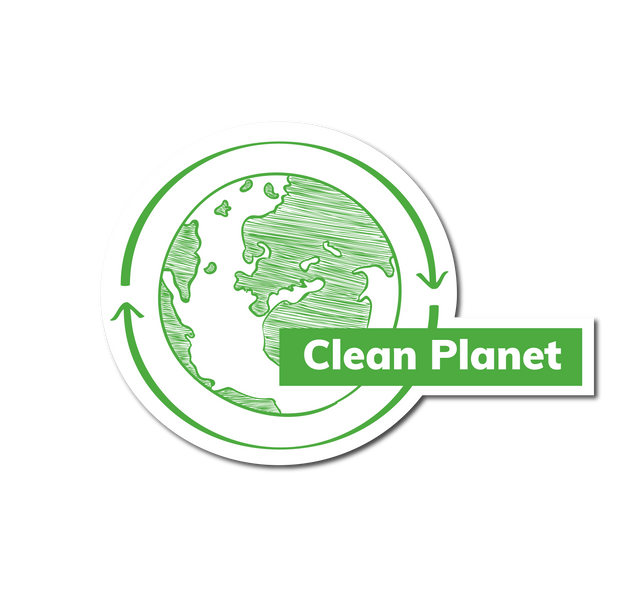 IF YOU ARE SENSIBILIZED TO THE CAUSE ... FOR OUR ONE AND ONLY PLANET.
IF YOU CAN'T DO A CLEANPLANET YOURSELF , DELEGATE ... YOU CAN FOLLOW US ON STEEMAUTO.COM
This post is helping to follow the trail
EACH SUPPORT IS A GREAT ACTION.

LIMITE POLLUTION ON EARTH

---