Taking Out The Trash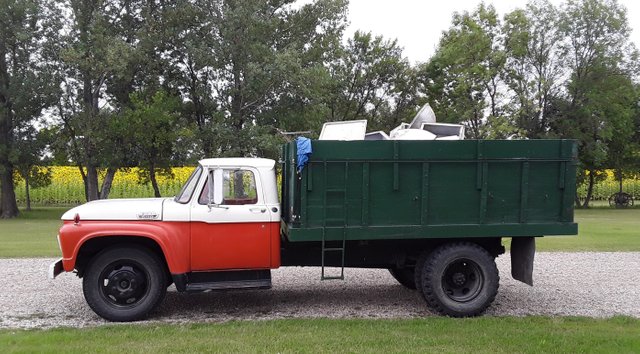 This summer has been busy with getting things done around the house and farm. The Big Man blames my nesting instincts. Either way, it has been gratifying to accomplish some long awaited projects. One of those projects was to gather all the junk around the yard and toss it out.
I don't know if it's a farmer thing or what, but they seem to let junk build up instead of taking care of it before it gets out of hand. I know my husband says it's because he doesn't have time. But I know what he really means is that it's not his priority. Because when the wife gets involved, suddenly they have time! Lol.
We had three different piles of garbage that needed cleaning up. One was a pile of metal from house and yard projects we had done in the past that we just let pile up. It was never meant to sit there as long as it has, and it grew and grew.
Another was the result of a lack of communication on the part of the bin builders. I guess that we were responsible for taking care of whatever garbage they created. I told my husband if they build a bin again, to have an empty truck sitting ready for them.
The last pile was in the corner of a shed that had been sitting there for years.
We borrowed a truck to haul out the metal scraps to the local dump. Now granted the truck is small by today's standards, but I was still shocked by how full we filled that thing! Laying on the ground, it didn't look like much.
It's surprising how you can get so used to something, that once it's gone/taken care of, you realize just how much it really was bothersome. Now with all the stuff picked up, we were able to properly mow the grass and the plan is to pile our winter wood in the empty corner of the shed.
Have you taken advantage of this season to get any long awaited projects done?